Typical dishes and drinks you have to try!
The best vegan and vegetarian food in Sri Lanka
Sri Lanka is a true paradise concerning vegan and vegetarian food. 
Spicy, freshly cooked food is highly valued in the culture, and having a bush of curry leaves, banana plants and mango trees growing in your own backyard is nothing special here.
You can order food almost anywhere without hesitation and you'll be treated to a variety of vegetable curries, fresh fruit and, of course, lots and lots of chili.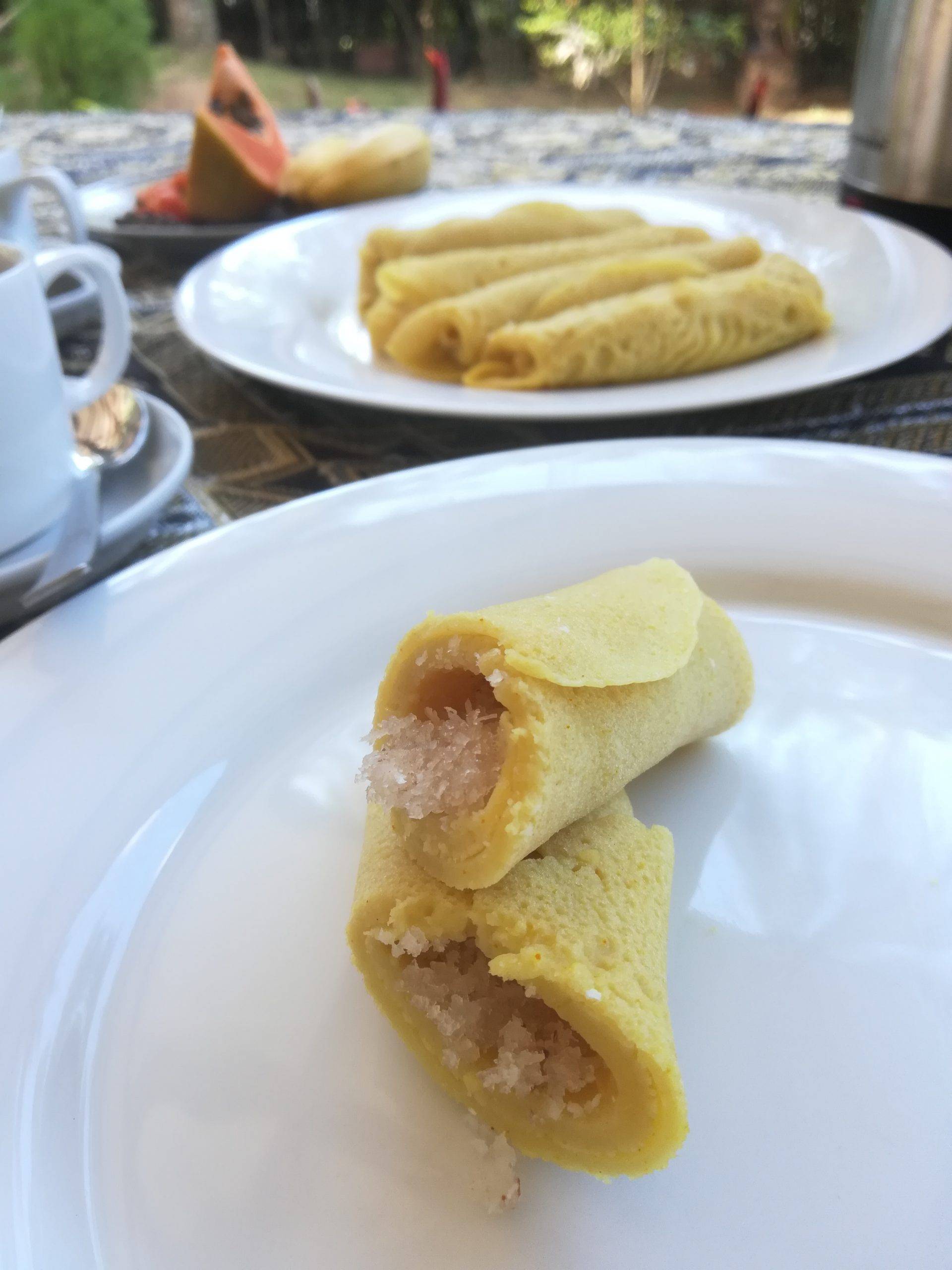 These highly addictive and super sweet pancakes with coconut filling are often served in homestays for breakfast. You can also find them in the showcases of local restaurants or on various menus as a dessert. Usually they are vegan and even gluten-free. The dough consists of rice flour, water and turmeric, the filling of grated coconut and sugar or coconut sugar. Sometimes egg is also added to the dough, ask in case of doubt. Occasionally they are even filled with a whole banana, which balances the sweetness and thus tastes even better (the most delicious pancakes were at the Tuna Restaurant in Arugam Bay for 20 cents each!) 
If you want to try Sri Lankan pancakes at home, you can try my modified recipe: vegan, with bananas instead of sugar and yogurt as a topping - this makes them not quite as sweet and a bit healthier.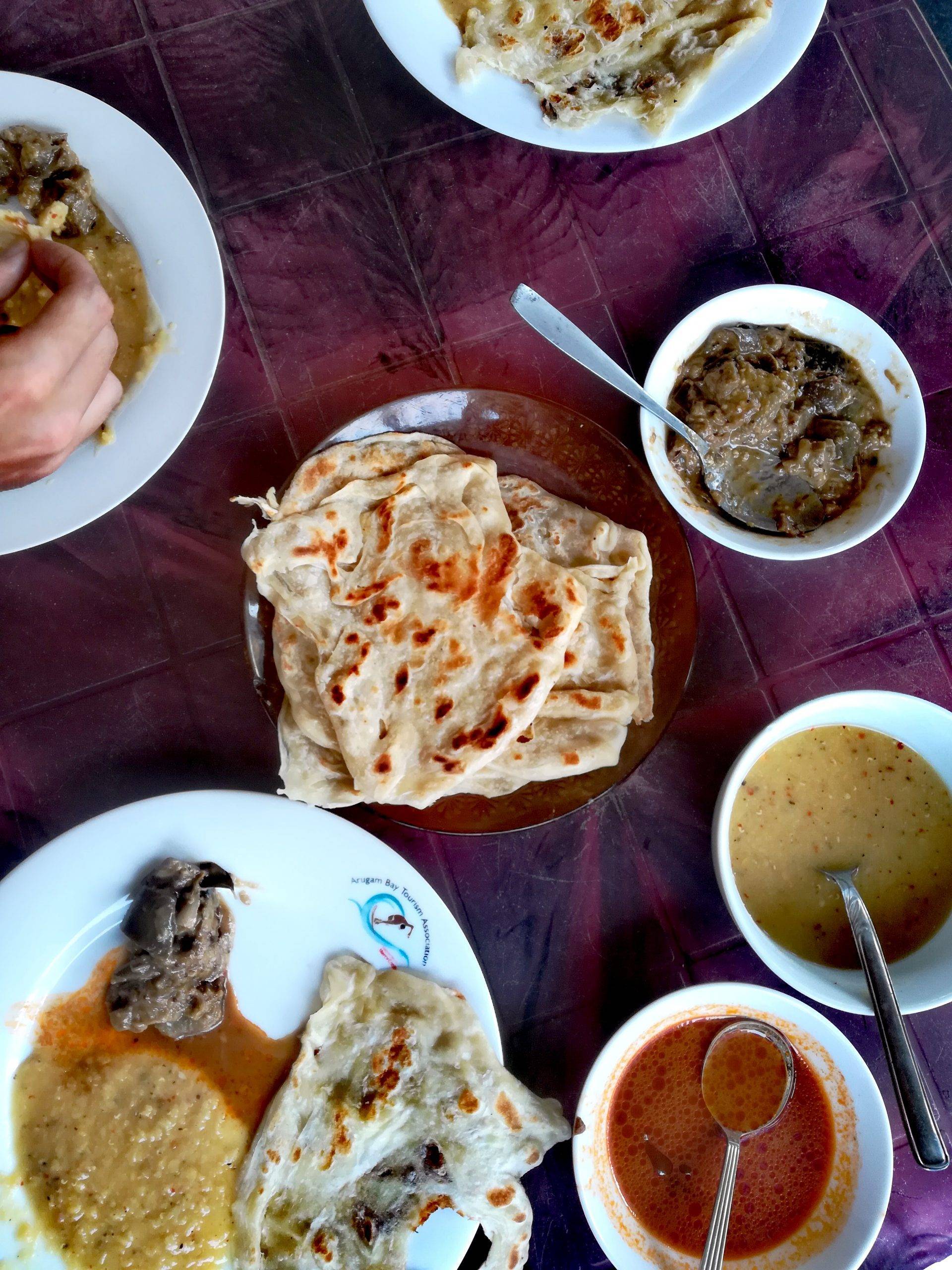 Paratha with dhal is THE local breakfast in Sri Lanka! The dish is best described as a mixture of a crepe and puff pastry-like dough. To eat it, you pluck off a piece at a time with your right hand and dip it into spicy lentil curry, the dhal. You can order a sweet milk tea on th side to balance out the hearty breakfast. Even though Parathas are extremely cheap (about 20 cents each) the preparation is a real art. It needs a special throwing technique, so that the dough becomes beautifully thin and gets several layers at the same time. Have a look over the cooks' shoulder in a local restaurant, you will be impressed! We found the best parathas in Colombo at the Raheema Hotel, opposite the bus station in Trincomalee and in Arugam Bay at Manha's.
Instead of parathas you can also find rottis. The dough is similar, but the preparation is a little different, which is why rottis have fewer layers and are often filled with various vegetables, egg or cheese. Really good are the chocolate rottis for dessert!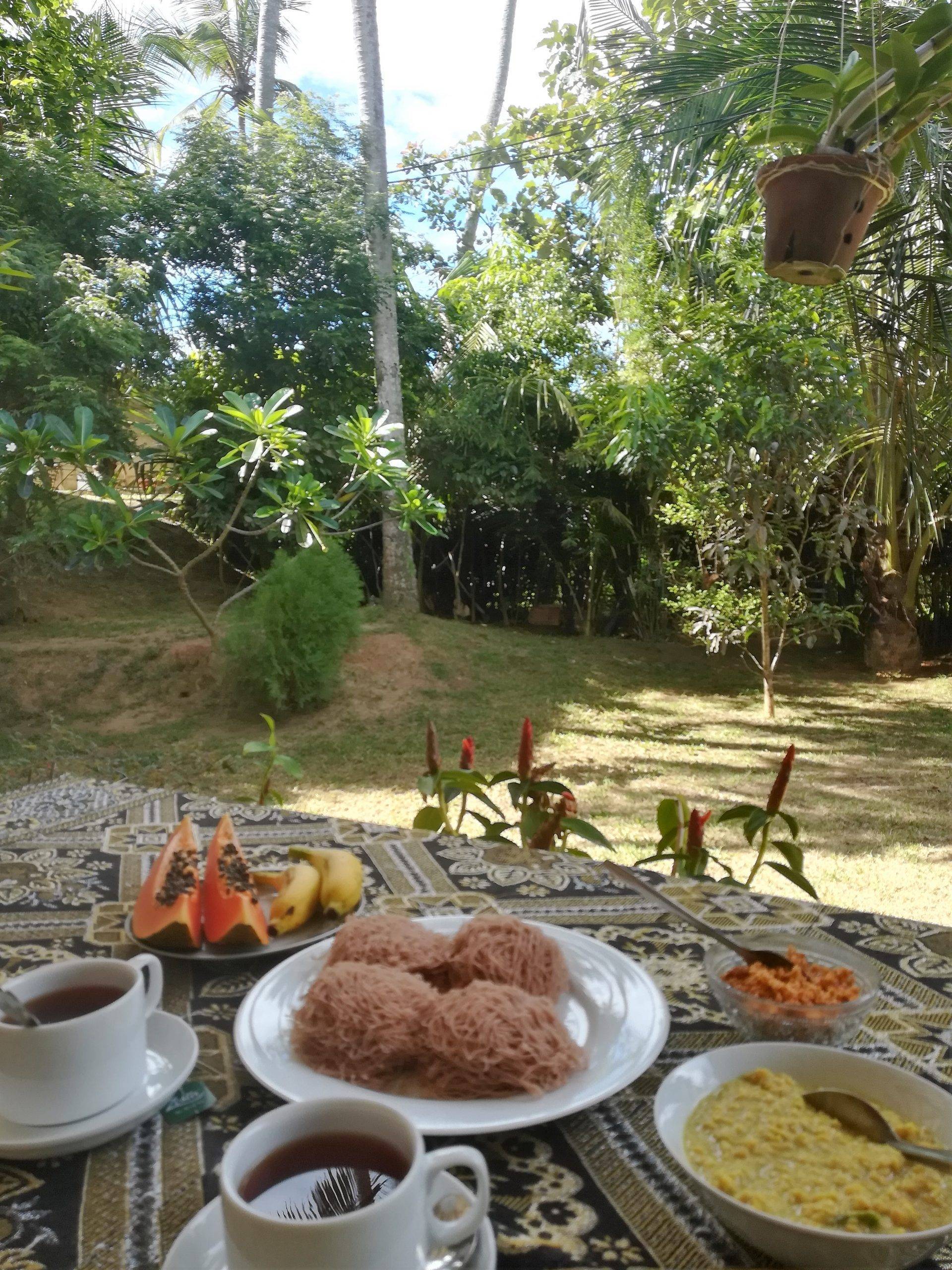 Yes, that's right! In Sri Lanka you can eat noodles already for breakfast. String Hoppers are several layers of rice noodles piled on top of each other, which are served with dhal and a spicy sambal. You will definitely get full with this breakfast, although it should probably rather be called brunch 😀 Since food and hospitality are top priority in Sri Lanka, the hosts in a homestay even got up at 4 am to prepare the rice noodles completely fresh for us!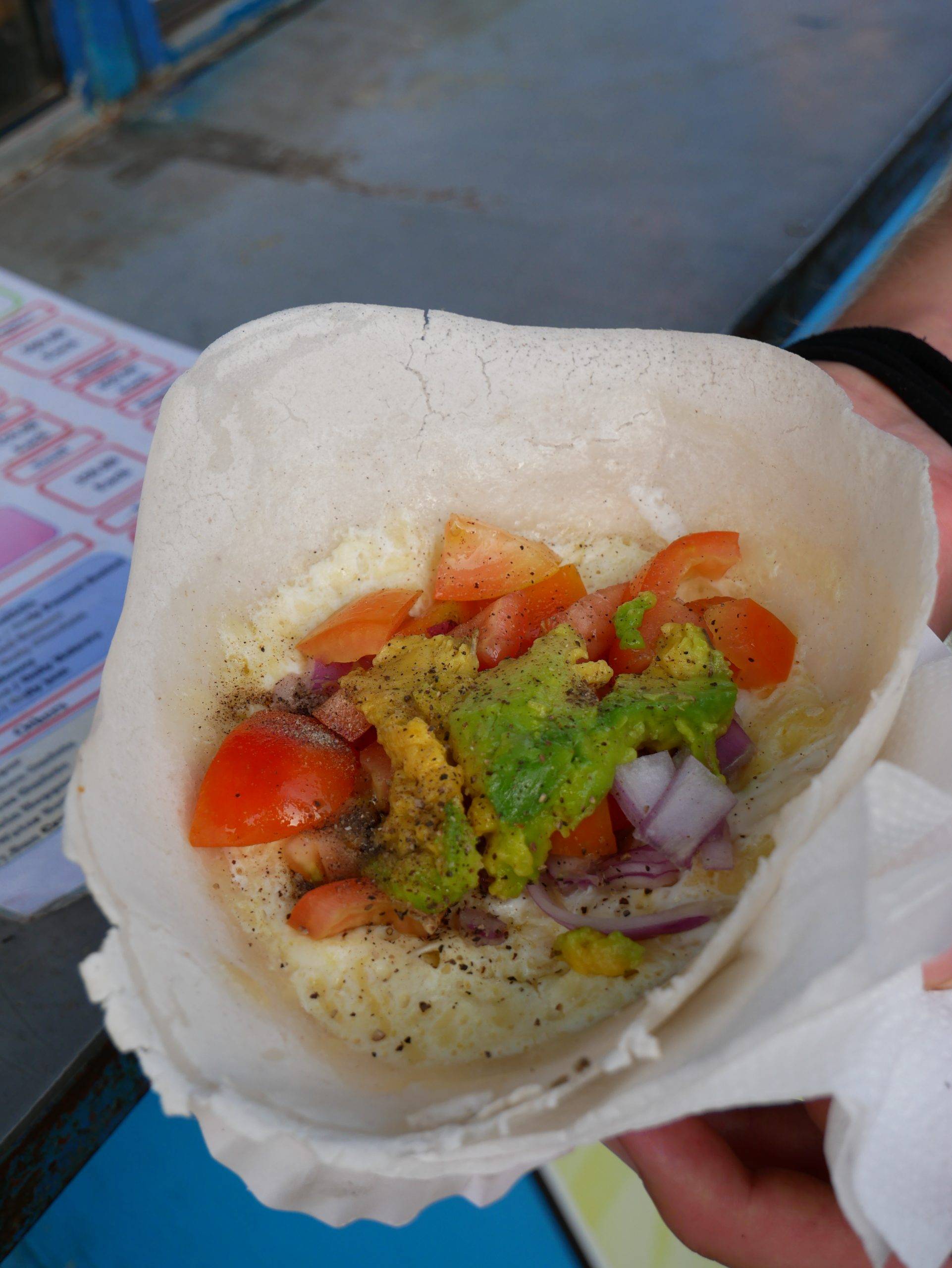 Hoppers are a typical street food snack that you can eat best for breakfast or dinner. The round shape is created by frying the dough (which is made of rice flour) in special pans. Classically, an egg is fried directly in the pan on the dough, then the dish is called Egg Hoppers. A spicy sambal is served with it. We found the best Hoppers in Arugam Bay: crispy on the outside and fluffy on the inside with various fillings such as avocado, tomato and onion or peanut butter and banana reminded us of a mixture of crêpe and taco and are always delicious! At local stalls a Hopper costs about 20-40 cents, at more touristy stalls about 1€.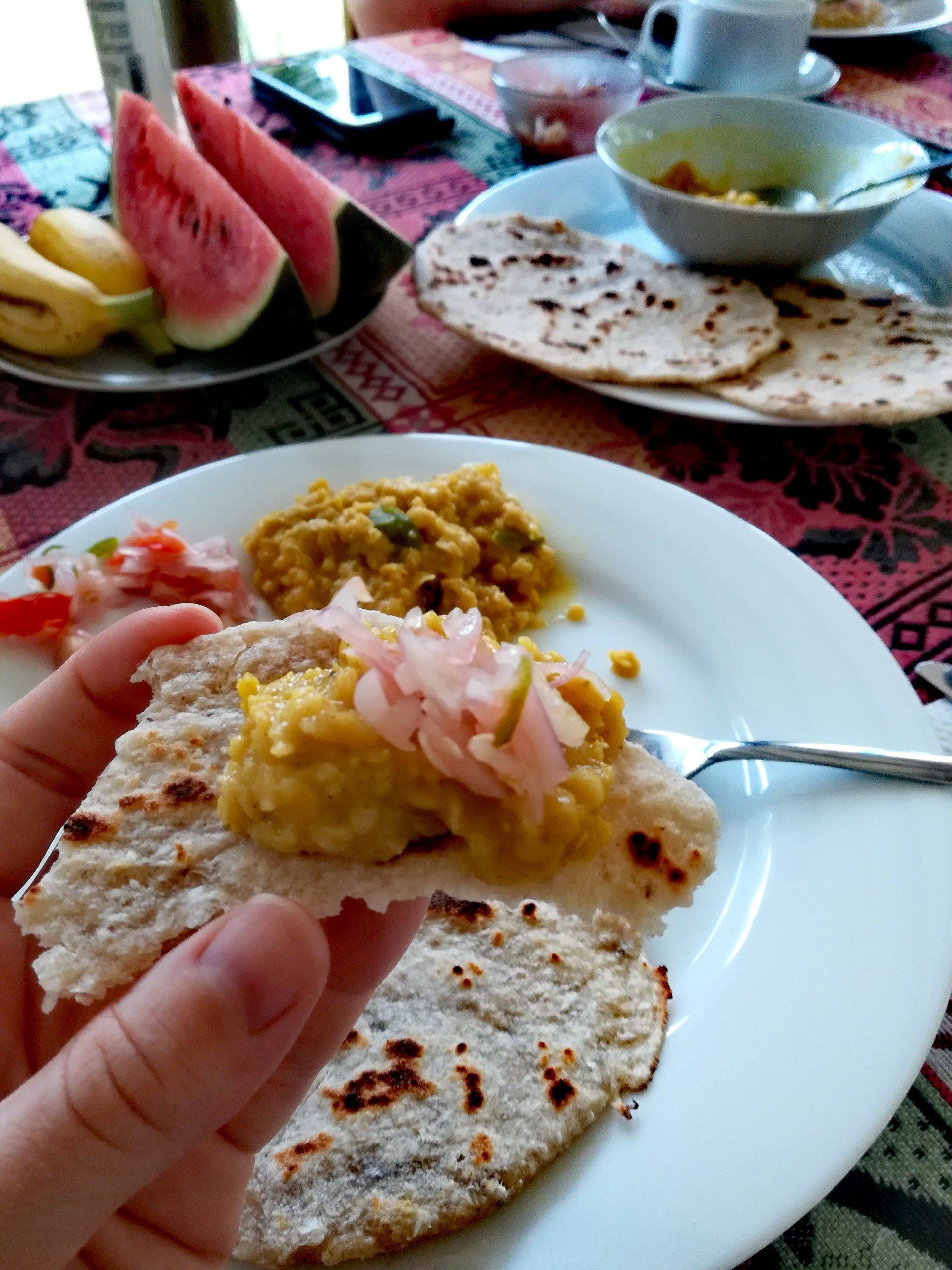 Pol Roti, or Coconut Roti, is a type of hearty pancake or flatbread whose dough contains fresh coconut flakes. It will be served with a spicy sambal of tomatoes, onions and chili. Sometimes it is also served with dhal.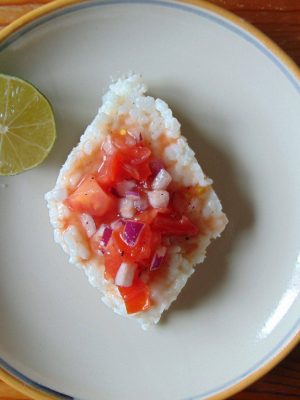 Rice Pudding with Sambal (Kiribath)
Rice pudding cooked in coconut milk and served in the form of lozenges with a spicy sambal of dried fish, onions, tomatoes, chilies and lime is a traditional holiday food. We were lucky enough to try the dish at Anthony's Guesthouse in Hikkaduwa on Sri Lankan New Year. Even though you need to get used to the sambal due to the dried fish, the combination with the fatty-sweet rice pudding fits great.
The difference between hotel and restaurant
Don't be surprised if you find run-down hotels on every street corner in Sri Lanka. You should not sleep here, but come with a lot of appetite!
There is a difference between local restaurants and hotels: hotels are very affordable restaurants that do not serve alcohol. Even though you can't expect the best cleanliness here, you shouldn't miss it when visiting Sri Lanka to experience the true culture.
By the way: You should not expect cutlery in local restaurants or hotels: Typically, people eat with their right hand. To stay clean, there is always a sink where you can wash your hands before and after eating.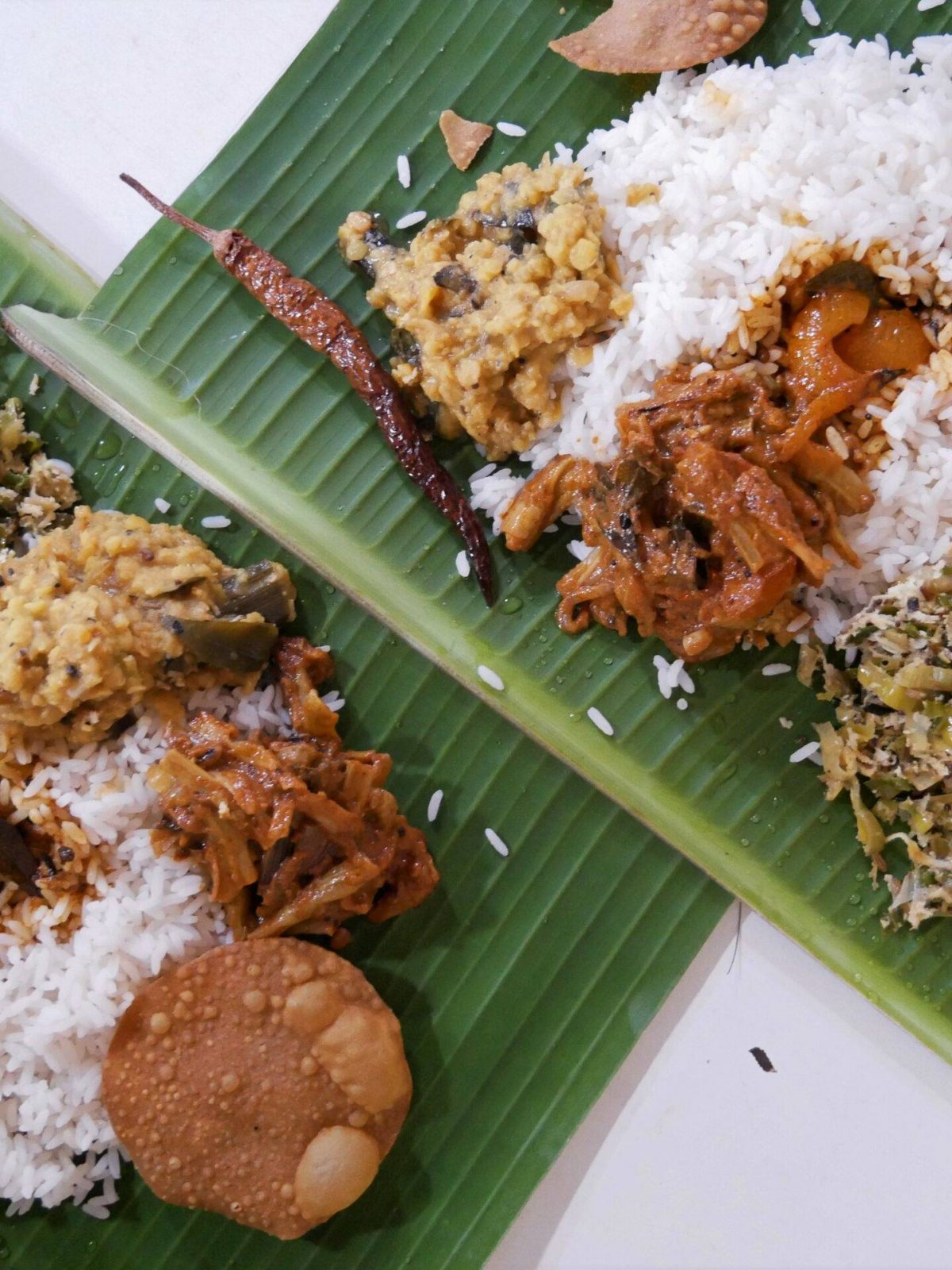 Rice and Curry is the daily bread in Sri Lanka. In most households it is eaten in for breakfast, lunch and dinner. Even though you will probably eat it almost every evening during a trip through Sri Lanka, it never gets boring: instead of just one curry, there is a whole range of different variations, ranging from lentil, red beet, okra, pumpkin, potato and eggplant curry to mango and pineapple curry. Most of the time, you simply order Rice and Curry and may be surprised by the selection you find on your plate in addition to the classic lentil curry (dhal). This is accompanied by crispy lentil crackers (pappadums) and usually a spicy sambal. Traditionally, Rice and Curry is cooked in clay pots with lots of fresh herbs and spices such as curry leaves, mustard seeds and cinnamon sticks. Rice and Curry usually costs around 2€ per person. Exotically presented on a banana leaf you will find the curry in Jaffna - I took the photo in the Malayan Café, which I can highy recommend.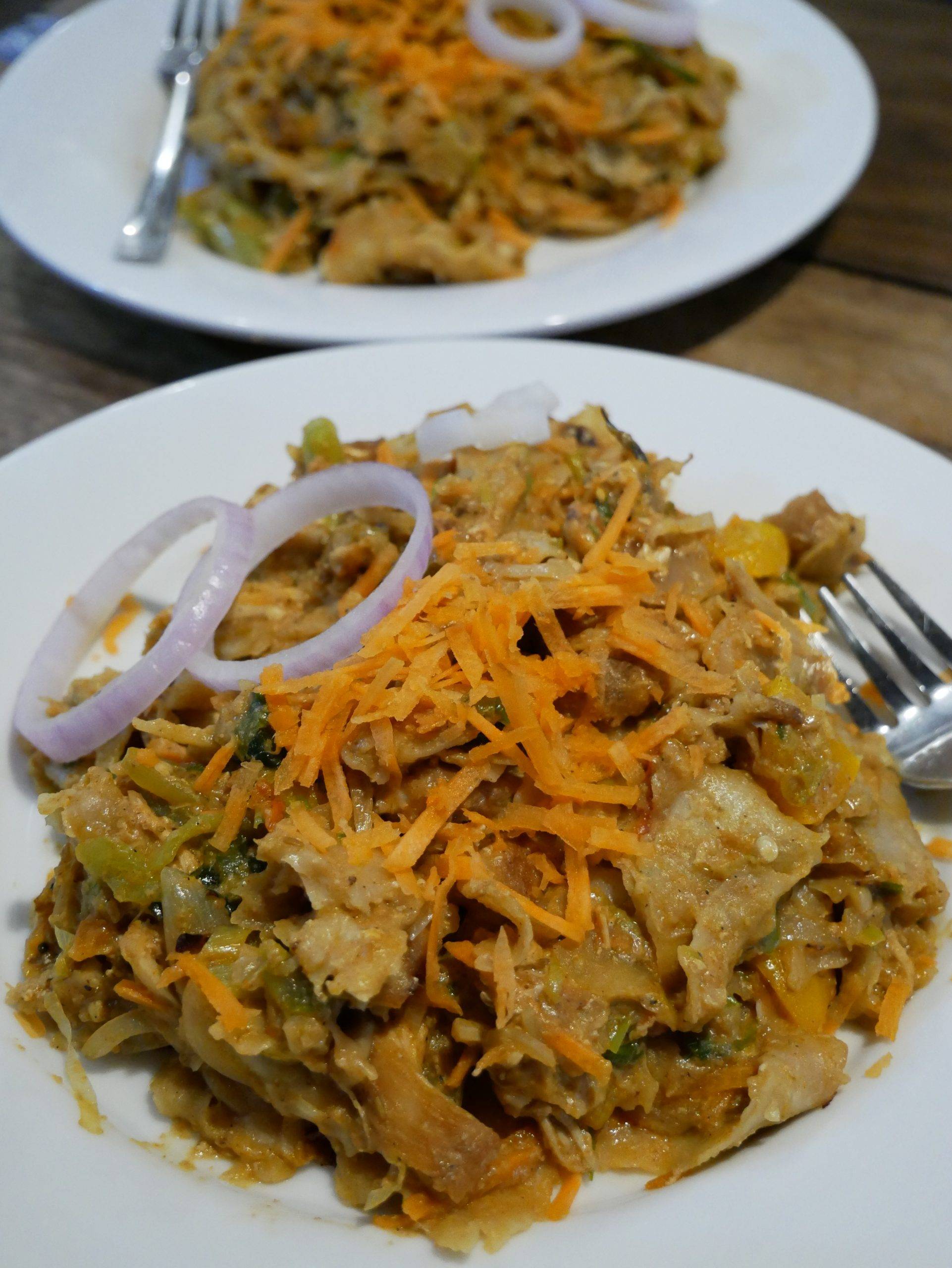 Whenever Kotthu is prepared somewhere, you can hear it from far away. For this, Parathas/Rottis are noisily chopped into fine strips on a metal plate. These are mixed with vegetables such as carrots, leeks, onions and spring onions and fried (optionally you can order Kotthu with egg or cheese). You can also order a so-called Dolphin Kotthu: luckily you won't find dolphin on your plate, but instead your Kotthu will be swimming in a lot of spicy sauce, which tastes even better.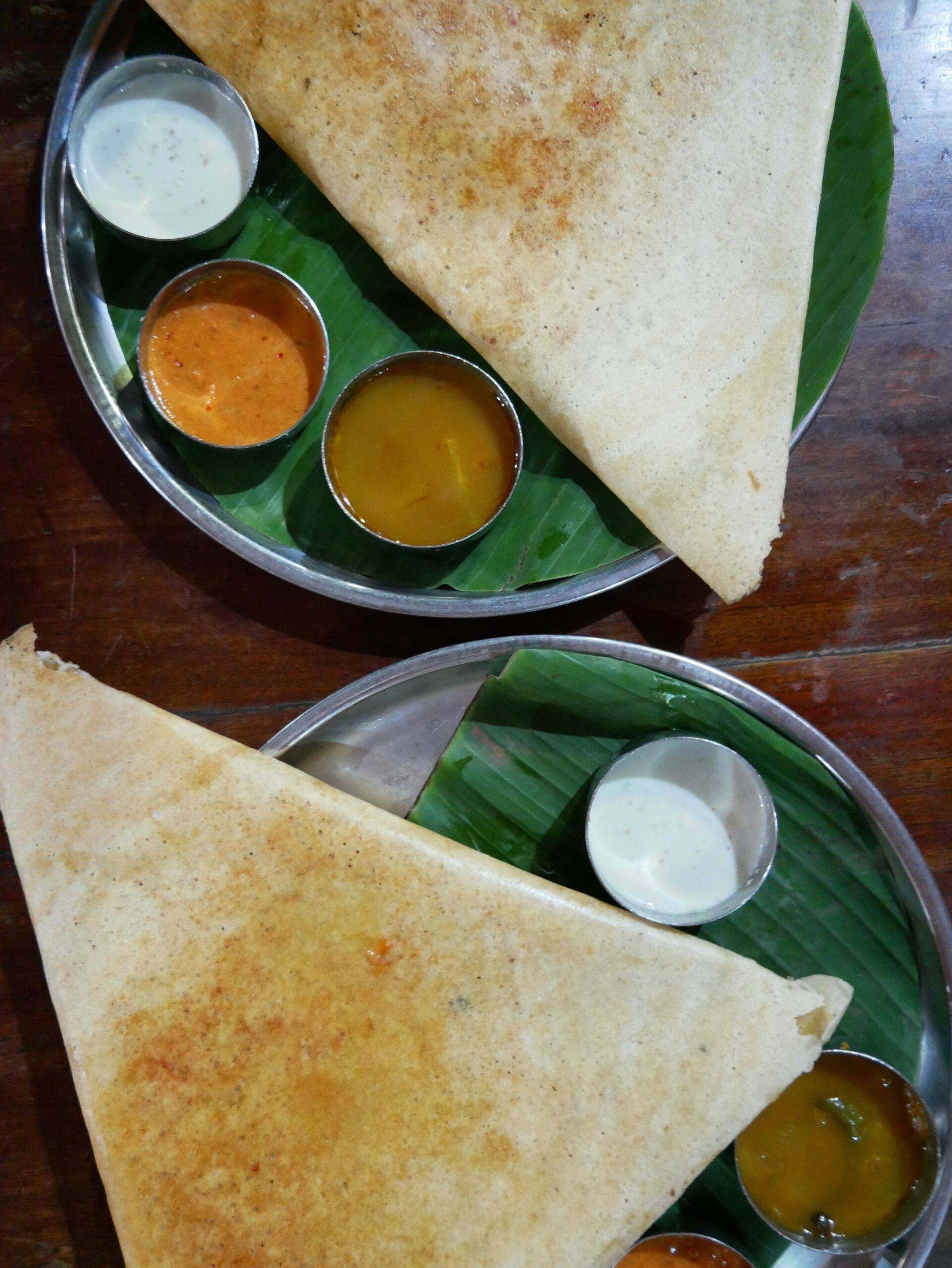 Culinary highlights from the Indian cuisine can be found in the north of Sri Lanka and it is definitely worth the trip to Jaffna! A dosa is a crispy pancake whose dough consists of rice flour and legumes. This pancake is filled with masala, a mixture of spices, along with potatoes and vegetables. The best dosas can be found at Mangos Indian Vegetarian Restaurant, which offers the classic masala dosa as well as fillings with marinated paneer (Indian soft cheese) and other delicious Indian dishes.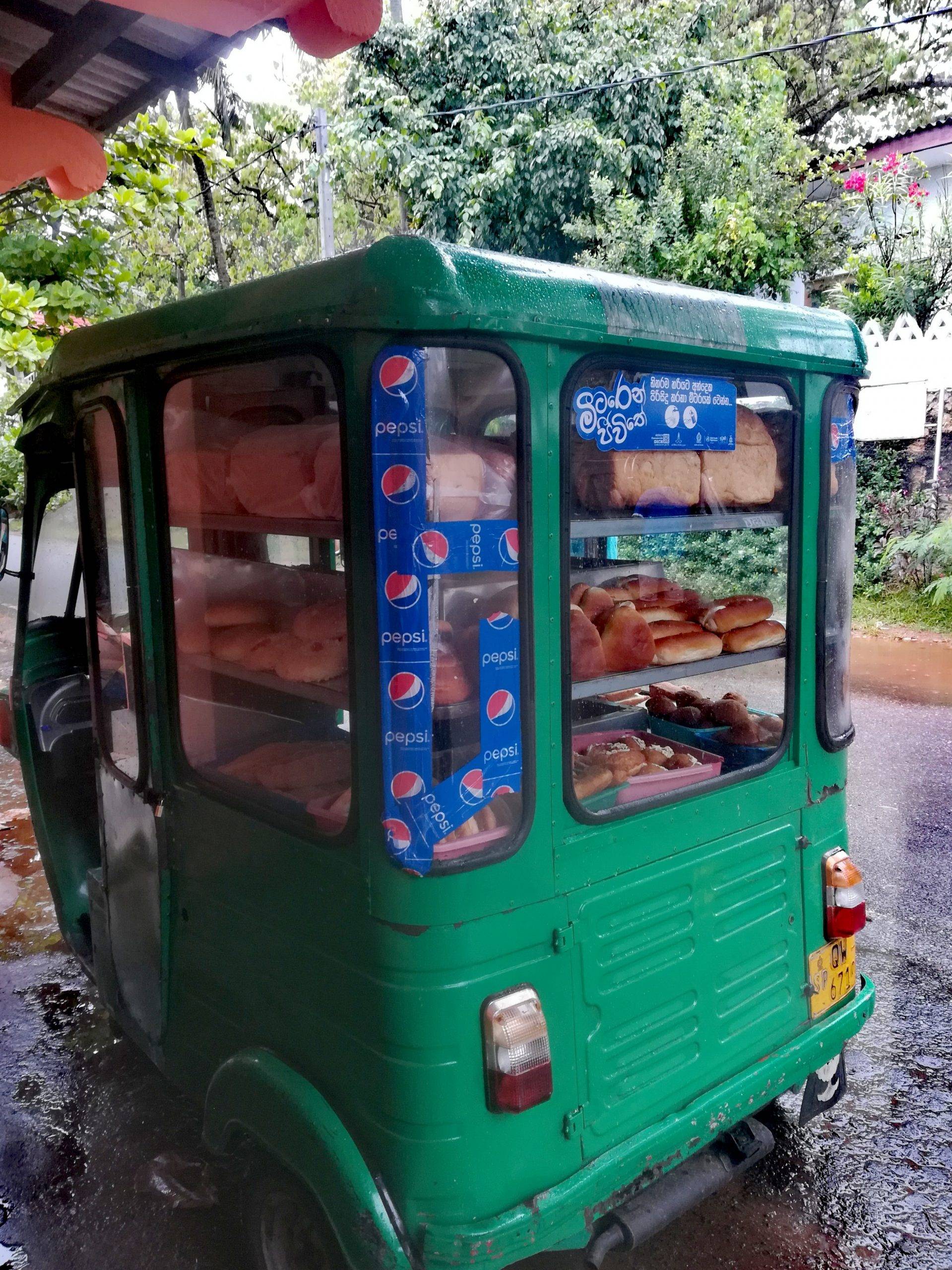 Attention! The melody "For Elise" will never get out of your head after a trip to Sri Lanka 😀
You can recognize these bakery Tuk-Tuks from a distance by the melody that is played loudly. If you walk quickly to the street, you can catch some pastries. Forr example, you can buy donuts or sweet coconut buns here. The fact alone that the pastries are sold from a Tuk Tuk was reason enough for me to try something 😀.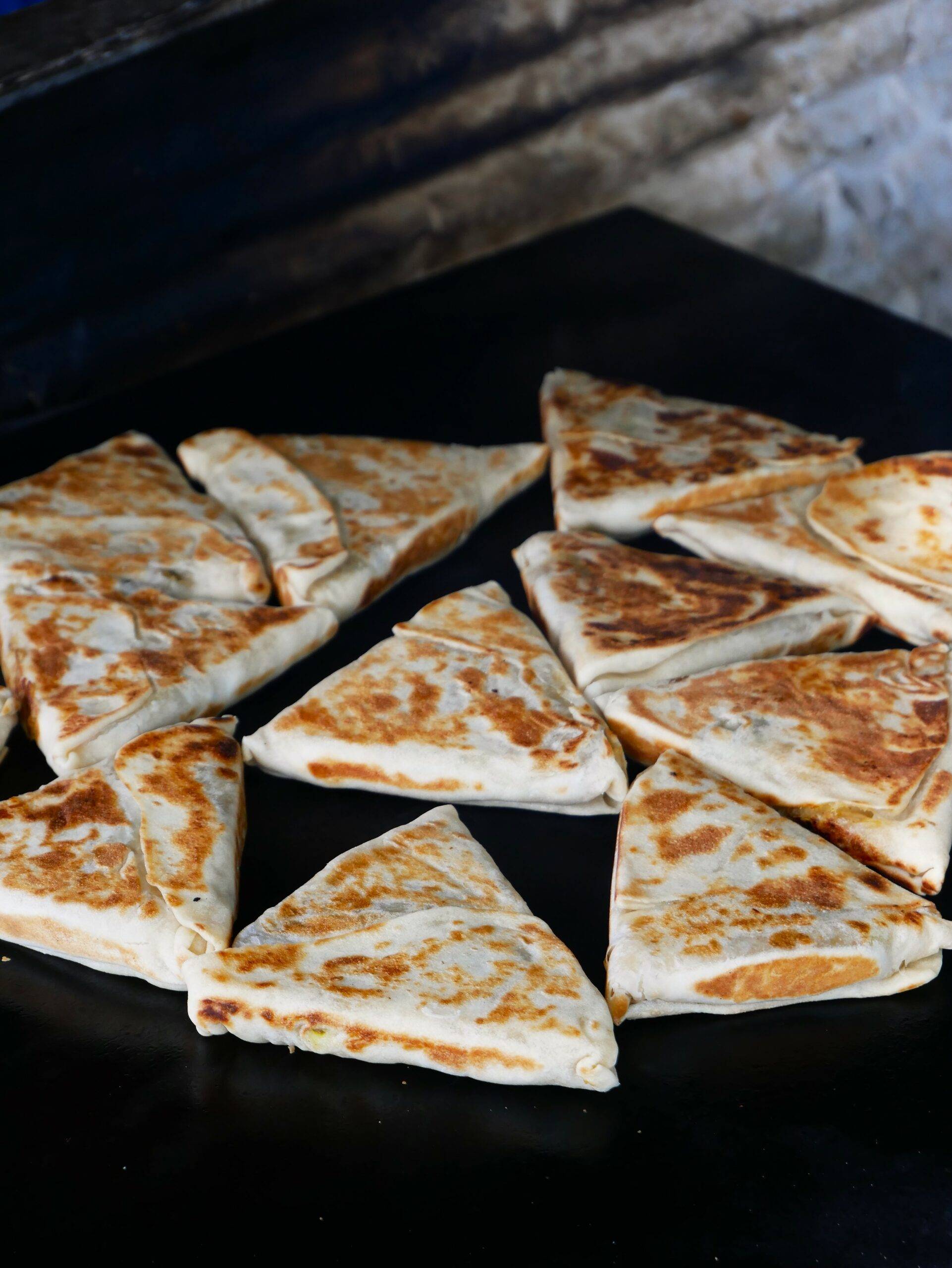 Vegetable Rotis are made from the same dough as Rottis, which are filled with a mixture of potatoes, vegetables, lots of spices and chili, folded into triangles and fried. Although they taste best fresh, this Streetfood is perfect for long train or bus rides and you'll often get them wrapped in old newspaper for that - recycling Sri Lankan style. Alternatively, at the street food stalls you will find triangular deep-fried Samosas, which are filled with an egg in addition to the vegetable and spice filling. An other typical Streetfood snack are small deep-fried lentil crackers (Dal Vadai).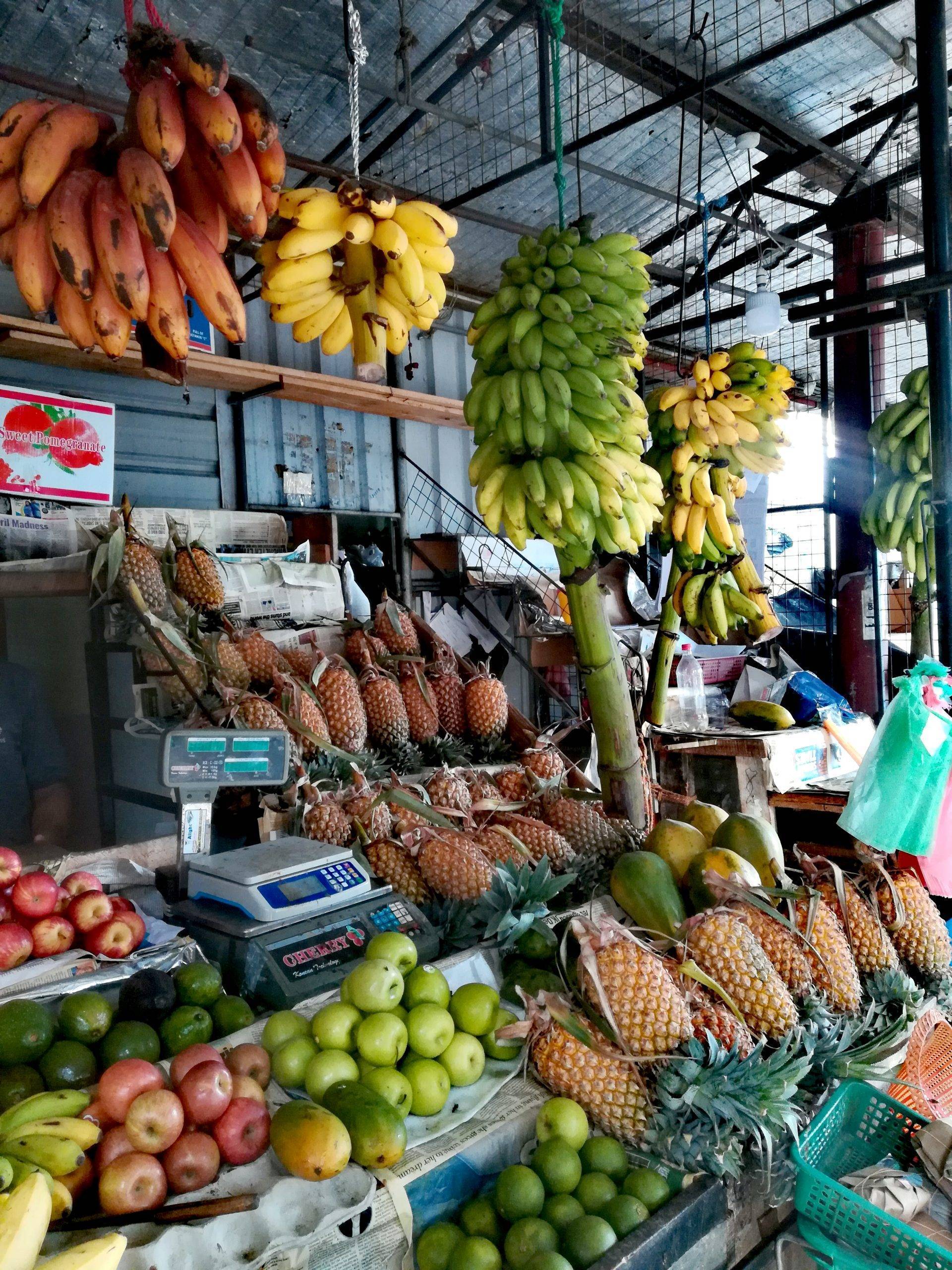 To have mango trees, papaya trees, jackfruit trees or banana plants in your own garden are not unusual in Sri Lanka. Super juicy fresh fruit can be found on every street corner. 
If you are looking for a change from the Sri Lankan breakfast, you can simply buy oatmeal and cashews in the supermarket and make your own porridge. Lots of fresh fruit as a topping and ready is a healthy, vegan breakfast.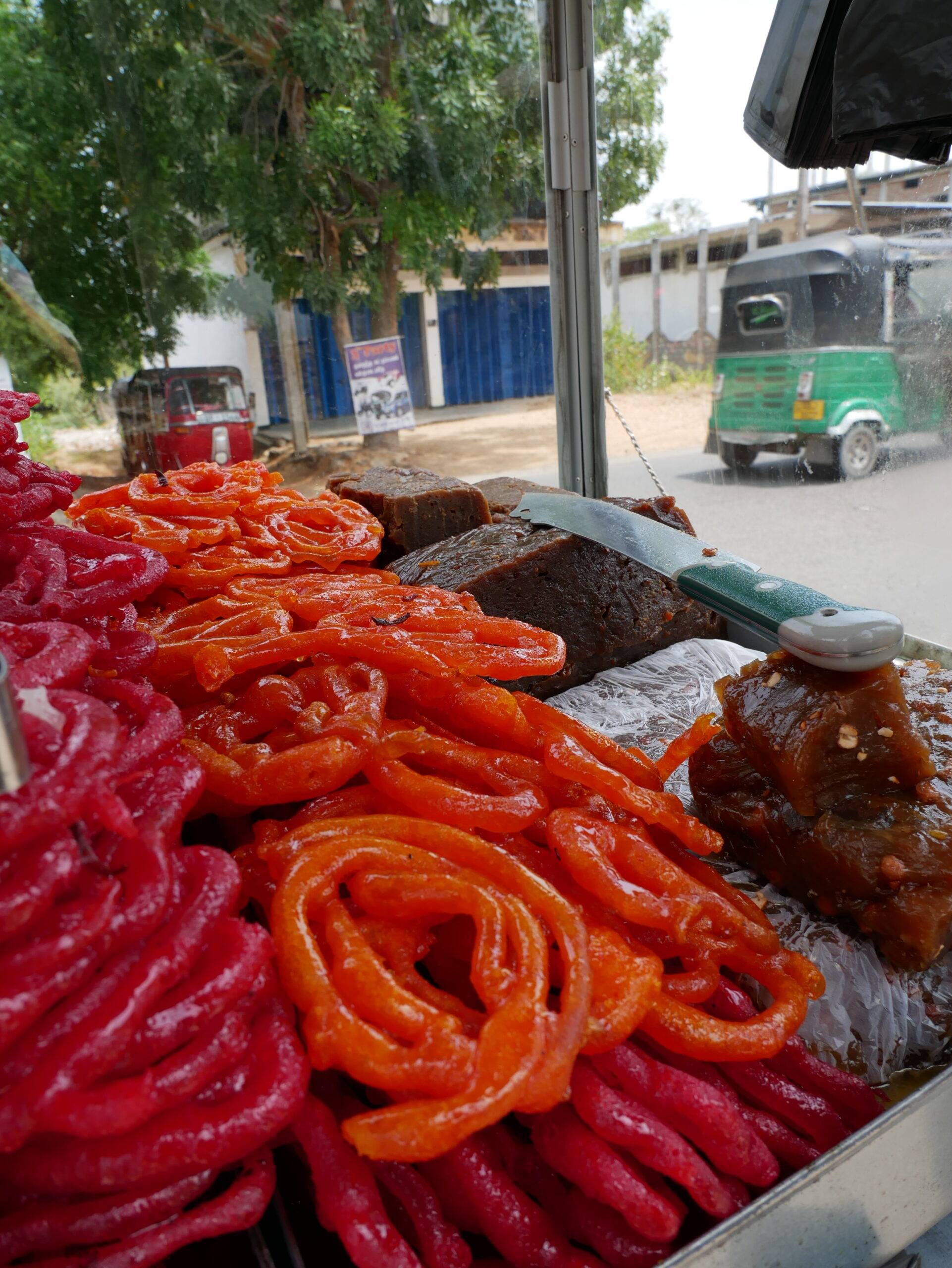 In Sri Lanka, people love sugar, so of course there is no shortage of sweets. Almost all of them are made from coconut ingredients - whether coconut milk, shredded coconut or coconut sugar, something of it is usually included. Also popular are various sweets for the Sri Lankan New Year, where we were allowed to try a huge plate of various sweets directly at 9 o'clock in the morning.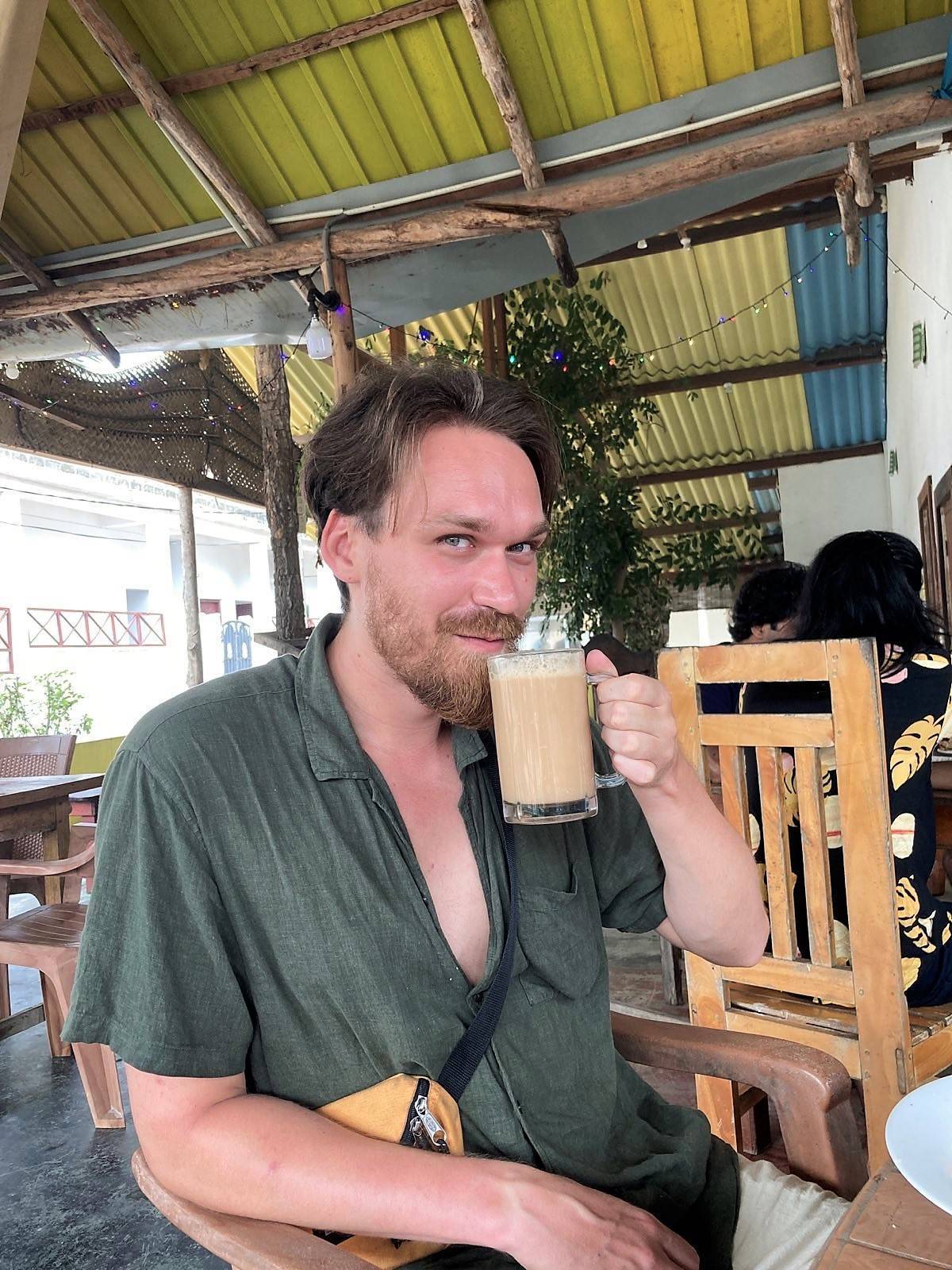 Sri Lanka is famous for its wonderful tea, which is grown in the highlands of the country. Black tea will be offered to you here really everywhere. Especially popular is the very sweet milk tea. For this, black tea is mixed with a sweetened condensed milk and poured from one glass to another to make it a comfortable temperature to drink. This fits wonderfully to the Paratha breakfast and is also the perfect energy boost in the afternoon.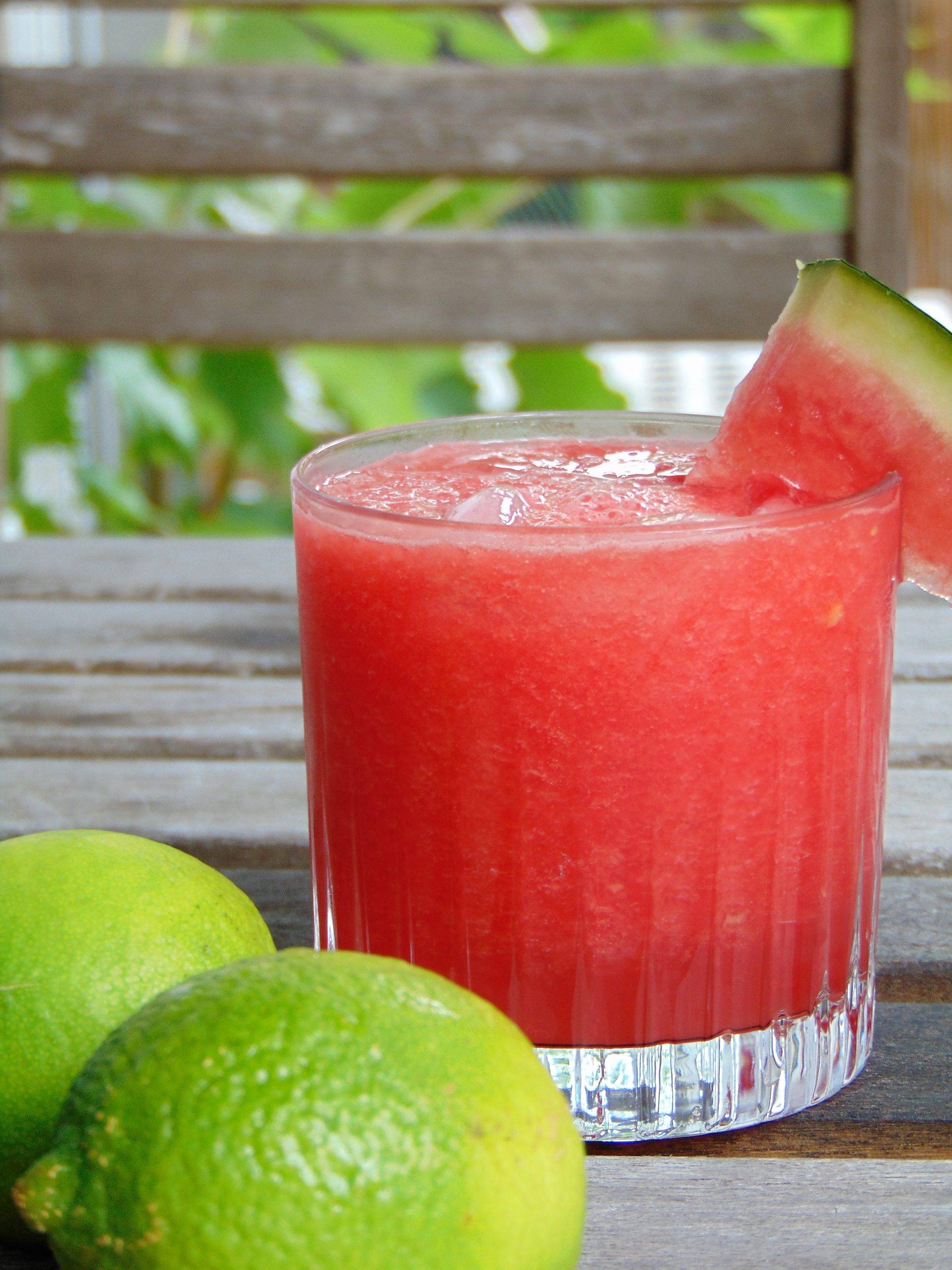 Since there is fruit en masse in Sri Lanka, you will also find freshly squeezed juices everywhere. Whether watermelon, passion fruit or mango juice, all are super refreshing. You don't have to worry about the ice cubes in your drink, at least in all the more touristy regions they are made from drinking water. If you don't want any sugar in your juice, it's best to always add 'no sugar' to your order.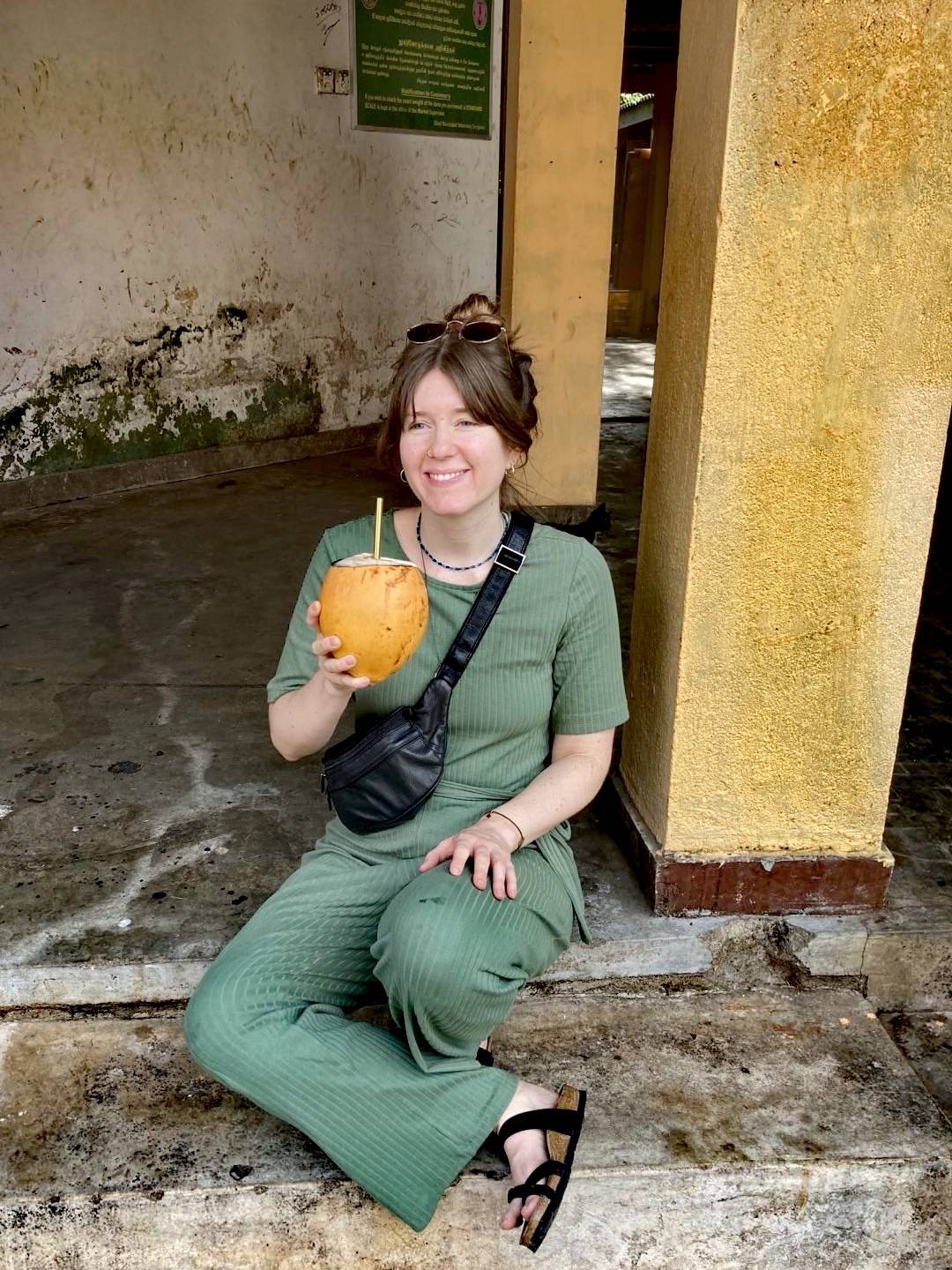 You can find the yellow coconut for 20-50 cents on any street corner and it's super refreshing, especially when cooled. It is also the perfect home remedy for all kinds of aches and pains like headaches, diarrhea and even hangovers due to its high mineral content.
Do you like this article?
Especially in the beginning it takes a lot of time to create a blog. 
If you would like to support me, you can leave a little tip for my next coffee. 
I would be very happy for your support and this helps me to write more beneficial articles for you.
The best food in Arugam Bay