Vegan Restaurant Guide



Koh Phangan
Vegan – authentic – low budget
Die besten Cafés und Restaurants in Koh Phangan
In August 2022 we spent 3 weeks in Koh Phangan and were looking for the best vegan Thai food for low budget. 
During that time, we fell so much in love with the food that it was hard to leave this beautiful island. 
In addition to super good restaurants, we have also spotted various street food markets and also found some cute cafes. I would like to share some insider tips with you in this guide, so that you can also experience the best food in Thailand.
Down below you can find all the locations of the tips linked on a map. If you click on the headings, you will also be taken directly to the respective restaurants and cafes.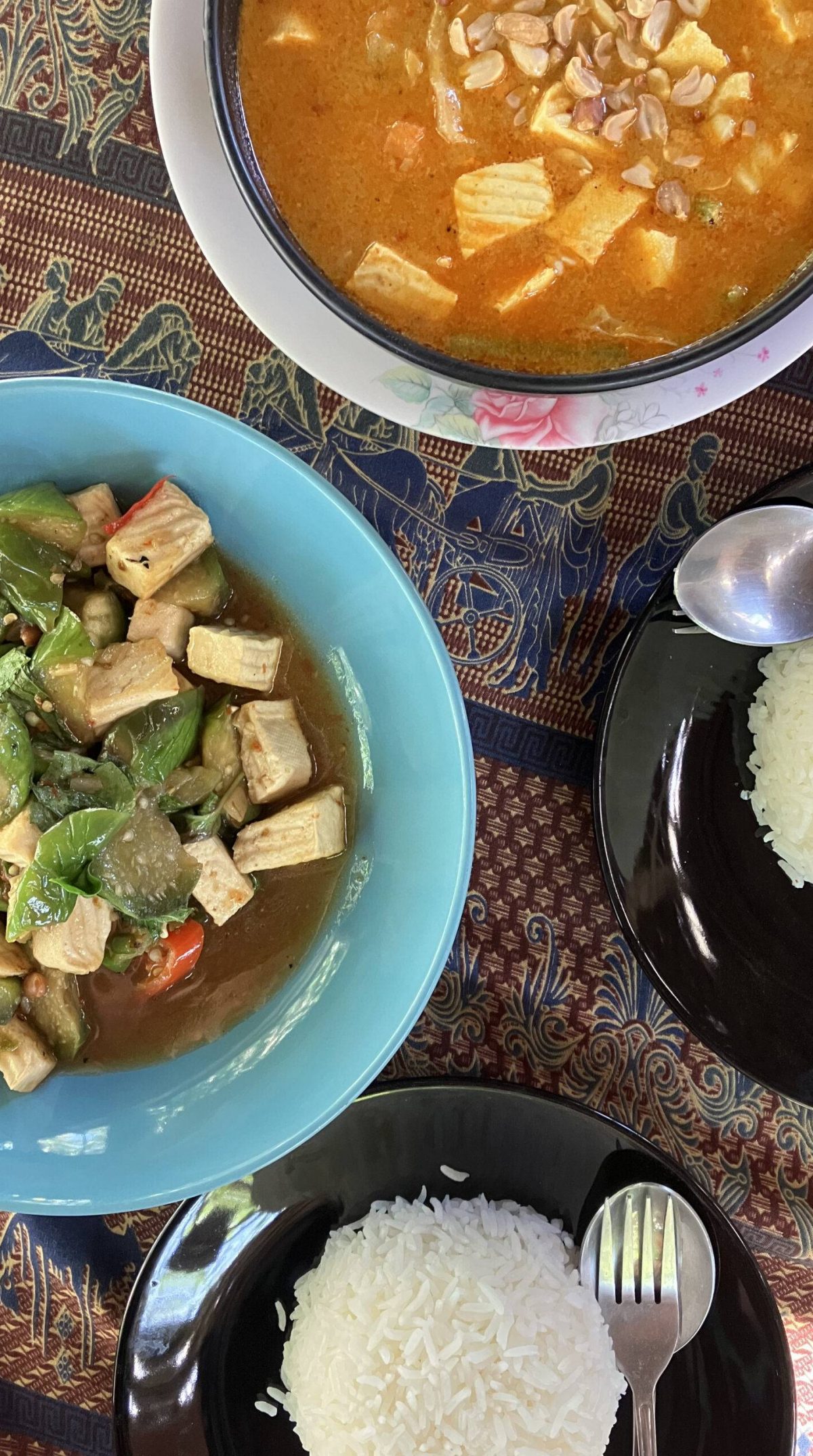 Even if the restaurant looks very unpretentious and well, let's say extremely messy from the outside, we have fallen in love with the food of Mama Pooh so much that this became our absolute favorite restaurant on the island. The restaurant is run entirely by the probably most loving little granny on the island, which is why it can sometimes take a little longer - but it is worth the waiting time! The food tastes super authentic, there are many vegan options, free water and all for very little money. While Mama Pooh cooks, her husband works next door on old equipment and 20s or 60s music plays in the background, so you feel as if you were a guest of a Thai family. Fun fact: Since Mama Pooh barely speaks English, you have to write down your order yourself: Number of the dish, quantity, price and spiciness on a scale of 1-5 (If you like it nice and spicy I can recommend a 4, for the mild taste rather 1-2).
Favorite dishes: Thai-Eggplant with tofu and Massaman-Curry.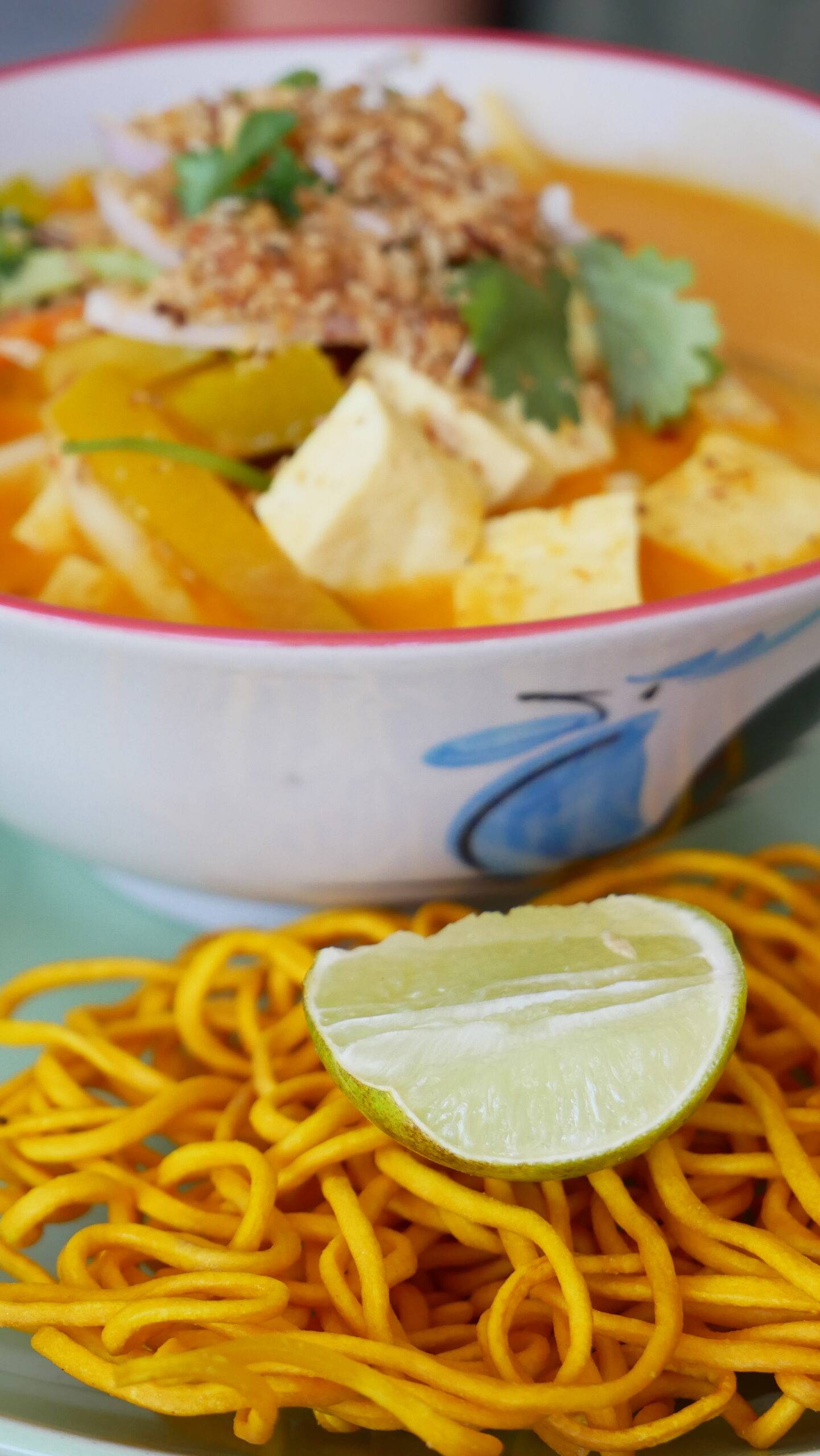 Everything delicious - many vegan options
Our second favorite restaurant. Here, every Thai dish is available in a vegan version, allowing you to feast on the entire variety of Thai cuisine. Here you can try a different dish every day, because everything tastes delicious! Not only are the prices good, but also the atmosphere: there is always a good atmosphere and cool music.
Favorite Dishes: Khao-Soi and Tom Yam.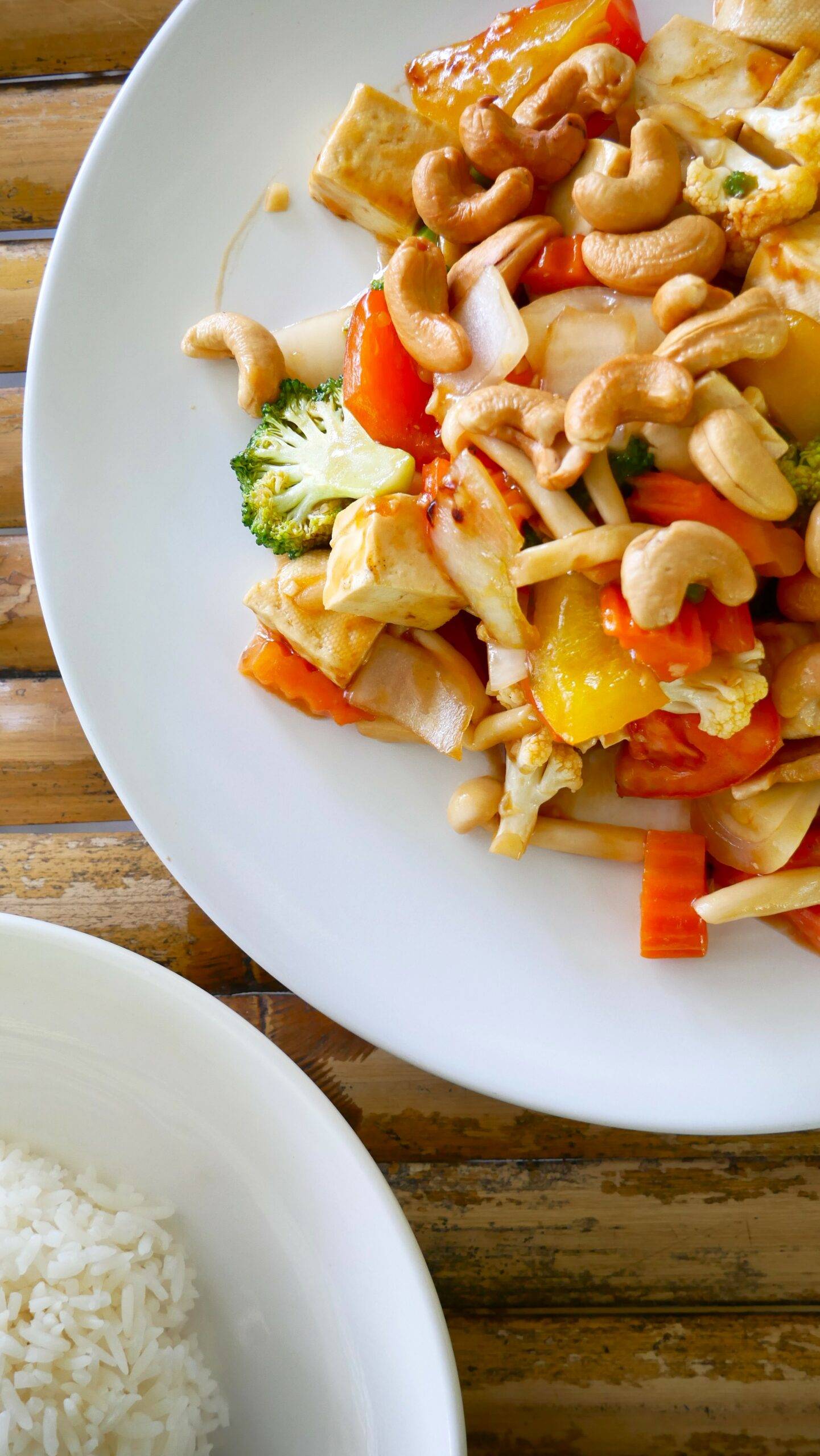 We tried K.C. Kitchen when our other two favorite restaurants had closed and were immediately convinced! The food was super tasty, especially the mango salad was really refreshing and not quite as sweet as you often get it served. You can help yourself to water and ice cubes as much as you want and you can sit here with a nice view onto the street and the jungle in the background.
Favorite dishes: Papayasalad and Stir Fried Cashew Nuts.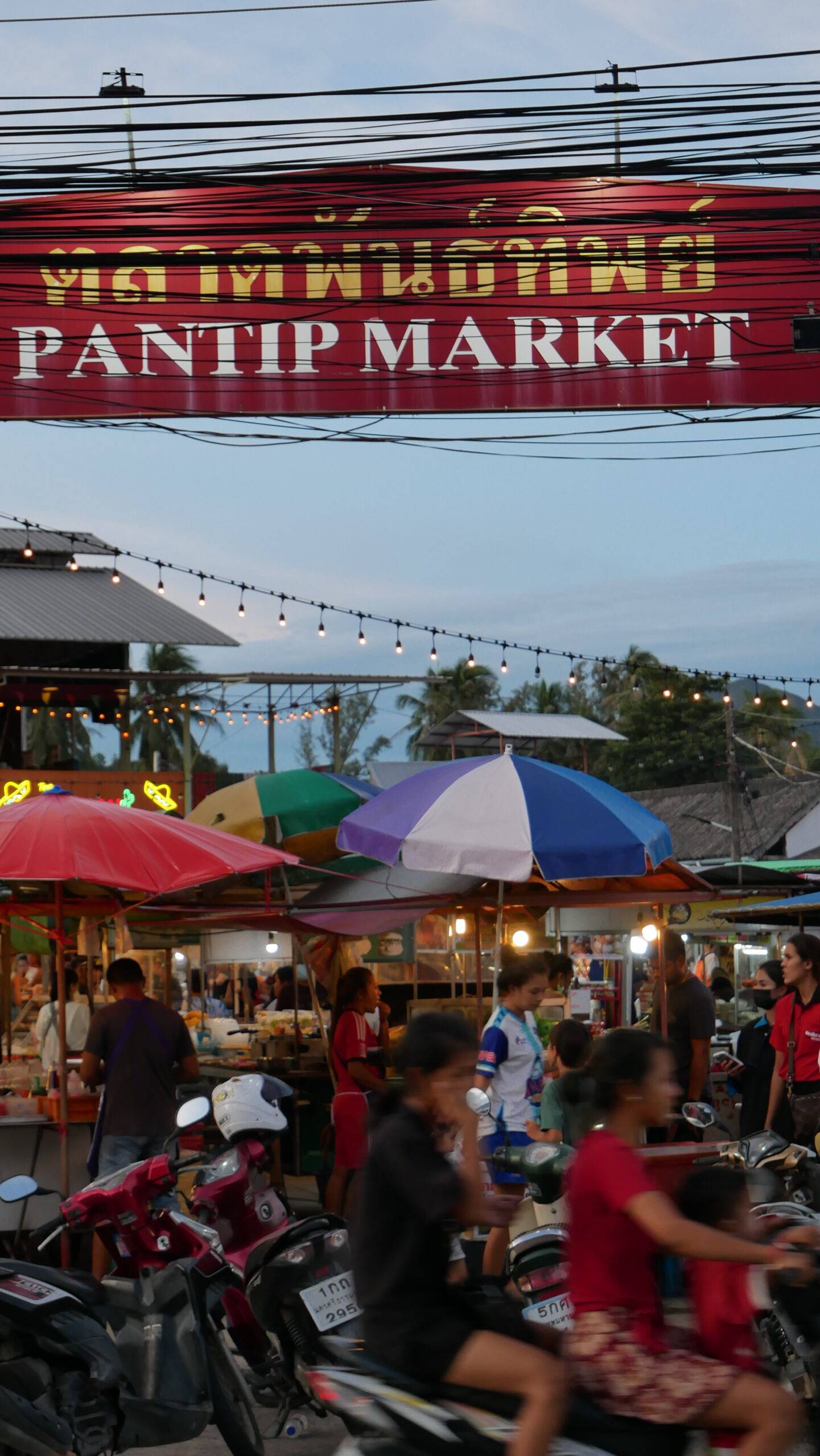 The Phantip Market near the harbor is perfect if you want to try different street food and want a lively atmosphere. Here you can find various Thai food for low budget: e.g. juices for 40 bht / 1,10€, Mango Sticky Rice for 50 bht / 1,37€ or curry with rice for 60-80 bht 1,64€ - 2,19€. If you want something different, you will also find it here: whether Indian, Falafel, Sushi or Italian - here you really have everything and even in good quality! We also found a world class pizza here! Be aware though, that only the Thai food is cheap here, the rest is a little bit more expensive.
Favorite dishes: stir fried red curry with tofu at Grace & Jennie and fresh-squeezed juices at the juice stand.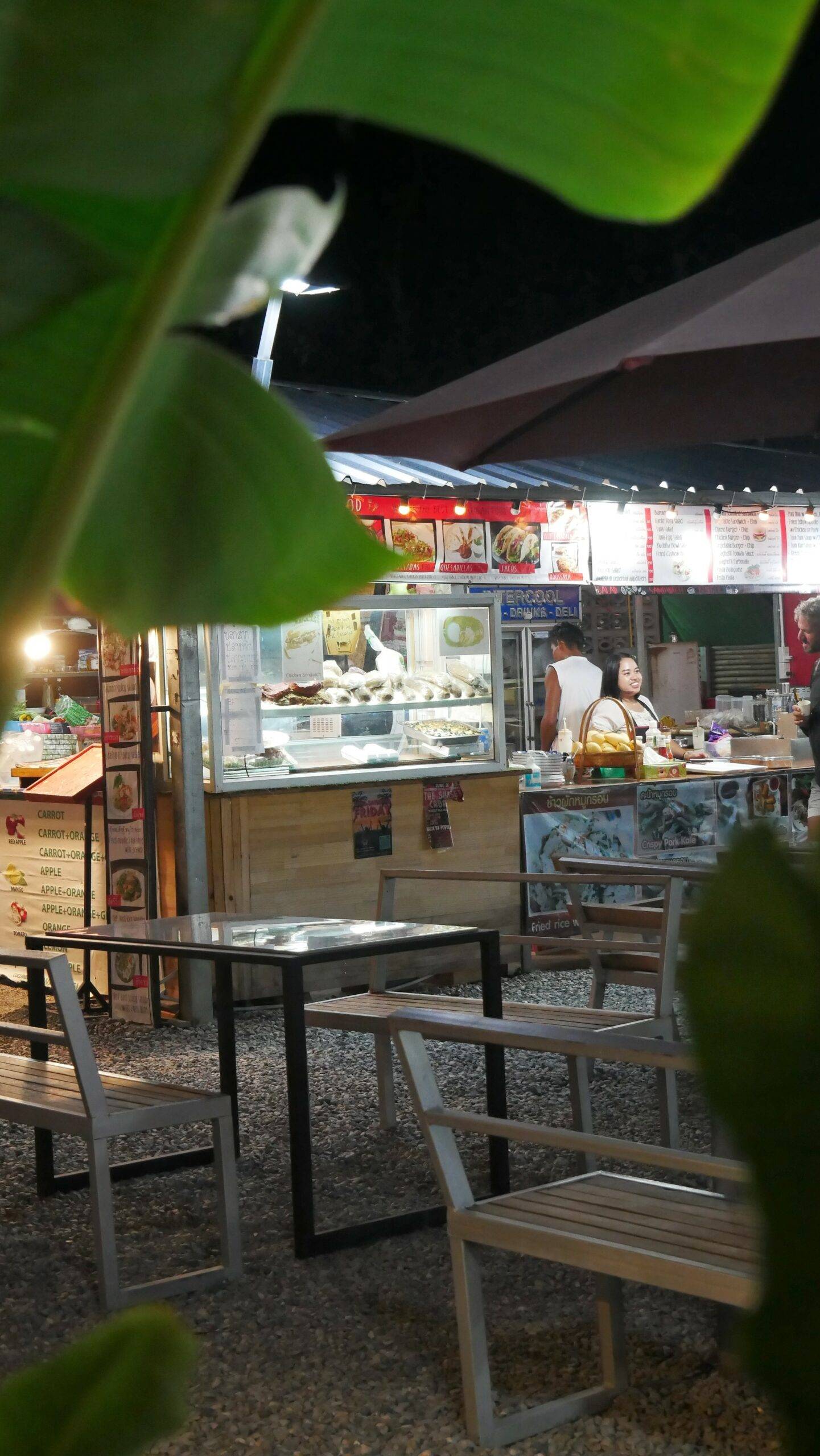 Compared to Phantip Market, you will find less choice at Mama Market in the heart of Sri Thanu on the west coast, but it is much more relaxed and smaller. The Mama Market is beautifully decorated with fairy lights and you can even listen to live music.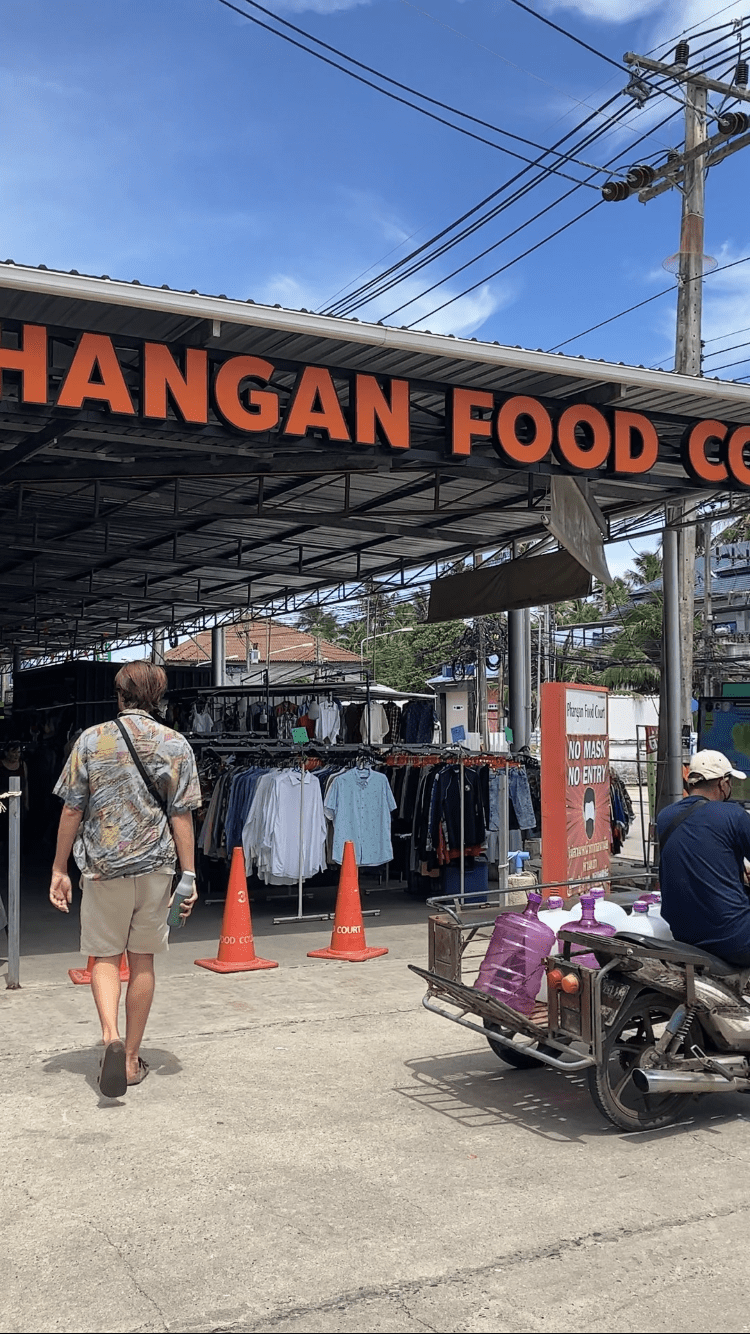 The Phangan Food Court is also near the harbor and a good address if you want to eat street food at lunchtime. Here you will find many different food stalls, whether Thai curry, mango sticky rice, juices, avocado bread, salad or coffee and vegan cake for dessert, the choice is huge.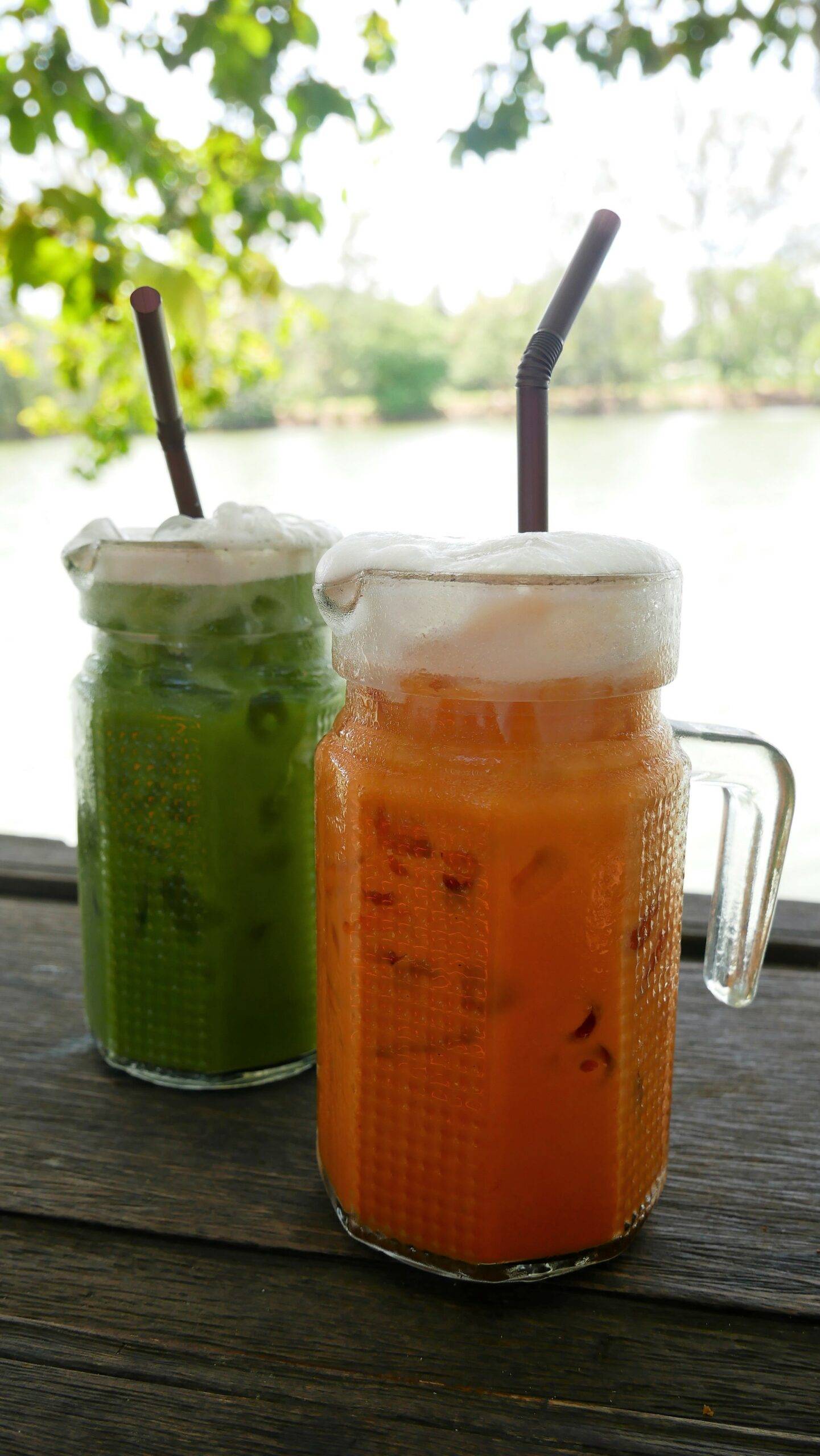 We discovered this little oasis in the west of the island. Uncle Café is the perfect place to sample one of Thailand's sugary sweet coffee or tea specialties amidst retro charm overlooking Koh Phangan's lagoon. Best of all, there are even plant-based milk alternatives (almond and coconut milk) for just 5 bht / €0.14 extra. In general, you'll pay between 50 - 80 bht / 1,37€ - 2,19€ for drinks.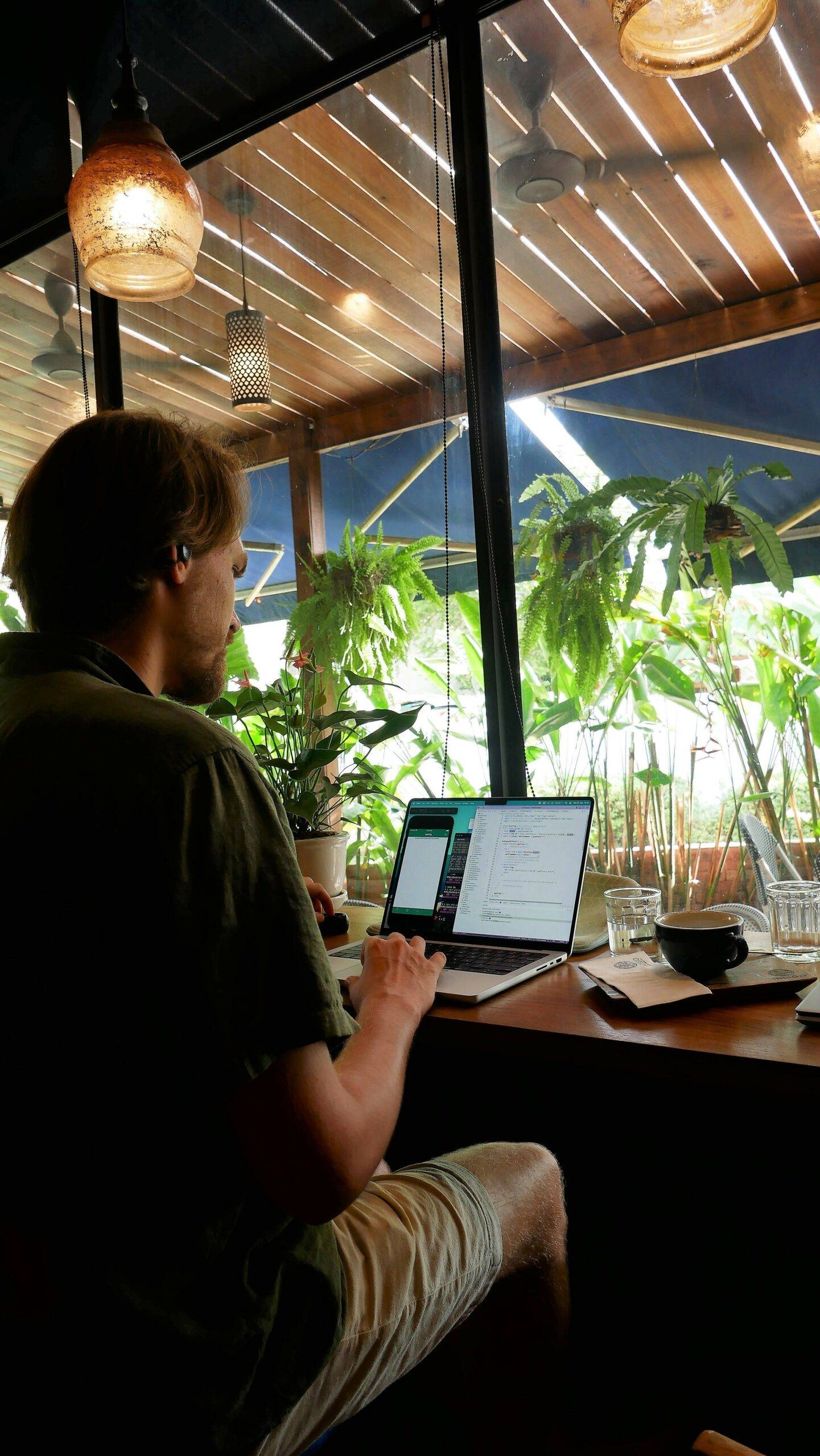 If you are looking for an air-conditioned café with a productive atmosphere, Indigo Café is the place to go. It's not the cheapest café (cappuccino with oat milk costs 90 bht / 2,51€), but there is a whole floor where you can work with your laptop. There's even vegan Thai coffee, free water and some vegan pastries, so your brain can also be feeded here.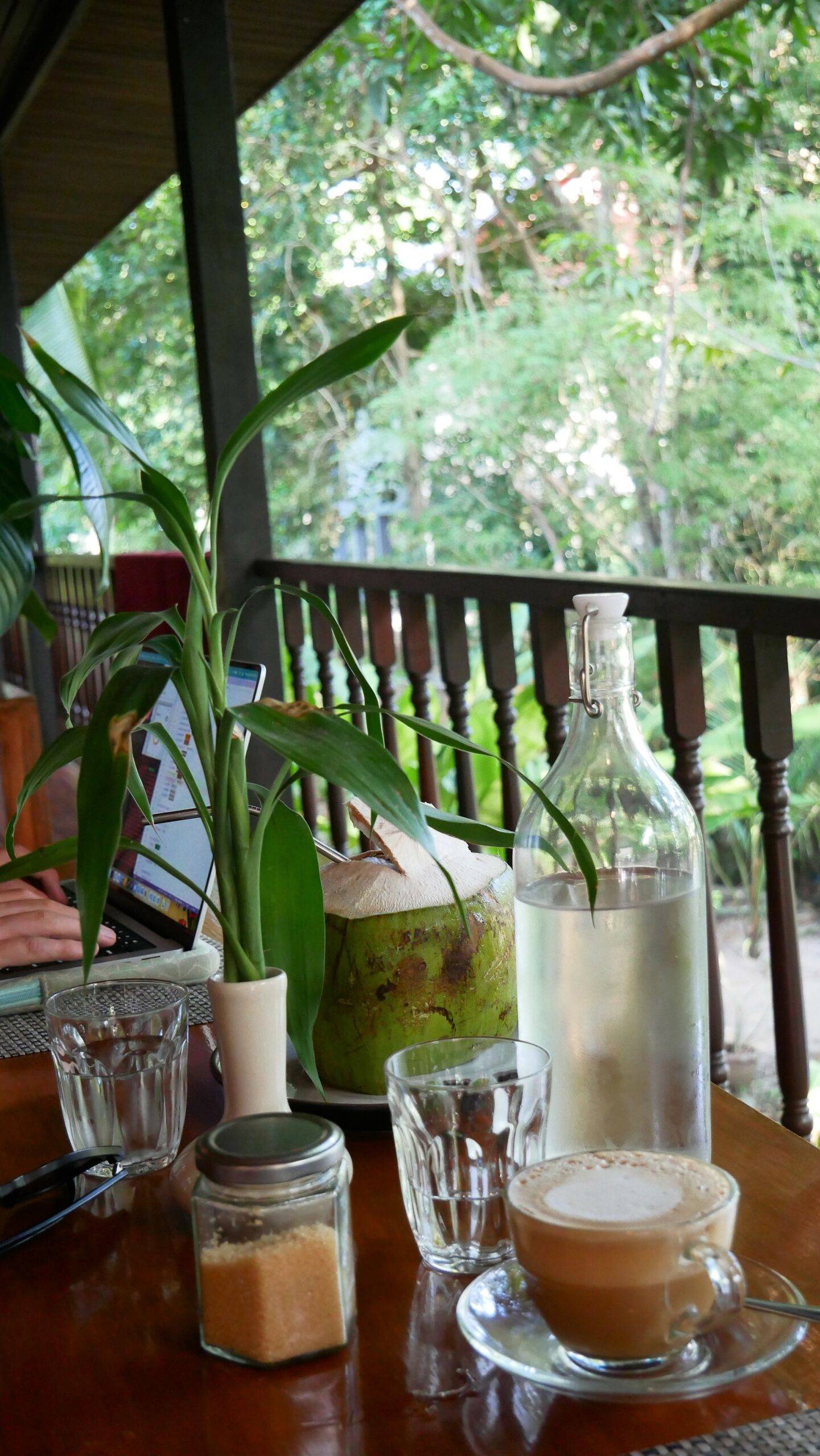 Coffee with djungel vibes
The name says it all! The Yoga House Café is hidden in the west of the island in the middle of the jungle. Here you can drink coffee in peace with meditative background music and lake view and even work on the laptop. There is both a balcony and a kind of living room, which is super lovingly decorated with colorful cushions, sofas and a beautiful wooden floor. We felt right at home here and like we were in someone's home. There is almond milk for 20 bht / 0,55€ extra, coconut milk without extra charge and water for free. There's even a tempting vegan apple pie with coconut ice cream and a vegan carrot cake on the menu, but at 140 bht / 3.90€ each, they're a real treat.
Here you'll find all the food spots
Did you know that Thailand is a paradise for Kitesurfing?
Auf dem Blog von Faszination Südostasien habe ich einen Guide zu den besten Kitesurf Orten Thailands verfasst.
If you want to know, what is the best season for Kitesurfing and which places are the best, come have a look.
Typical Dishes in Thailand
Do you like this article?
Especially in the beginning it takes a lot of time to create a blog. 
If you would like to support me, you can leave a little tip for my next coffee. 
I would be very happy for your support and this helps me to write more beneficial articles for you.