Authentic, delicious and low budget
The best vegan and vegetarian food in Arugam Bay
I stayed for 2 months in the surfer's paradise Arugam Bay and as an hobby restaurant reviewer I tasted my way through various menus.
In order to keep an overview of the numerous restaurants and cafés, not to fall into expensive tourist traps and not to miss any culinary highlight in Arugam Bay, I would like to share my experiences with you in this guide.
Down below you can also find the locations of the various restaurants.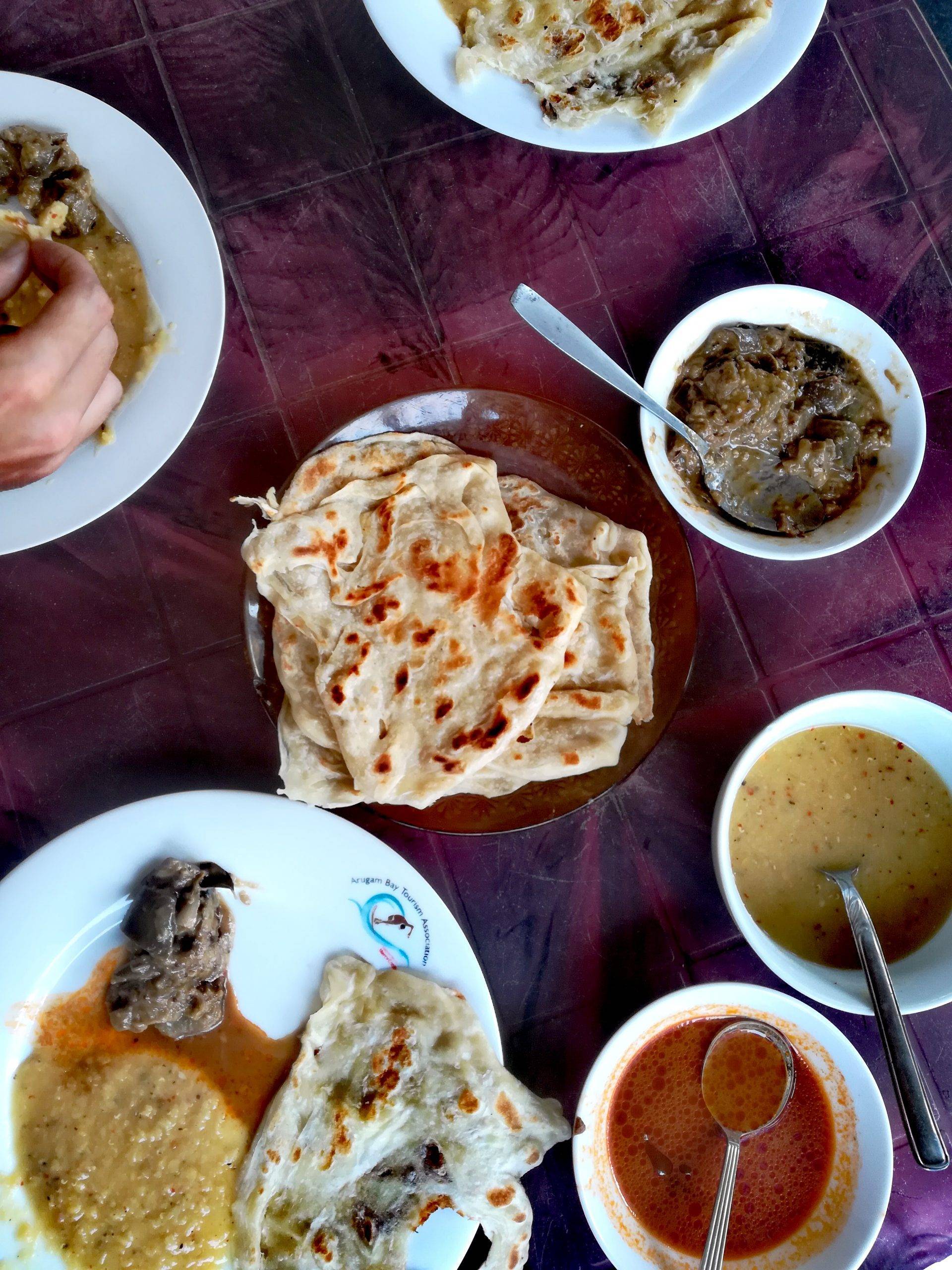 Manha is definitely the number 1 for freshly prepared, authentic breakfast! We always ordered "Plain Paratha with Dhal on the side" (available from 6 -11 am). You'll notice that you get delicious food for low budget here because all the locals go here to eat - for 300rs / 0,80€ you'll be stuffed (one paratha costs 40rs / 0,10€, we usually ordered 2-3 per person). For the real local experience, you should definitely order a sweeeet milk tea!
If you want to eat paratha after 11am, you can also go to Food Point or Thaththa's Tea Shop/ Thatha's Hotel.
At the Food Point in the middle of Arugam Bay the fresh and spicy coconut sambal which you get to the parathas with dhal is really delicious.
At Thaththa's Tea Shop or Hotel (there are two names) near the Main Point, the relaxed atmosphere is convincing: while you eat your parathas surrounded by plants, you can watch frolicking monkeys. If you are looking for a change from dhal, try roti with fresh, homemade guacamole.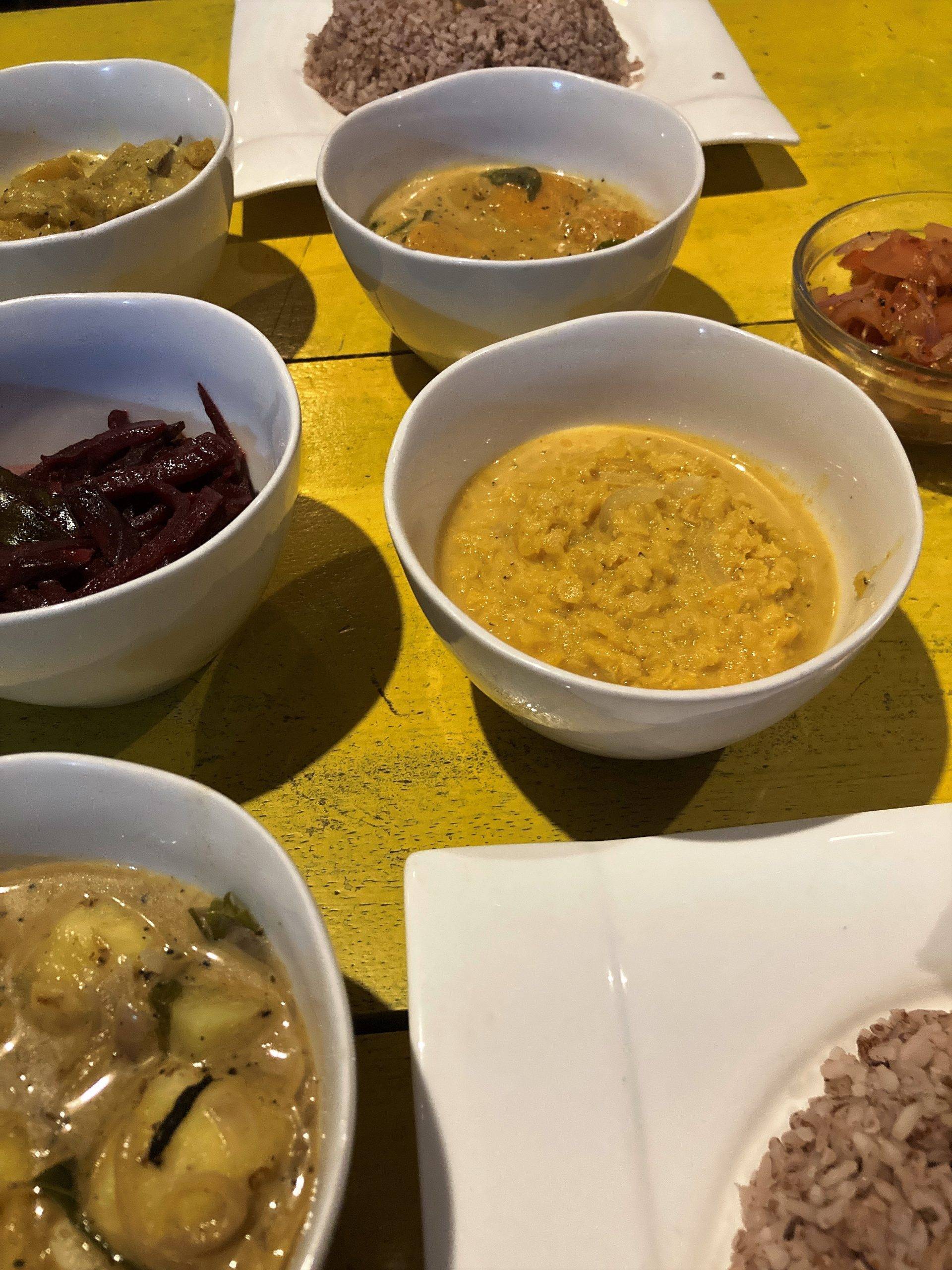 If you fancy a buffet and a selection of different vegetable curries, you should try Mother's Kitchen (not Mama's). You will definitely get full here, the curries are freshly cooked in typical Sri Lankan clay pots and well seasoned. In my opinion, Mother's Kitchen serves the best Rice and Curry of whole Arugam Bay! In addition to the vegetable curries, there is usually a sweet and sour curry made out of fruit and a refreshing salad. I was particularly impressed by the dhal, which is cooked with lots of fresh cinnamon sticks. Cost: 800rs / 2€. If you fancy a dessert, you should order a chocolate-banana-rotti, this is also damn good!
Don't be deterred by the plain little hut at the beginning of Arugam Bay - at Tuna you definitely get the most authentic and cheapest Rice and Curry of Arugam Bay! For 300rs / 0,77€ (!!) you get a portion of fresh rice, pappadums, dhal, vegetable curry and coconut sambol. Additional bonus: The juices and lassis are unbeatable cheap (about 200rs / 0,50€)!
If you are looking for a relaxed atmosphere where you can get to know people easily and want to play cards or chess while waiting for your meal, you should go to Bambini's Café. The restaurant is owned by the probably most likeable person in Arugam Bay - once you know him, you will visit this restaurant again and again. The Bambini's was like our second living room and we always felt like being at home.
For 600rs / 1,60€ you'll get rice, pappadums, dhal, beet root curry, pumpkin curry and sambal made out of tomatos, onion and coconut. Everything is freshly made and is cooked with a lot of curry leaves and cinnamon sticks. I can also recommend to additonal order the creamy mango curry.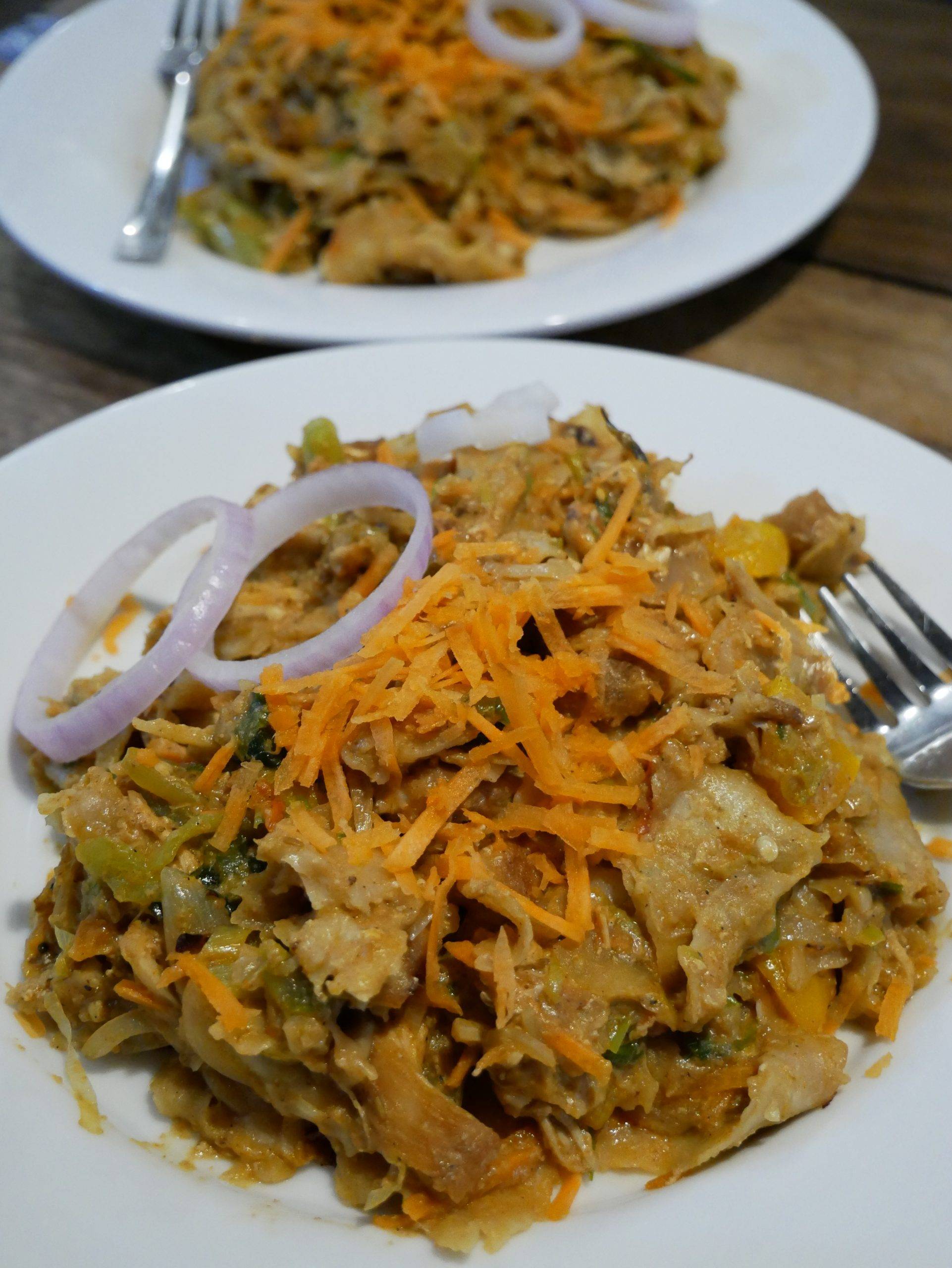 You'll find delicious Dolphin Kottu at Dinner Table. Don't worry, you won't get dolphin here, but a huge portion of freshly prepared Kottu with lots of spicy sauce and fresh vegetables (750rs / 1,95€).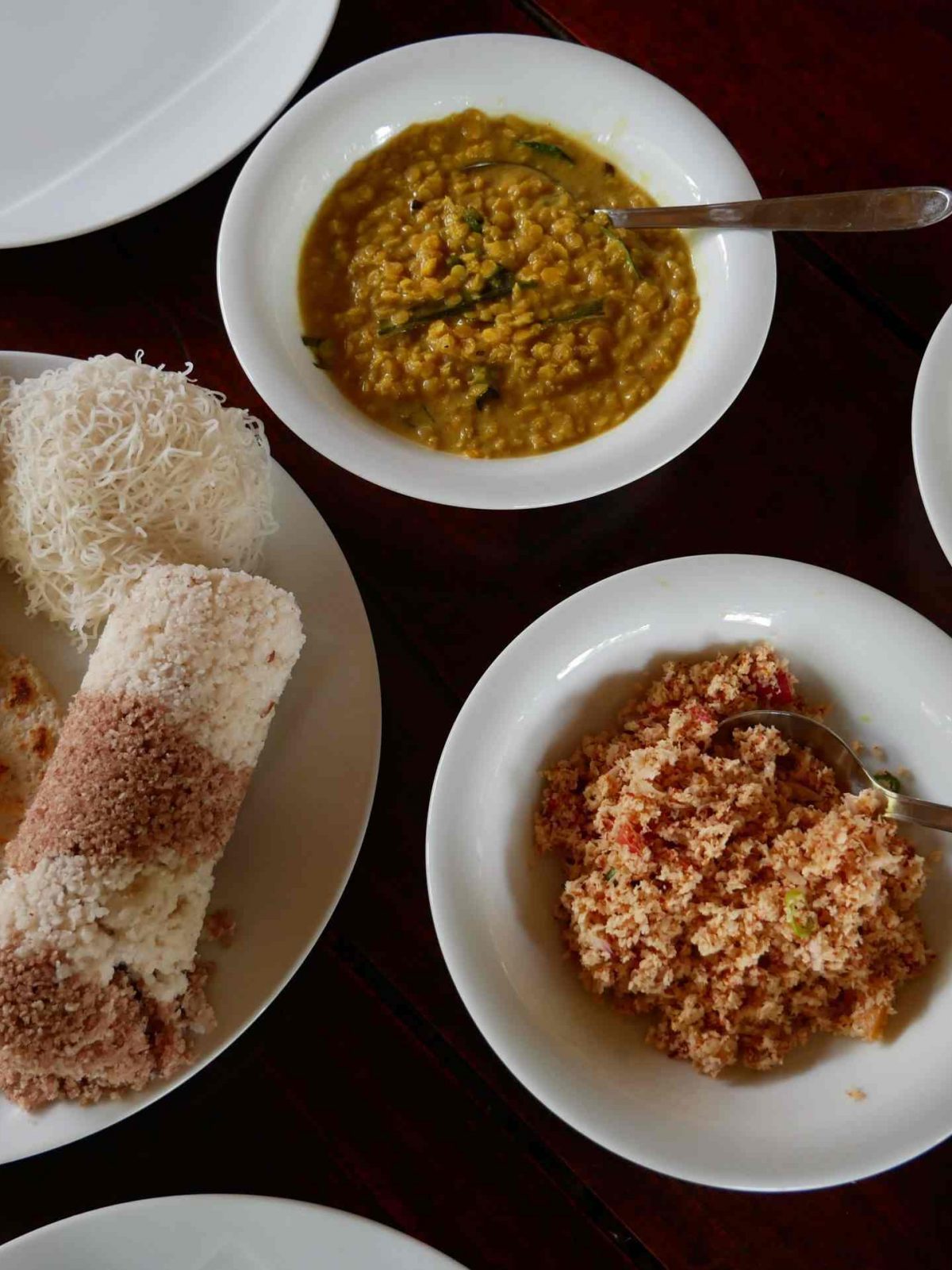 The best Sri Lankan breakfast you can get at Mother's Kitchen (not to be confused with Mama's). For 950rs / 2,50€ you get coconut roti, string hoppers, pittu, potato curry, refreshing coconut sambal and tea/coffee. Since the breakfast is huge we shared it for two and additionally ordered a dhal for 300rs / 0,80€. Because the fresh preparation of the breakfast takes some time, you shouldn't be in a hurry when you go there.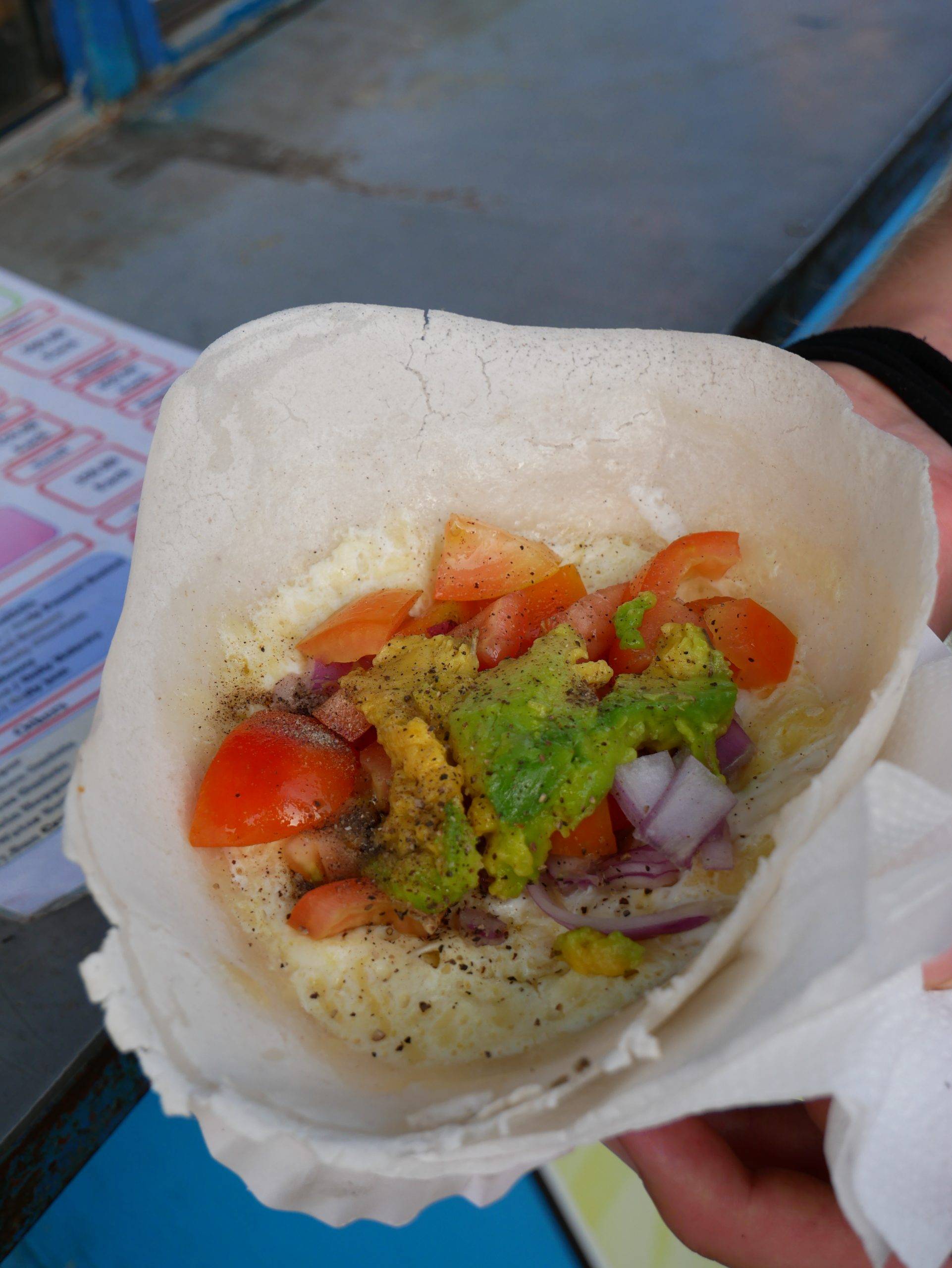 If you're in the mood for freshly prepared hoppers, you'll find them at the small stand right in front of the Siam View! Here you can get not only the classic hoppers with or without egg and spicy sambal, but a whole range of different ingredients that you can choose for your hoppers: I recommend a hopper with avocado, tomato, onion and optional cheese, which is almost reminiscent of a taco! Sweet versions are also available, e.g. with peanut butter and banana. Hoppers are the perfect snack, dinner or dessert and even better after partying because it's open from 4pm - 4am! The price varies depending on the filling between 500-600rs / 1,30€ - 1,60€.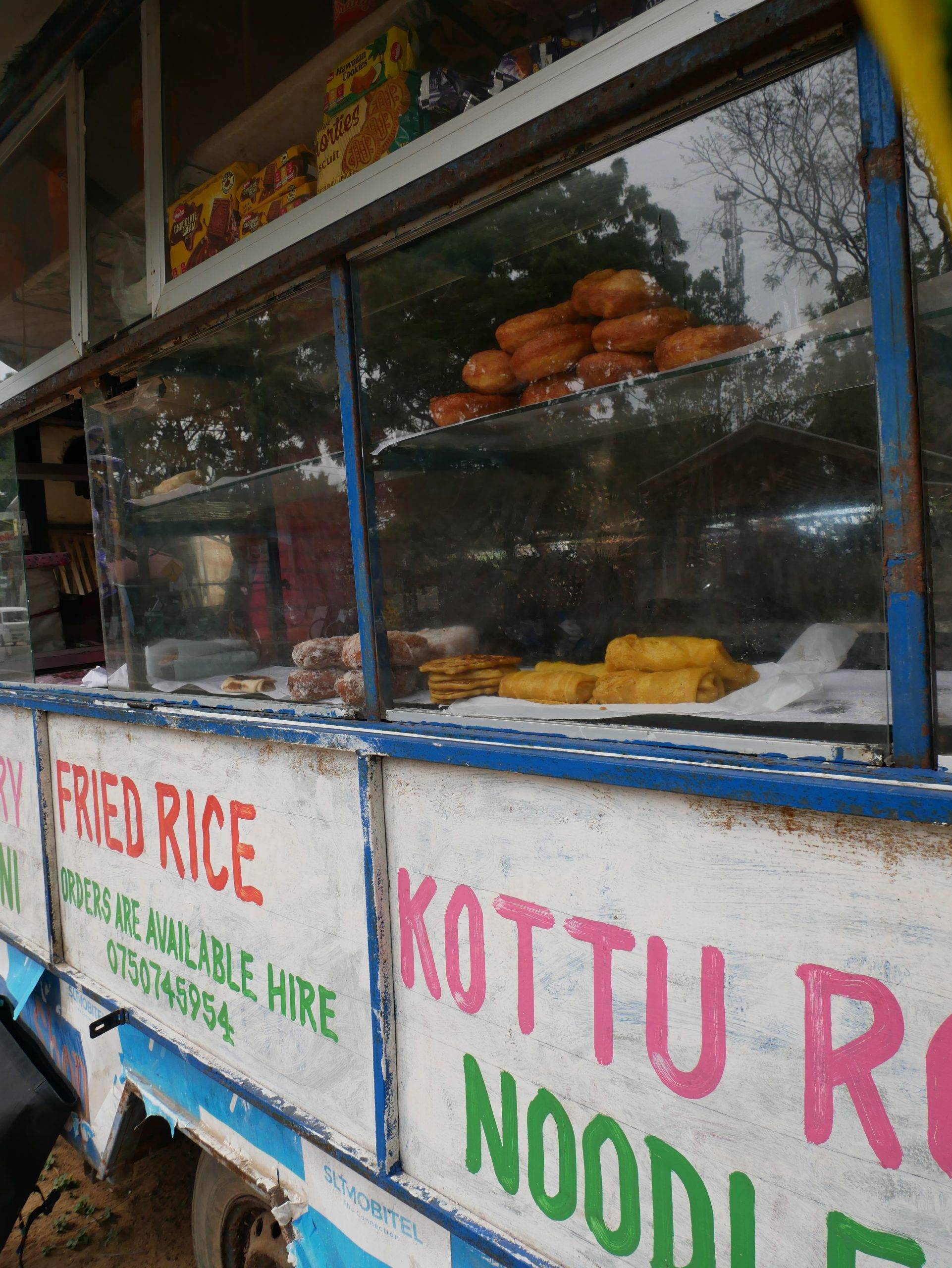 The best selection of fresh street food is at the blue street food truck right of the Siam View just before the turn towards Main Point.
Especially delicious are the triangular, filled vegetable rotis and the donuts. It's worth to get some - each piece costs only 25 cents!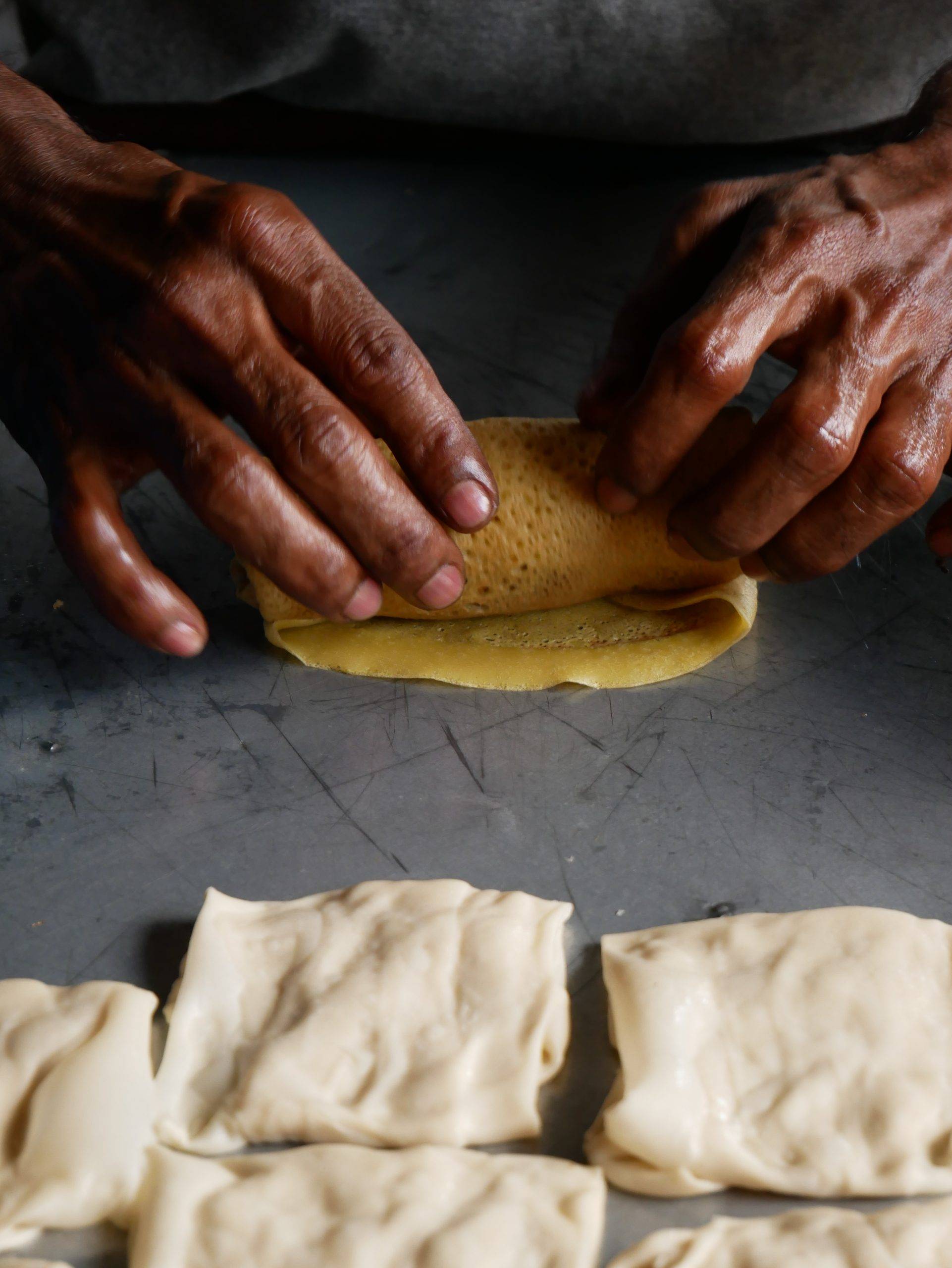 In addition to authentic rice and curry, don't miss the coconut banana pancakes at Tuna for 20 cents each! The pancakes are filled with a coconut-honey mixture as well as a whole banana, which balances out the sweetness a bit. My tip: Come here directly for breakfast, then you can watch how they prepare the pancakes freshly!
The best from the rest of Asia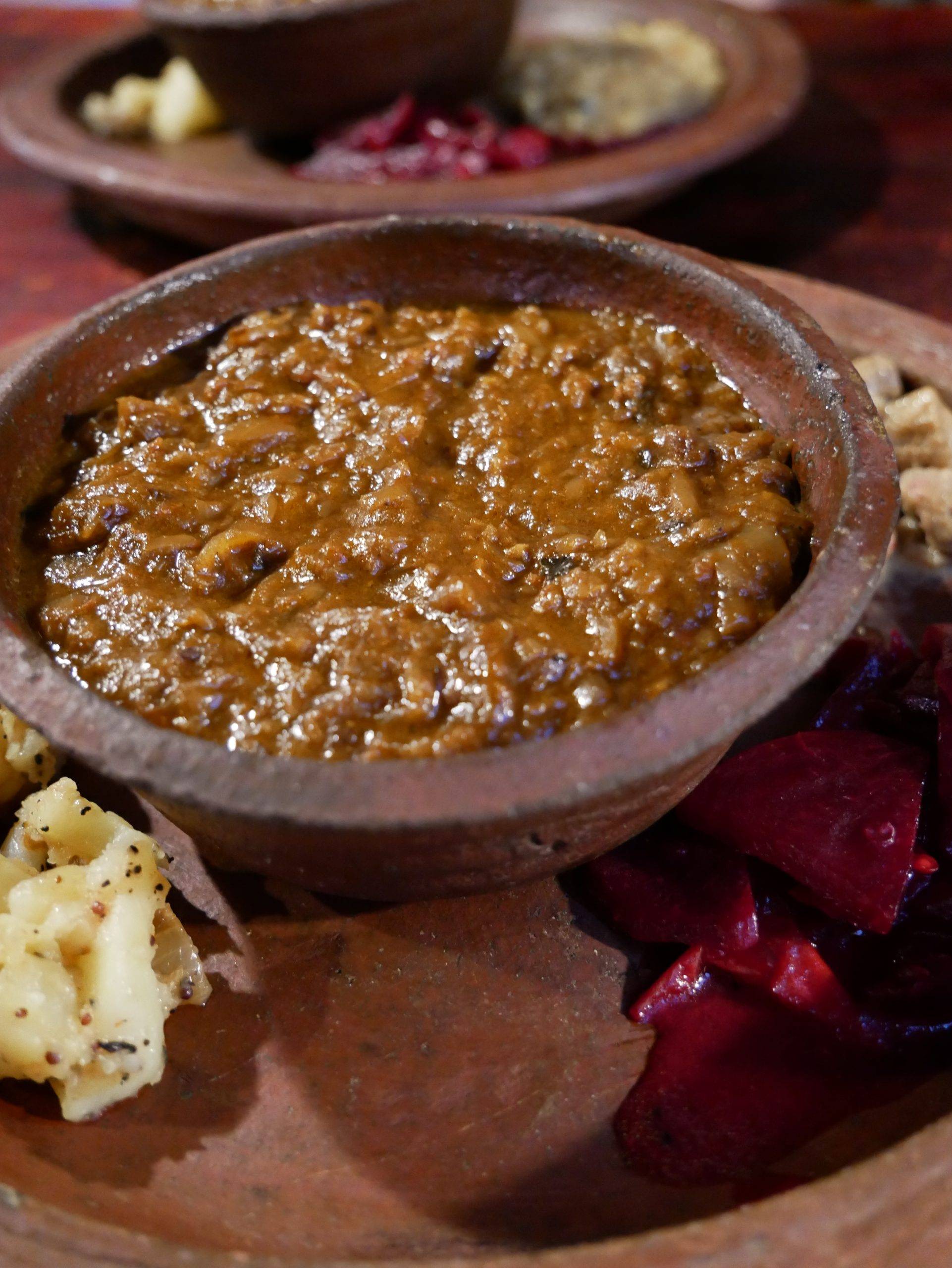 If you want to treat yourself to something despite your low budget and are in the mood for Indian food, you should definitely try Tandoori Hut. All curries taste authentically spicy. As a side dish you get naan-like bread, rice and a selection of Sri Lankan vegetable curries (e.g. dhal, beet, potatoes, okra), which can be reordered for free. Cost: approx. 5€ per dish.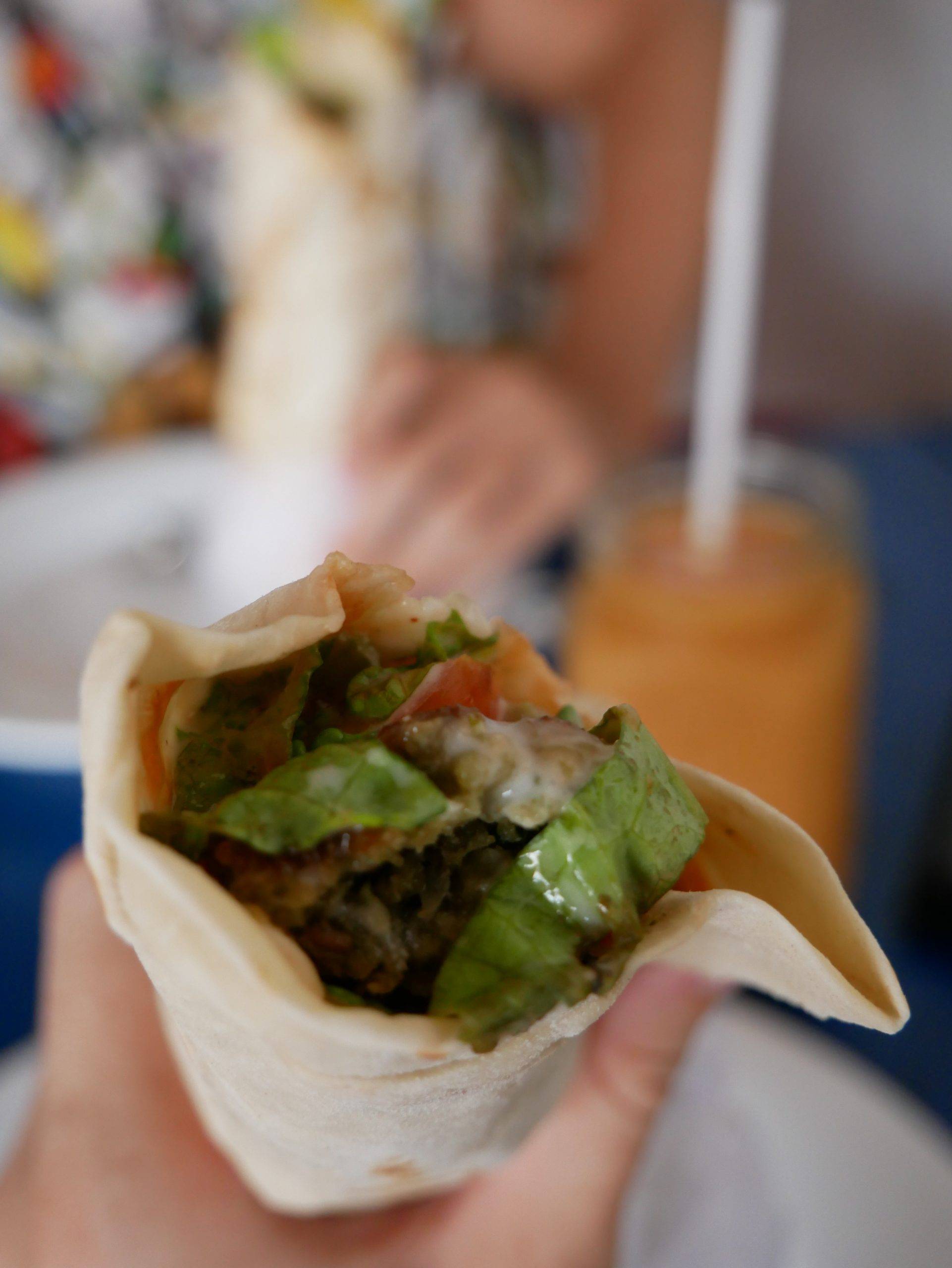 You should definitely try the Special Vegetarian Falafel at Dinner Table! The falafel sandwich filled with fries, vegetables and lots of sauce is soo tasty and also cheap (1200rs / 3,20€). In my experience, the falafel get worse as the evening goes on, so it's best to come here around 6pm. Then the falafel are freshly made and crispy.
If you are seeking a change from Sri Lankan food, don't miss the authentic Thai streetfood at Wayside Thai Café. The portions are relatively small, but you can order 2 dishes per person and try even more delicious food with beach view. You should definitely order the papaya salad to your meal, it's super fresh and spicy. Cost: 1-2 dishes with drink about 1900rs / 5 € per person.
Newly opened in 2022, La Lena specializes in vegan and vegetarian options. If you're in the mood for healthy, creatively composed, and unique dishes, you should definitely eat here. The owners are constantly working on new creations. For breakfast, there's vegan omelet with avocado and toast (1000rs / 2,60€) or porridge with fresh cinnamon sticks, creamy coconut milk, lots of fruit and nuts (800rs / 2€). Coffee and tea are included, water is also free. For dinner, the super refreshing watermelon salad and the vegetable bowl with tahini or teriyaki dressing are especially delicious (each about 1200rs / 3€ per dish). If you fancy a dessert, you should try the vegan mousse au chocolat. The ambience is as lovely designed as the recipes, with lots of plants and fairy lights.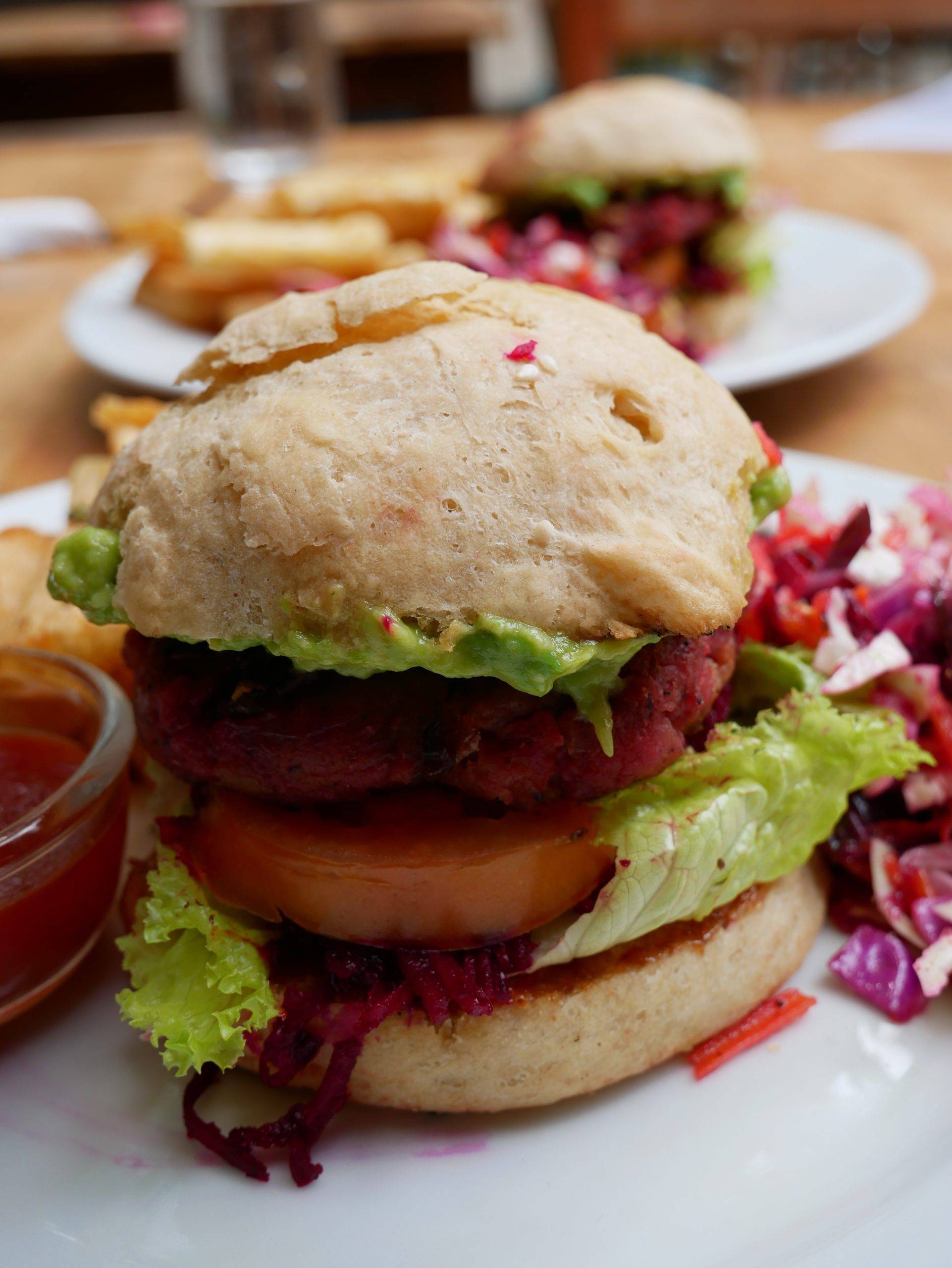 Karma Garden: Even though the burger is a little bit pricey for Sri Lankan standards (1900rs / 4,90€), it is definitly worth to eat here! You'll find the probably healthiest burger with the best ingredients: The pattie consists of homemade seitan, there is guacamole and beet root on top, a refreshing salad on the side and probably the world's best homemade cassava fries. You should already be here for lunch, the restaurant closes at 4 pm.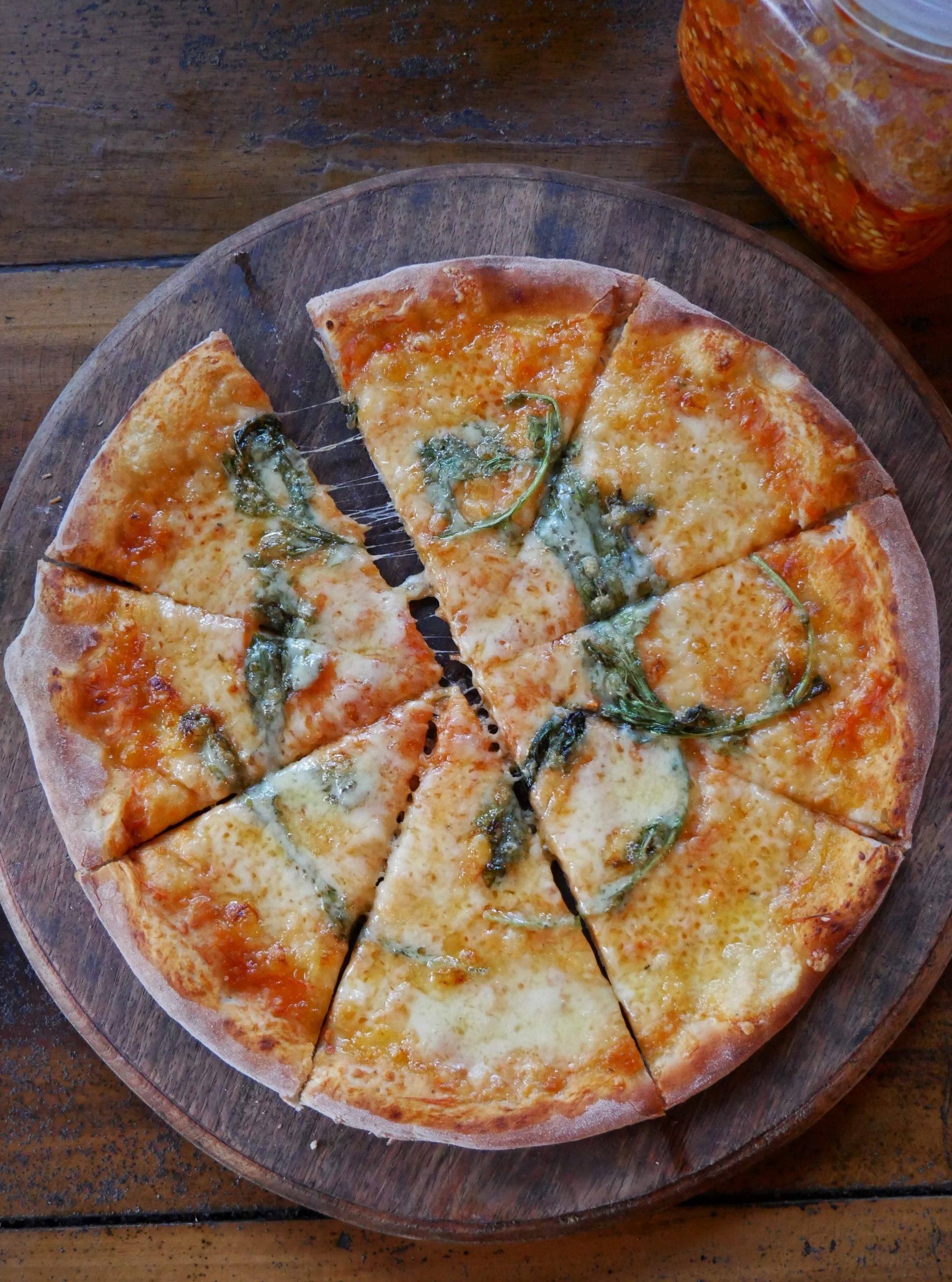 In Arugam Bay, stone-oven pizza is a dime a dozen. The only real one, however, is at the Cili Hotel. The pizza is of European quality and the atmosphere is very relaxed. Since Sri Lanka never lacks spiciness, you can take homemade chili oil as a topping. There are 3 different vegetarian pizzas, the Margherita costs 1980rs / 5 €.
Coffeeshop & cake paradise
If you're in the mood for good coffee with an air-conditioned coffee shop feeling and Wifi, you've come to the right place. The indoor area is rather small, but if you can stand the heat better, you'll certainly find a spot in the cozy outdoor area. You should definitely come here with a craving for something sweet - you can't get past the cakes! A classic is the brookie - a mix between a brownie and a cookie. Vegan alternatives are also available, such as banana cake, chocolate muffins, or homemade granola bars. In addition to cow's milk, you can choose between oat, almond or coconut milk for your drinks.
This café in Arugam Bay will give you the best bang for the buck: Cappuccino with cow's milk costs 430rs / 1,20€, with non-dairy milk 630rs / 1,40€, cake is about 400rs / 1€ per piece. 
Right next to Bites, but a bit more expensive, is the Hideaway. Digital nomads will definitely be happy here: You can work on your laptop in big seating areas with good Wifi and plenty of power outlets while enjoying a professionally prepared cappuccino. In addition to cow's milk, coconut milk is available as a plant-based alternative. The food also looks great, but is expensive for Sri Lankan standards (about 3600rs / 10€ per dish). Don't come too late, the café closes already at 2:30pm.
You won't find the cheapest coffee, but the best view at Salty Swamis. Here you can enjoy a coffee in the midst of chill surf vibes with a view of the turquoise sea. Vegan wishes are not neglected, there are oat, almond and coconut milk (cappuccino with vegetable milk about 2,80€ / with cow's milk about 2,30€). If you don't like coffee, you'll certainly be happy with one of the many smoothies or juices. However, you should not expect cakes here, the café specializes in healthy dishes.
Here you'll find all the food spots
Do you like this article?
Especially in the beginning it takes a lot of time to create a blog. 
If you would like to support me, you can leave a little tip for my next coffee. 
I would be very happy for your support and this helps me to write more beneficial articles for you.
Vegan and vegetarian food in Sri Lanka