Authentic, veggie and low budget
The best vegan and vegetarian food in Arugam Bay
The little surf town Arugam Bay is a real food paradise. Here you can find everything your heart desires. Whether local food, fancy restaurants with international dishes or street food. In order to keep an overview of the numerous restaurants and cafes, not to fall into expensive tourist traps and not to miss any culinary highlights in Arugam Bay, I would like to share my experiences with you in this guide.
Last year (2022) I spent 2 months in Arugam Bay and as an hobby restaurant critic I tasted my way through various menus. In the process, my famous food guide was created. This year (2023) I was in town again for several weeks and updated the guide.
Da ich selbst mit Backpack und Low Budget reise, habe ich hauptsächlich günstige und lokale Restaurants aufgelistet. Allerdings habe ich eine Schwäche für guten Kaffee und will mir natürlich auch ab und zu etwas Abwechslung gönnen, deswegen findet ihr auch eine kleine Auswahl an Cafés und internationalen Restaurants. Generell habe ich immer darauf geachtet, dass das Preis-Leistungs-Verhältnis stimmt.
Down below you can find the locations of the various restaurants marked on a map.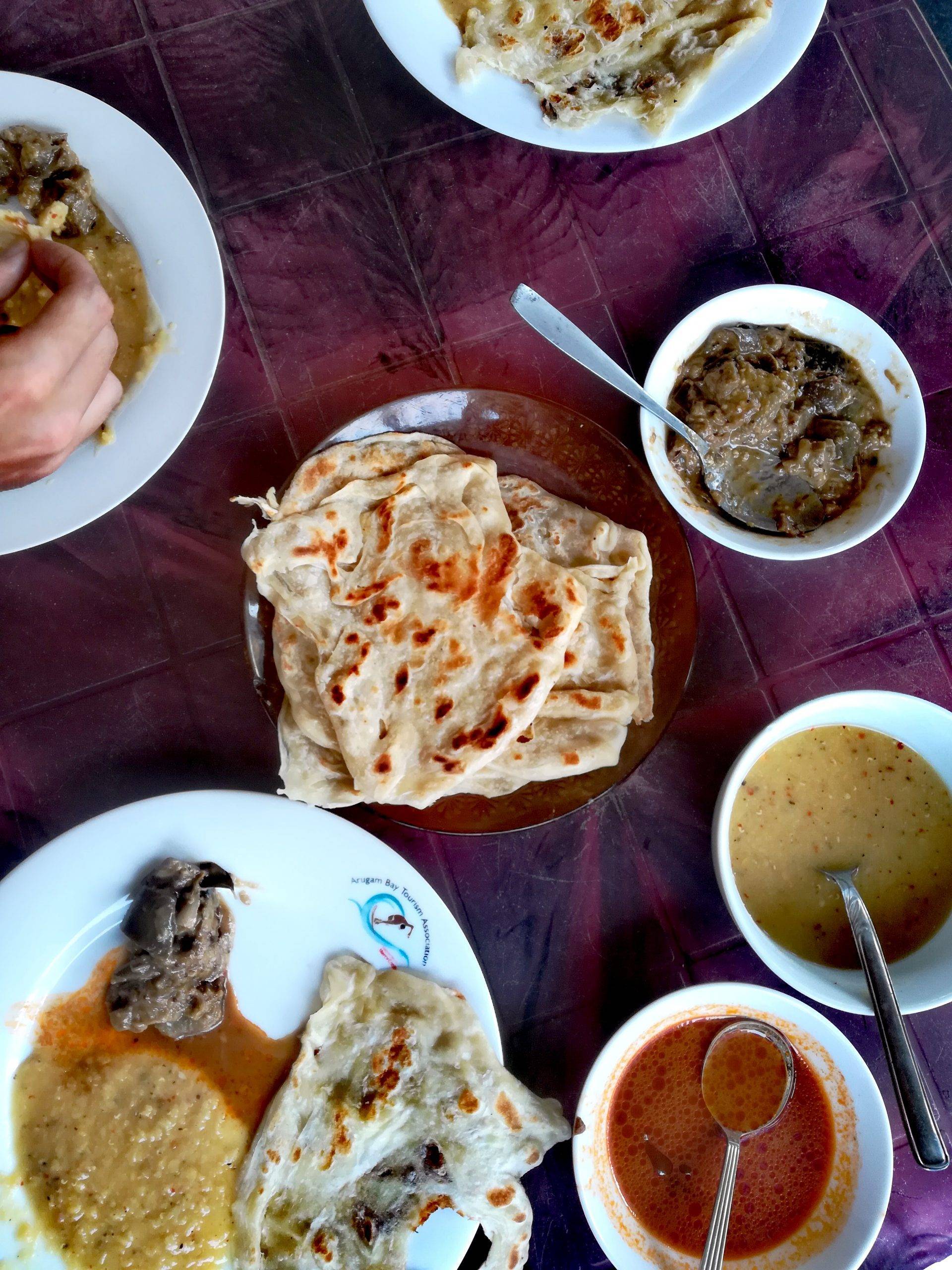 Manha is definitely the number 1 for freshly prepared, authentic breakfast! We always ordered "Plain Paratha with Dhal on the side", which is completely vegan. You'll notice that you get delicious food for low budget here because all the locals go here to eat - for 300r lkr / 0,80 € you'll be stuffed (one paratha costs 40 lkr / 0,10 €, we usually ordered 2-3 per person). If you fancy something sweet, you should definitely try the vegan oatmeal with coconut milk bananas and dates for 700 lkr / 1,95 €.
At Thaththa's Tea Shop near the Main Point everything tastes delicious! The menu is huge: If you are looking for a change from dhal, try rotti or toasted bread with fresh, homemade guacamole. They also have string hoppers, pumpkin stuffed roti, sweet roti, pancakes and a giant fruit bowl where you can even find coconut flakes and dates along with mango, papaya, banana, pineapple and passionfruit.
In the middle of Arugam Bay you will find the Food Point. Here you can also get local breakfast, e.g. Paratha, String Hoppers or Coconut Rottis. Especially delicious is the fresh and spicy coconut sambal.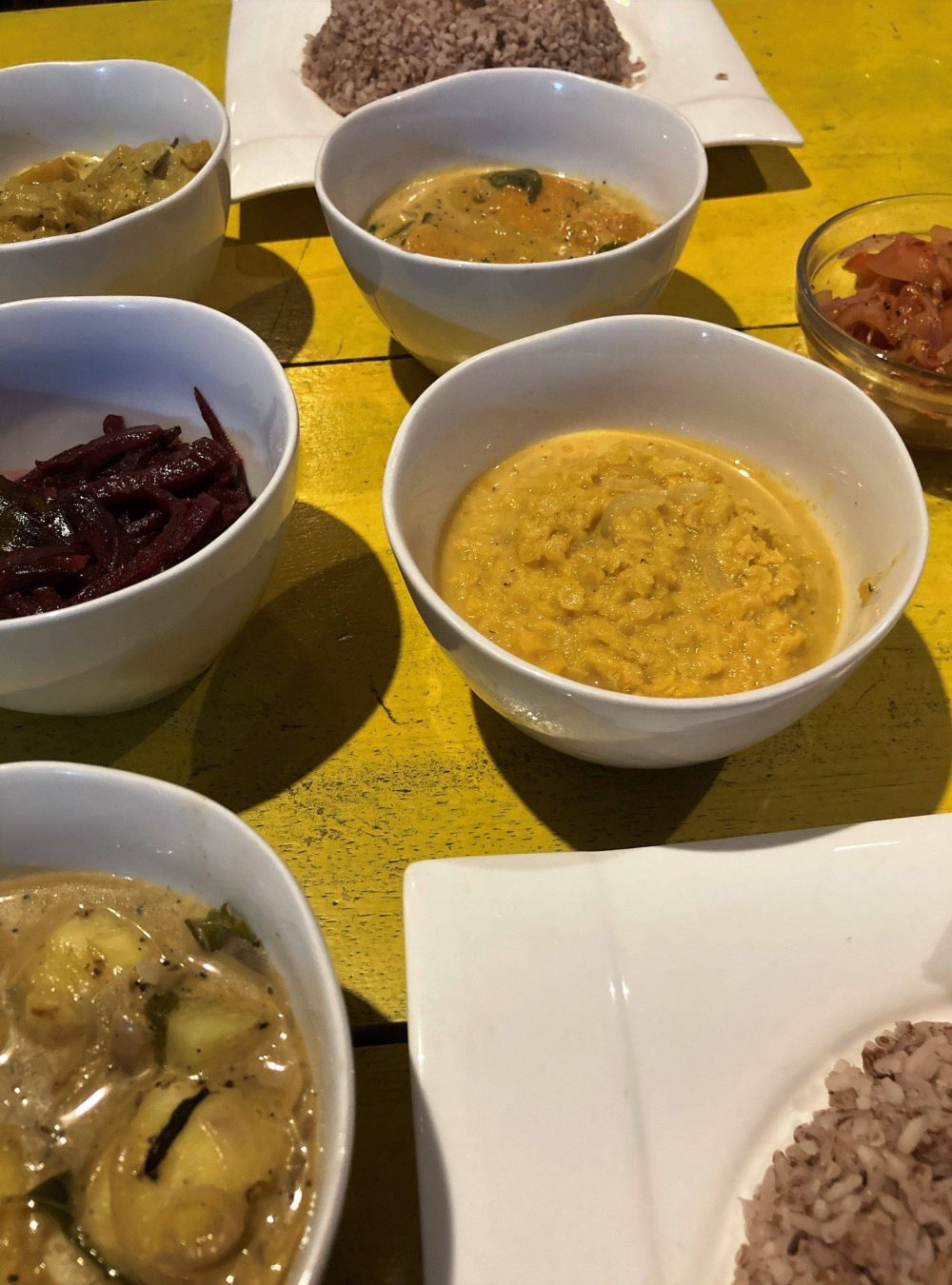 If you fancy a buffet and a selection of different vegetable curries, you should try Mother's Kitchen. You will definitely get full here, the curries are freshly cooked in typical Sri Lankan clay pots and well seasoned. In addition to the vegetable curries, there is usually a sweet and sour curry made out of fruit and a refreshing salad. I was particularly impressed by the dhal, which is cooked with lots of fresh cinnamon sticks. Cost: 1000 lkr / 3 €.
If you are looking for delicious Rice and Curry and a relaxed atmosphere you should go to Bambini's Café. The restaurant is owned by the probably most likeable person in Arugam Bay - once you know him, you will visit this restaurant again and again. The Bambini's was like our second living room. You can play cards or chess while waiting for your meal and sometimes there is even an open mic going on.
For 800 lkr / 2,60 € you'll get rice, pappadums, dhal, beet root curry, pumpkin curry, mixed vegetable curry and spicy coconut sambal. Everything tastes spicy and is cooked with a lot of curry leaves and cinnamon sticks. If you fancy something special, you should order the incredibly delicious mango curry or soy curry, which was added to the menu at our request.
Don't be deterred by the plain little hut at the beginning of Arugam Bay - at Tuna you get a really tasty and authentic Rice and Curry for 750 lkr / 2,15 €. You get a portion of rice, pappadums, dhal, vegetable curry and coconut sambol. Additional bonus: The juices and lassis are unbeatable cheap (about 400 lkr / 1 €)!
At Jamas you get mild Rice and Curry for an unbeatable 500 Lkr / 1,45 € ! The speciality here is the yellow rice, which is seasoned with turmeric and curry leaves. If you're not full, you can even get a second portion.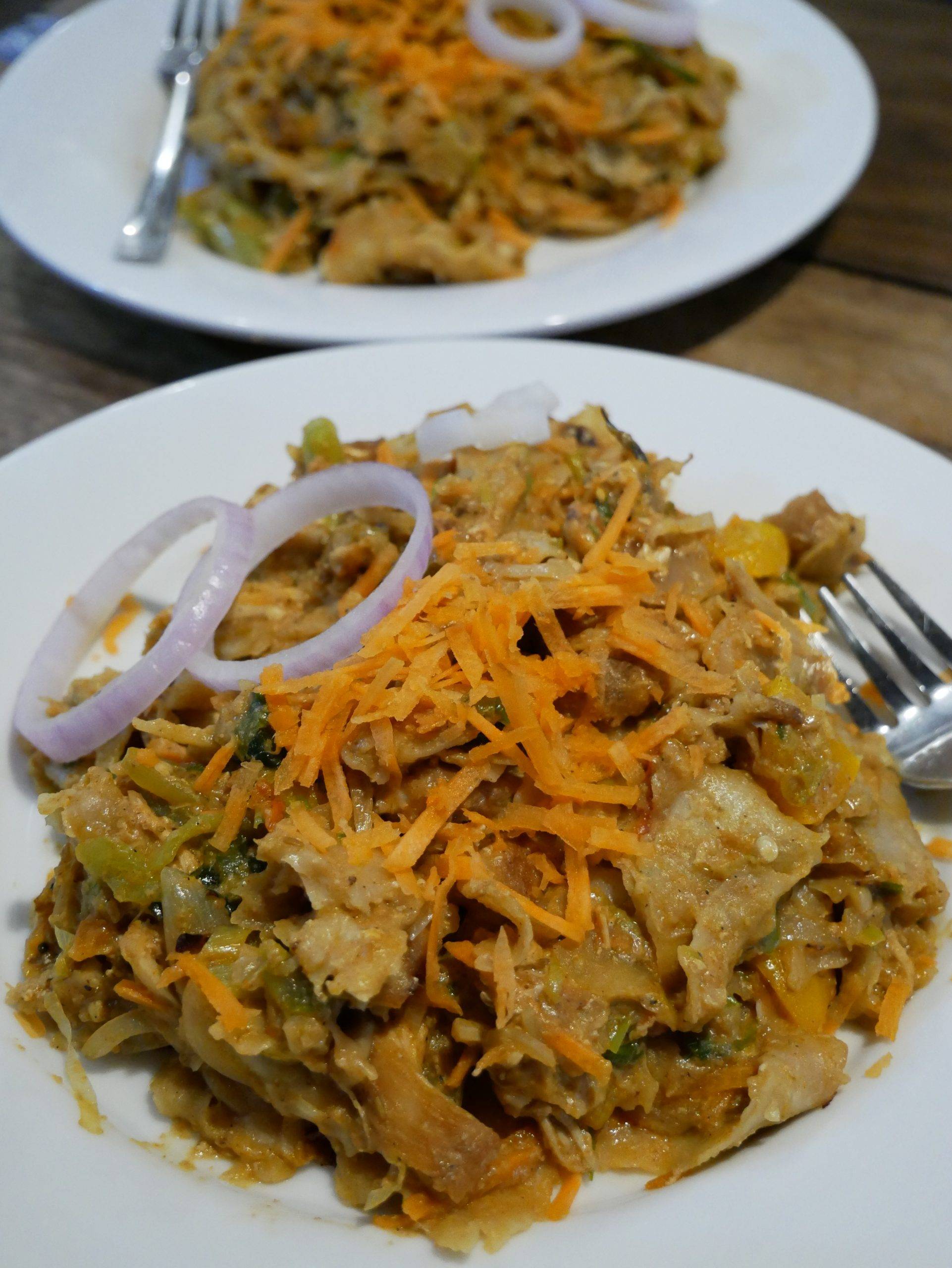 You can find the best Kottu Arugam Bays at Dinner Table. You can choose between regular Kottu and Dolphin Kottu. Of course, dolphin is not served here, but in the latter case the kottu is swimming in a lot of spicy curry sauce. A huge portion of freshly prepared Kottu with lots of fresh vegetables and curry leaves costs 900 lkr / 2,60 €.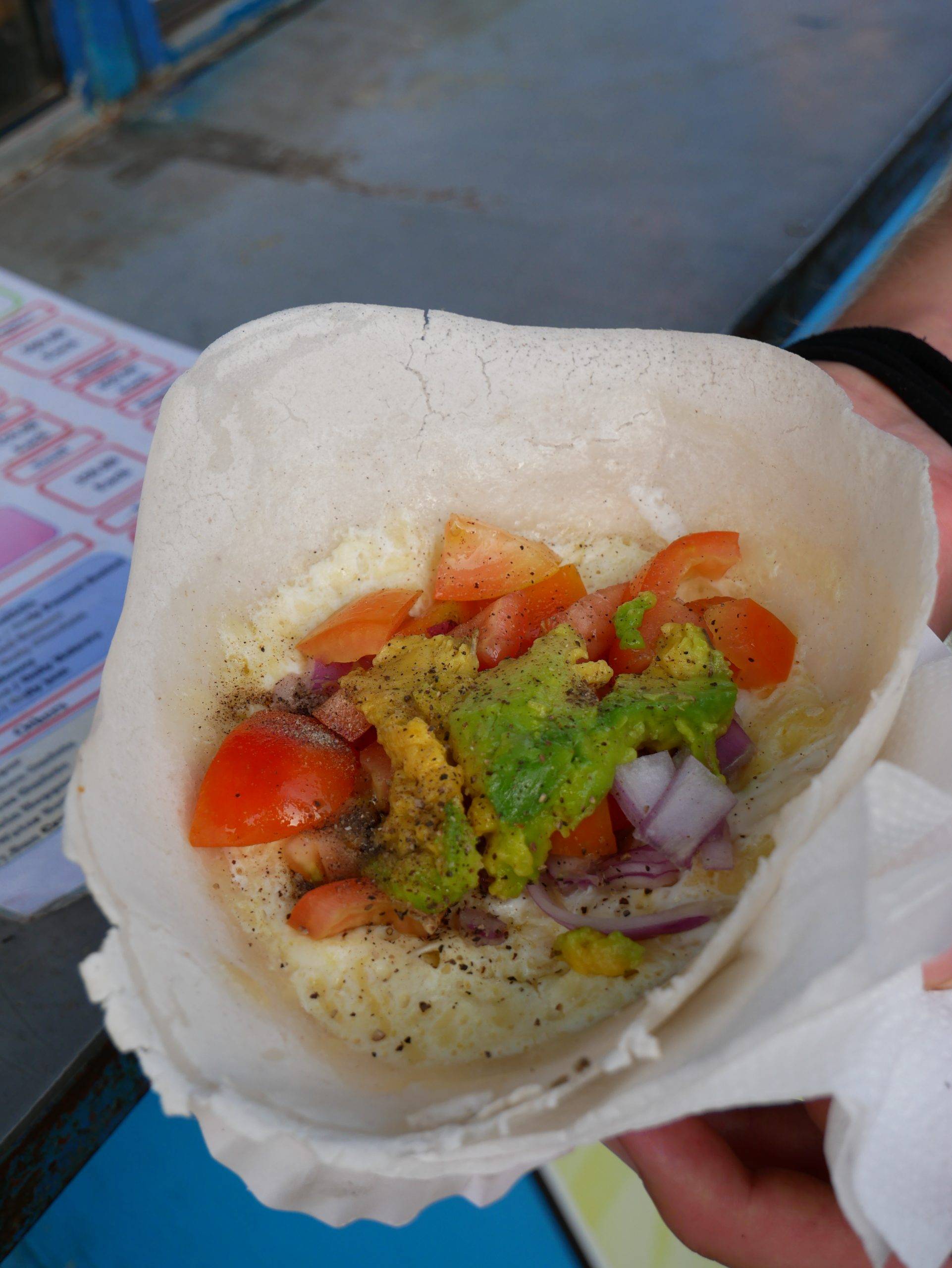 If you're in the mood for freshly prepared hoppers, you'll find them at the small stand opposite of of the Siam View. Here you can get not only the classic hoppers, but a whole range of different ingredients that you can choose for your hoppers: I recommend a hopper with avocado, tomato and onion which is almost reminiscent of a taco! Sweet versions are also available, e.g. with peanut butter and banana. The stall is open from afternoon until late evening and compared to the touristy Hopper Man across the street, you'll get more local prices here. One Hopper costs depending on the filling between 300 - 600 lkr / 1 € - 1,60 €.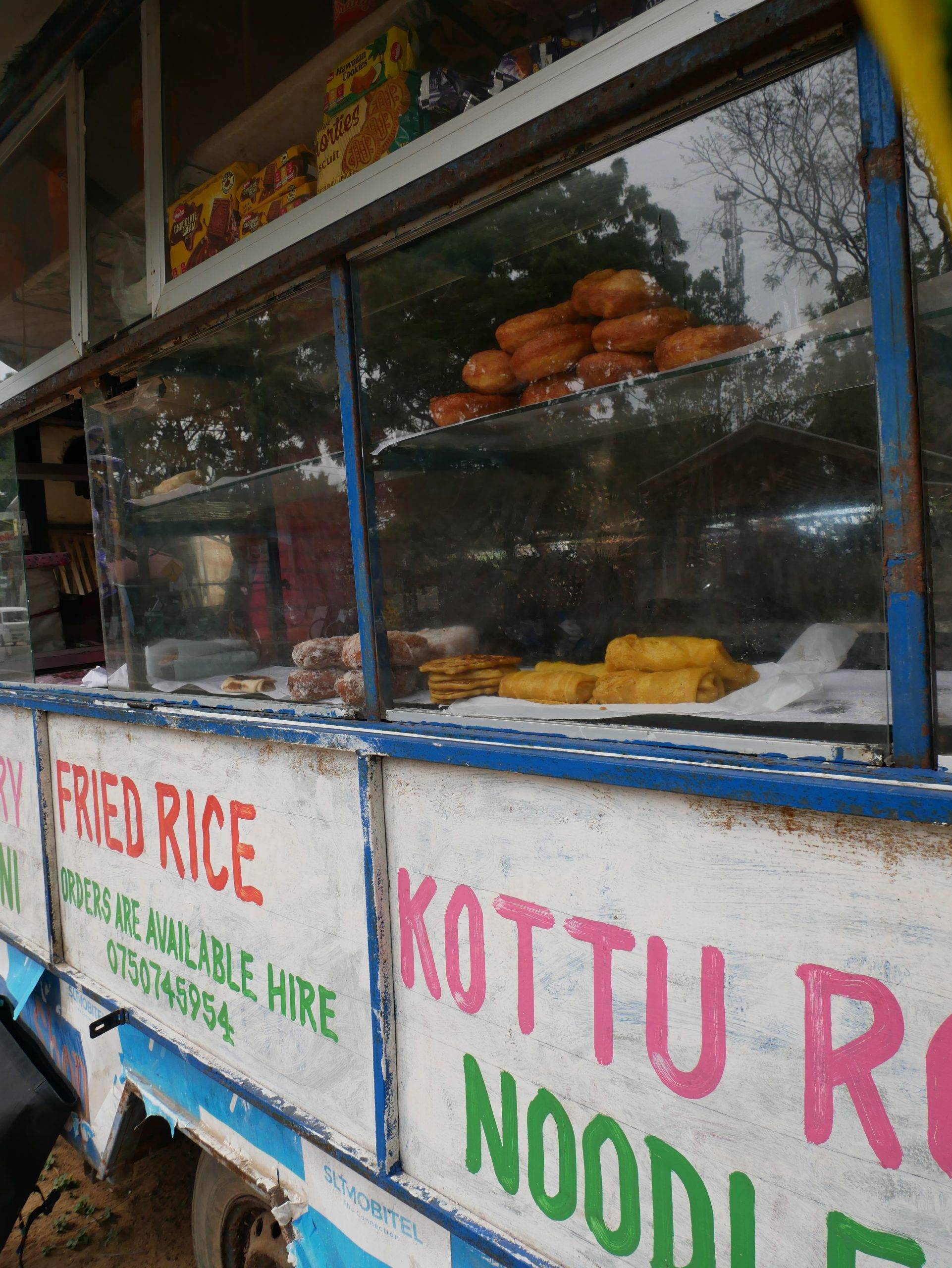 The best selection of fresh street food is at the blue street food truck right of the Siam View just before the turn towards Main Point.
Especially delicious are the triangular, filled vegetable rotis and the donuts. It's worth to get some - each piece costs only 100 lkr / 30 cents!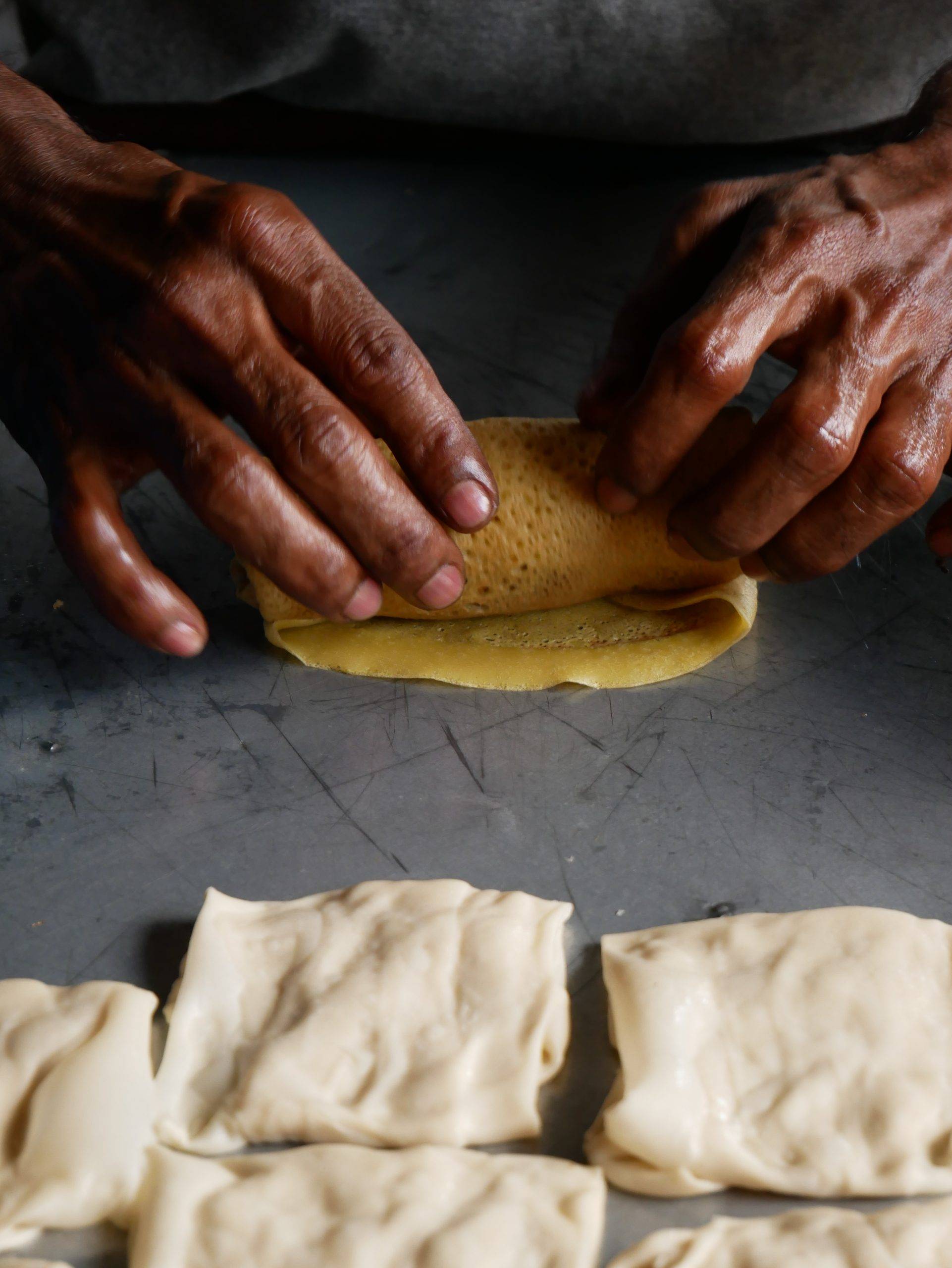 In addition to authentic rice and curry, don't miss the coconut banana pancakes at Tuna for 20 cents each! The pancakes are filled with a coconut-honey mixture as well as a whole banana, which balances out the sweetness a bit. My tip: Come here directly for breakfast, then you can watch how they prepare the pancakes freshly!
The best international food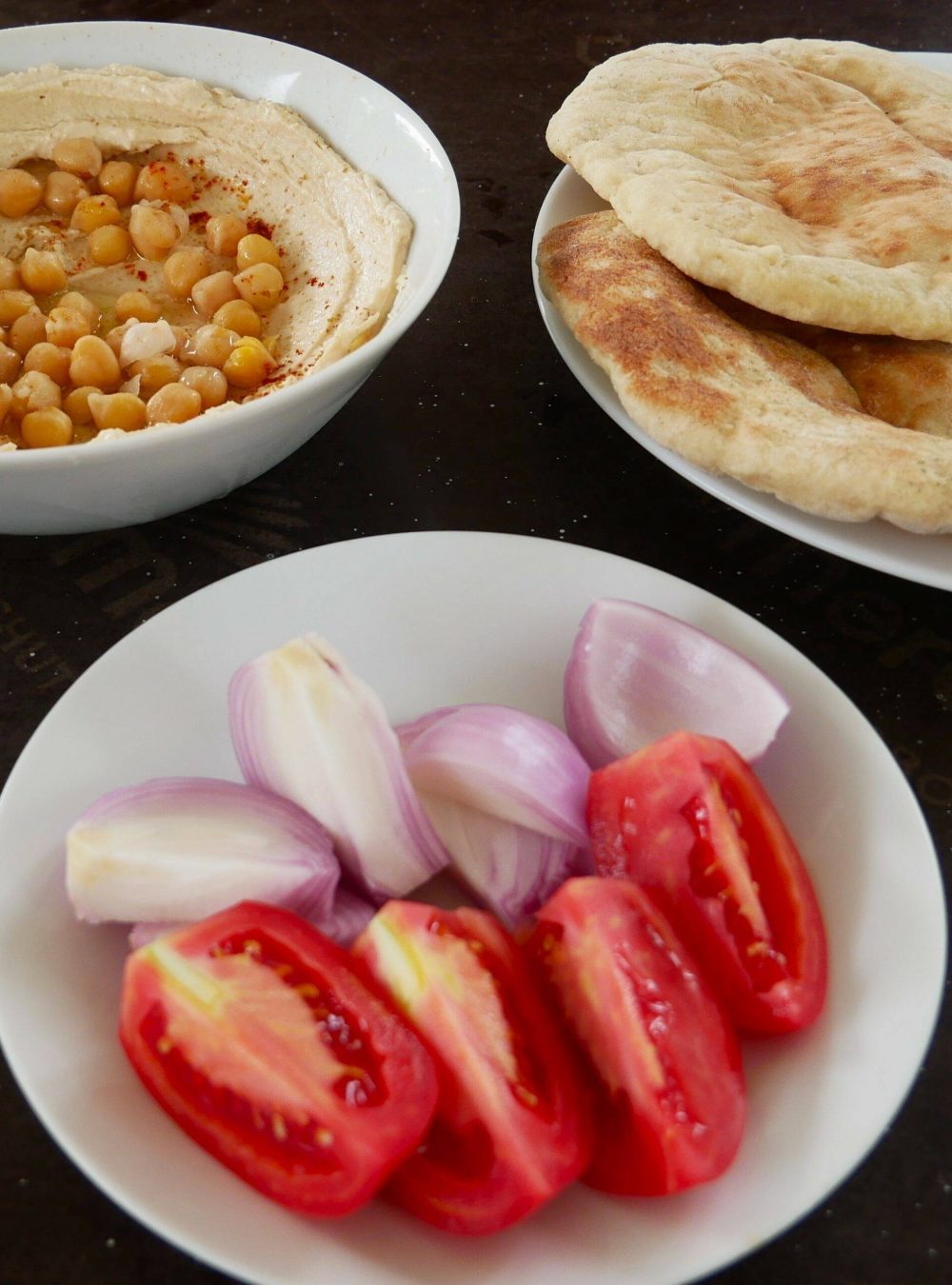 At Hummus Bay close to the Main Point you get by far the best hummus in Arugam Bay, maybe in whole Sri Lanka! If you order a portion of hummus, you get really fluffy pita bread and very authentic tomatoes and raw onions on the side. Alternatively, there are delicious pita sandwiches, e.g. Sabich which includes salad, hummus, fried eggplant and potatoe. Many dishes are with egg but you can easily ask for no egg. Prices are about 1500 lkr / 4,30 € per dish.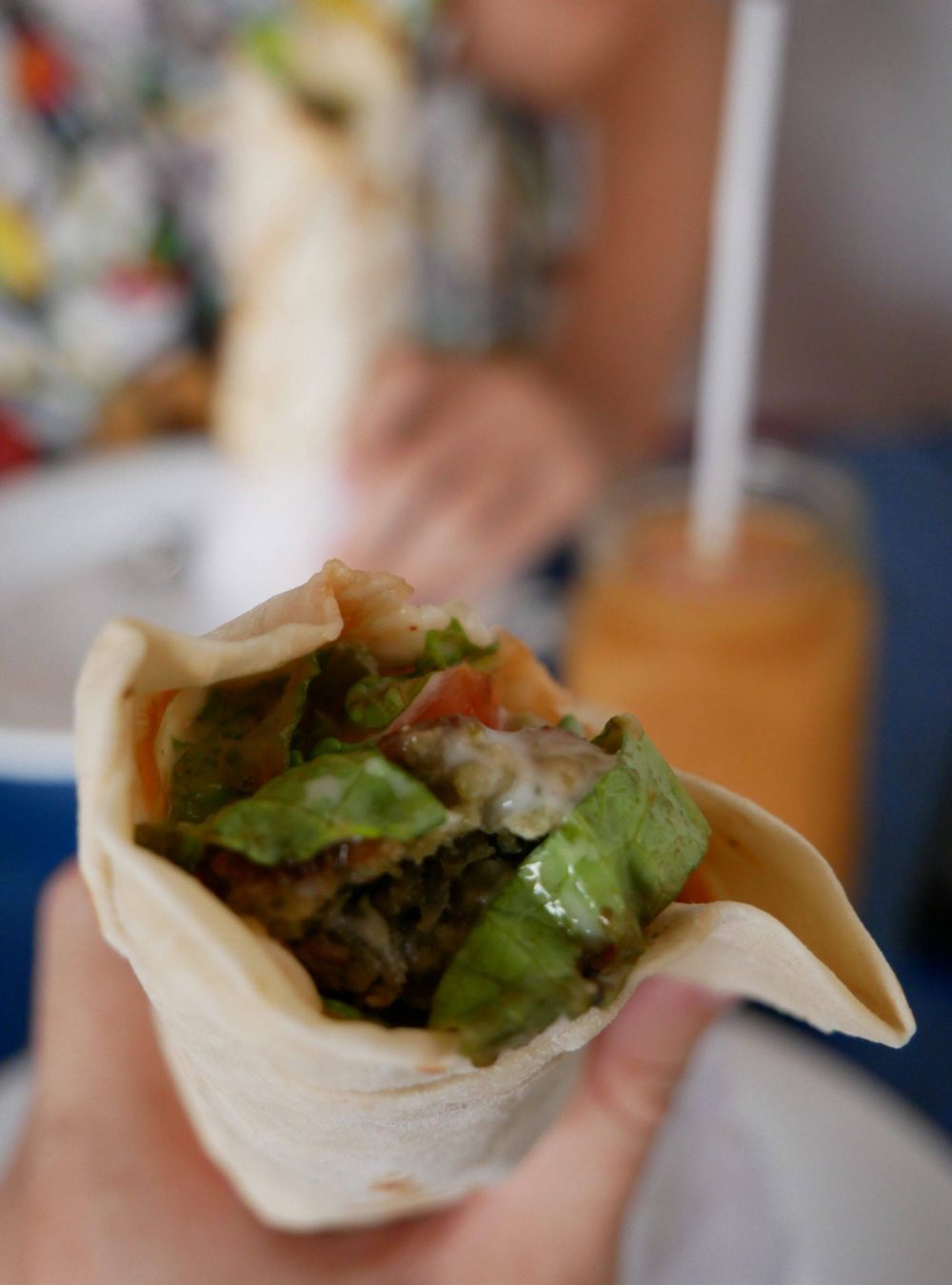 If you fancy falafel, you should definitely try the Vegetarian Falafel at Dinner Table! The falafel sandwich filled with crispy falafels, vegetables and a vegetarian sauce is really delicious and super cheap (750 lkr / 2,15 €).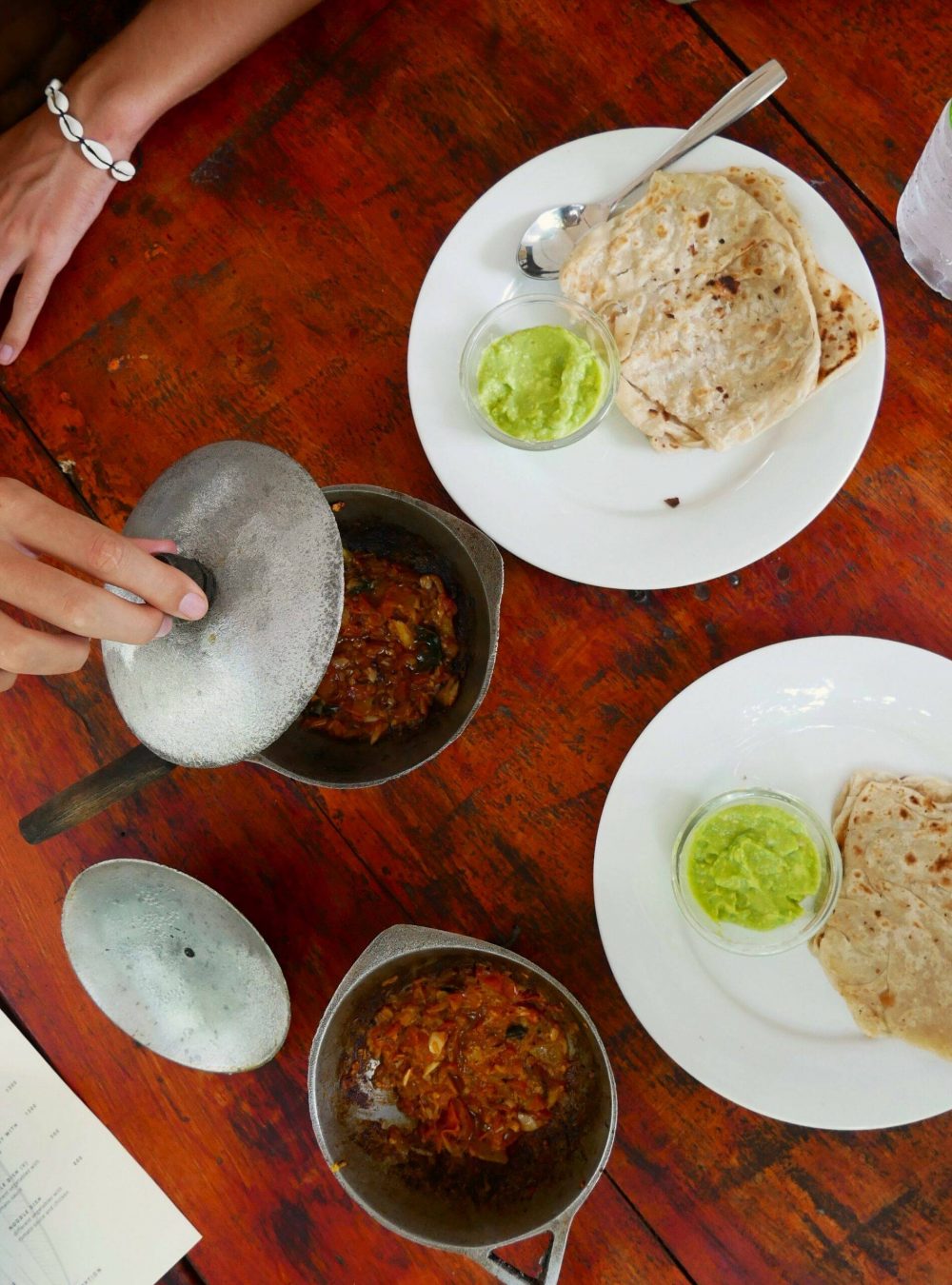 For 800 lkr / 2,34 € you get the best vegan shakshuka Arugam Bay's. As an alternative to the egg, Jamas offers dhal and fresh guacamole, which perfectly balances the spicy tomato sauce. You also get two parathas on the side. The mixture of Israeli and Sri Lankan cuisine is a pure taste explosion and should not be missed.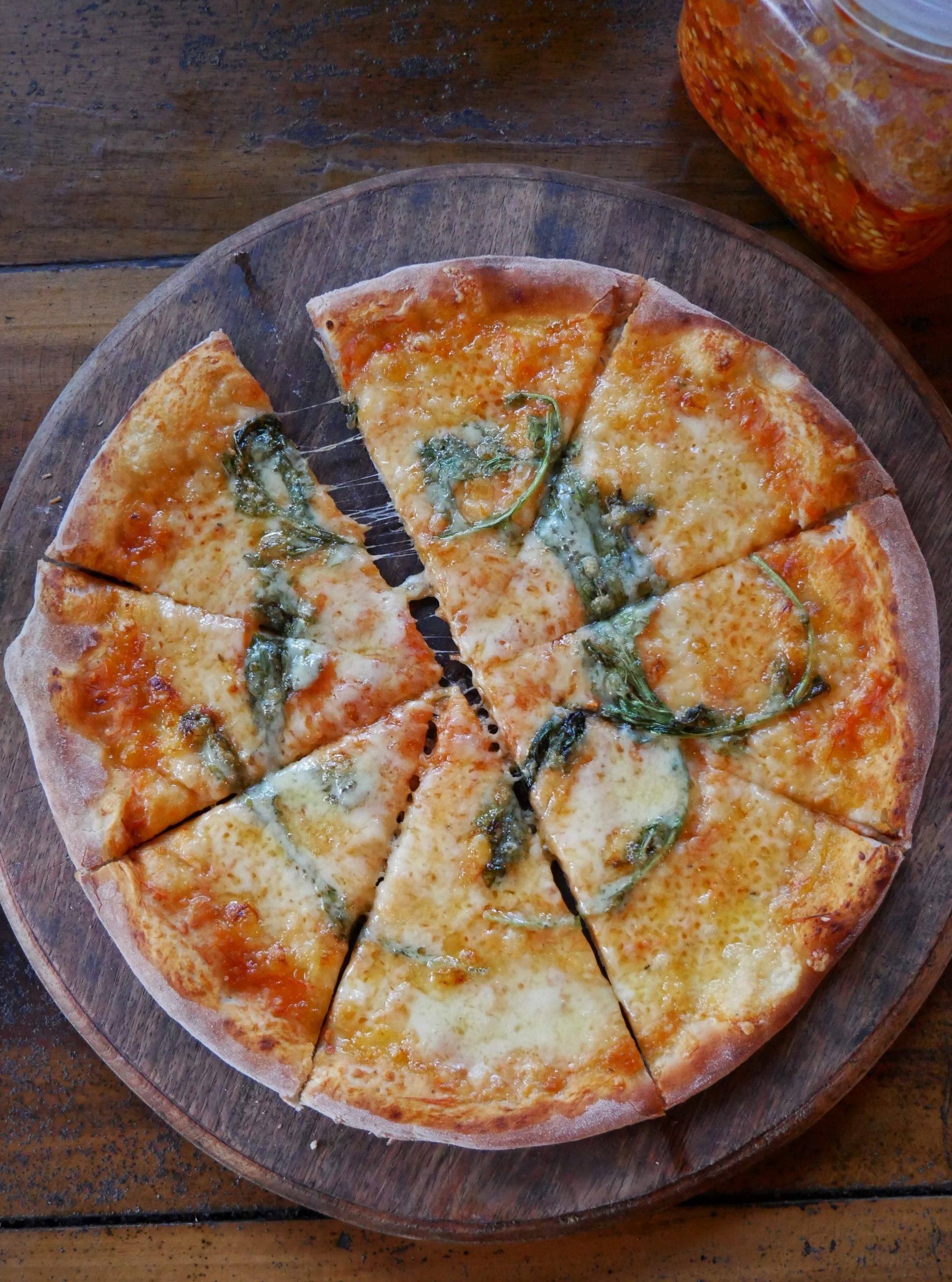 In Arugam Bay you will find many restaurants who offer a stone-oven pizza. The only real and best one, however, is at the Cili Hotel. The pizza is prepared with love and with the recipe of the former Italian chef. Since Sri Lanka never lacks spiciness, you can take homemade chili oil as a topping. There are 3 different vegetarian pizzas, the Margherita costs 200 lkr / 5,58 €. If you ask for vegan cheese, you get tofu as a topping, which also tastes pretty good! Besides the pizza, the atmosphere here is definitely convincing: the cozy seating area is surrounded by plants and surfing videos are running on the TV. You just feel like in a cozy living room here.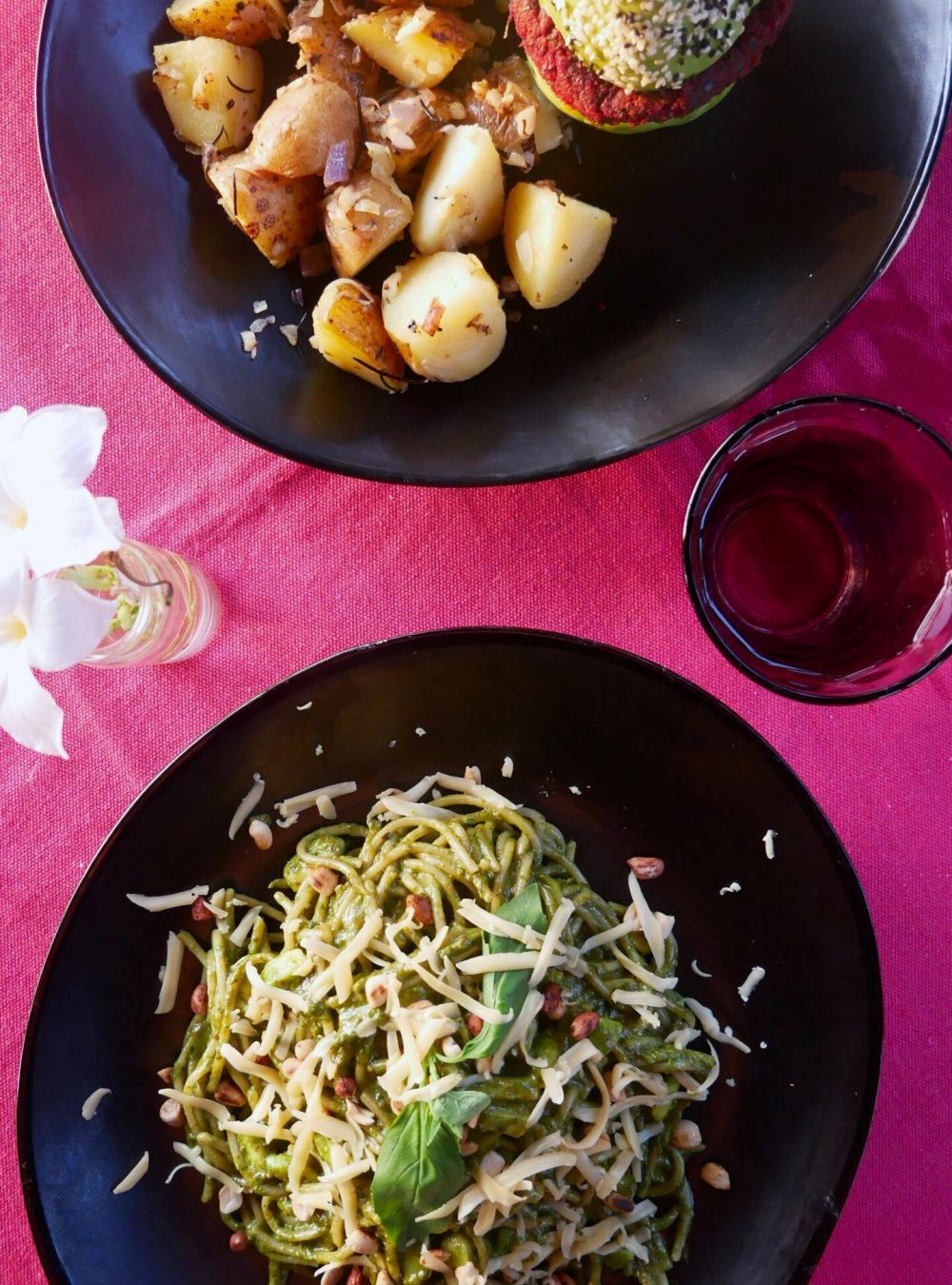 Gesund und mal was anderes
The name says it all: At Avo Club, you can get all kinds of avocado-related dishes. If you want to treat yourself despite low budget or if you are traveling with a higher budet, you should definitely give it a try. The recipes are healthy and a change from the usual food. I was particularly impressed by the pasta with creamy pesto made from basil and avocado, which has Italian quality. Also, the atmosphere here is really relaxed, you sit on cushions at little tables on the floor overlooking palm trees and the Baby Point. At sunset, you almost feel like you're on a Caribbean island.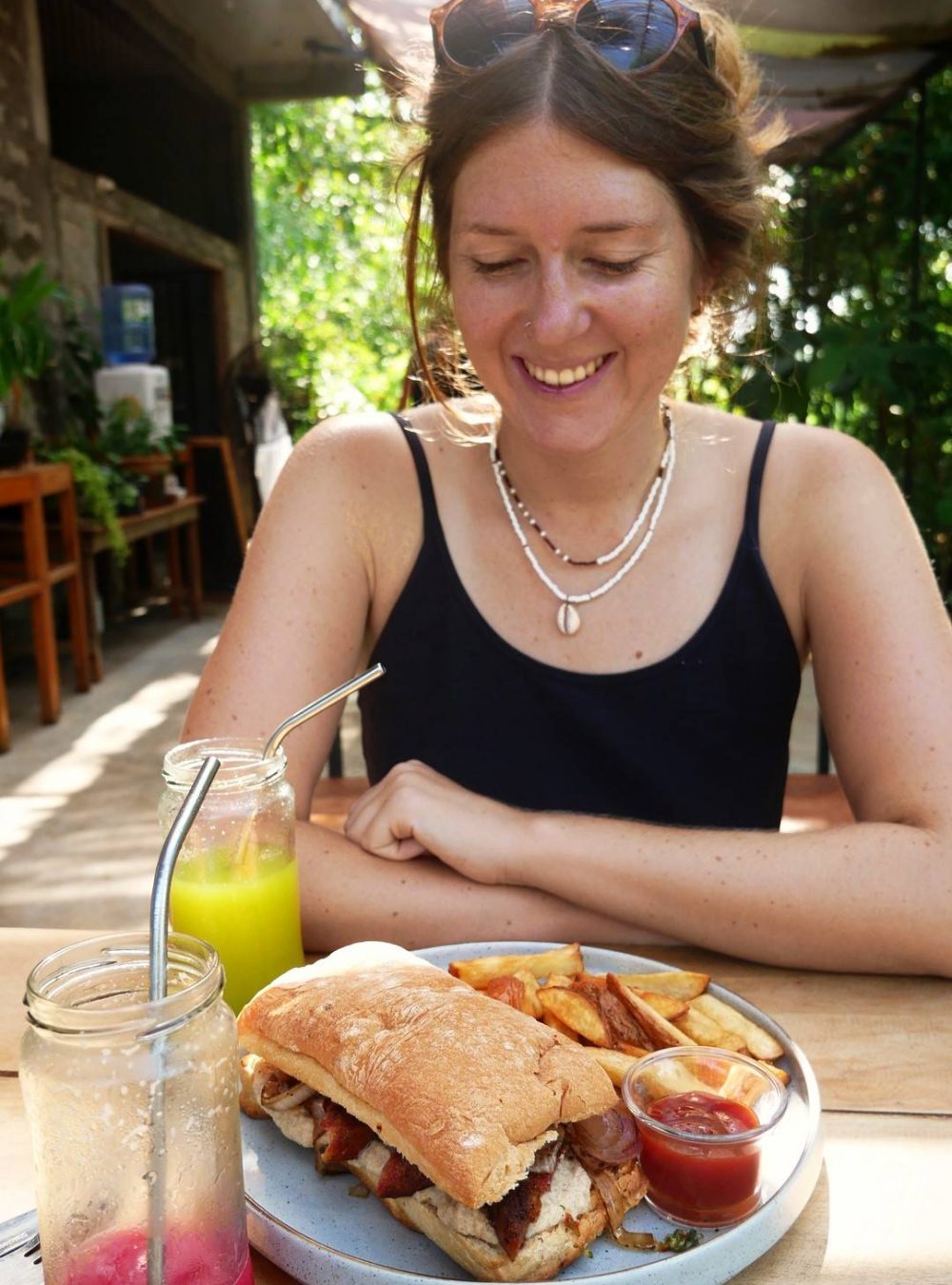 Karma Gardens are famous for their homemade seitan, which is made with love for a whole 3 days. The seitan sandwich consists of a seitan steak sautéed in rosemary garlic butter, crispy on the outside, juicy on the inside. Topped off with caramelized onions, fresh tomatoes, a hot and spicy sauce and aioli. As a side dish you can choose between a fresh salad or homemade rosemary fries, which couldn't taste better. Even if the sandwich for 2600 lkr / 8,27 € has a proud price for Sri Lankan standards, it's definitely worth it!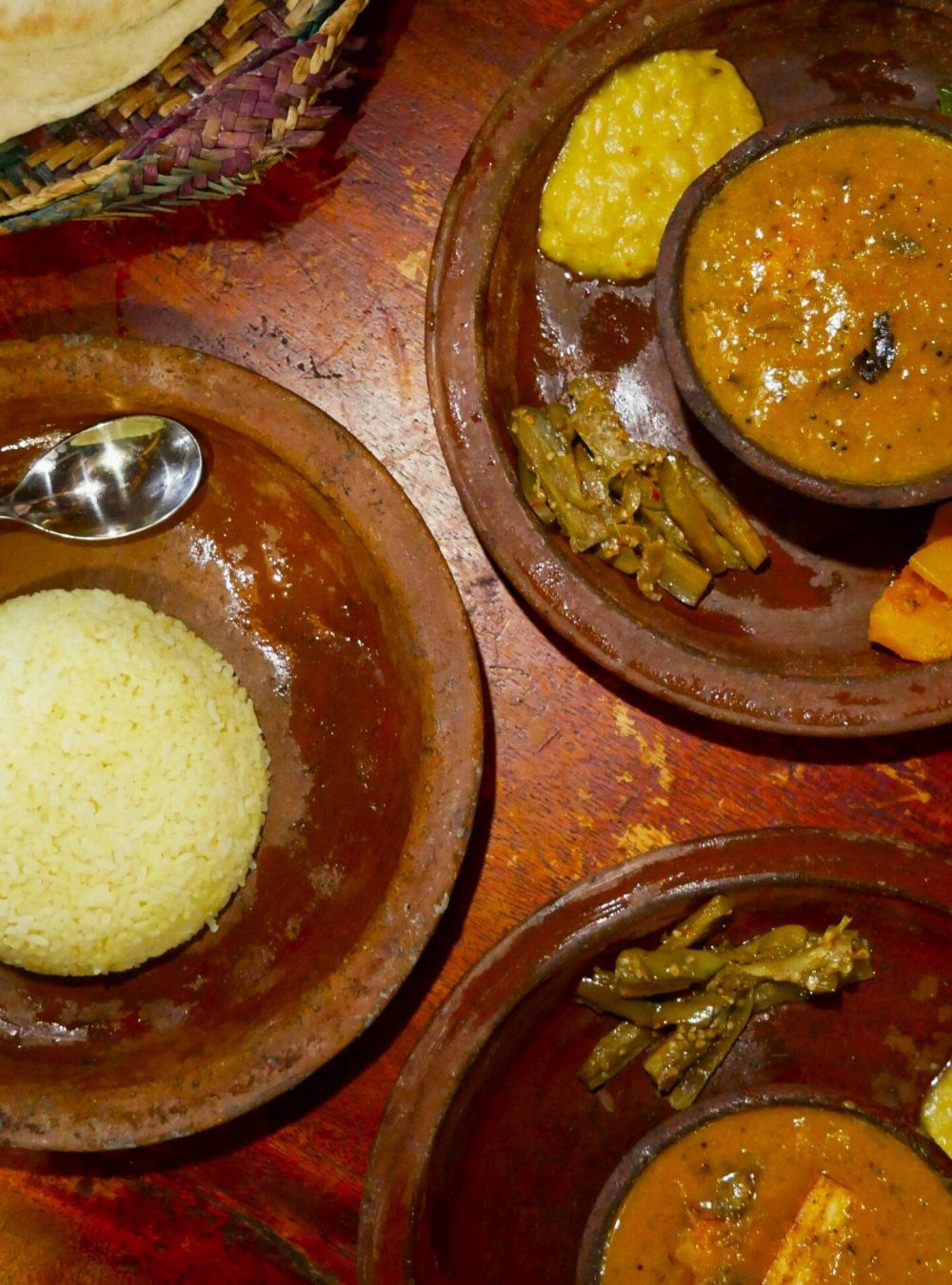 If you are in the mood for Indian food, you should definitely try Tandoori Hut. All curries taste authentically spicy. As a side dish you get naan-bread, rice and a selection of Sri Lankan vegetable curries (e.g. dhal, pumpkin, potatoes, okra). You can reorder all vegetable curries, rice and naan for free. Prices: 1900 lkr / 5,71 € per dish.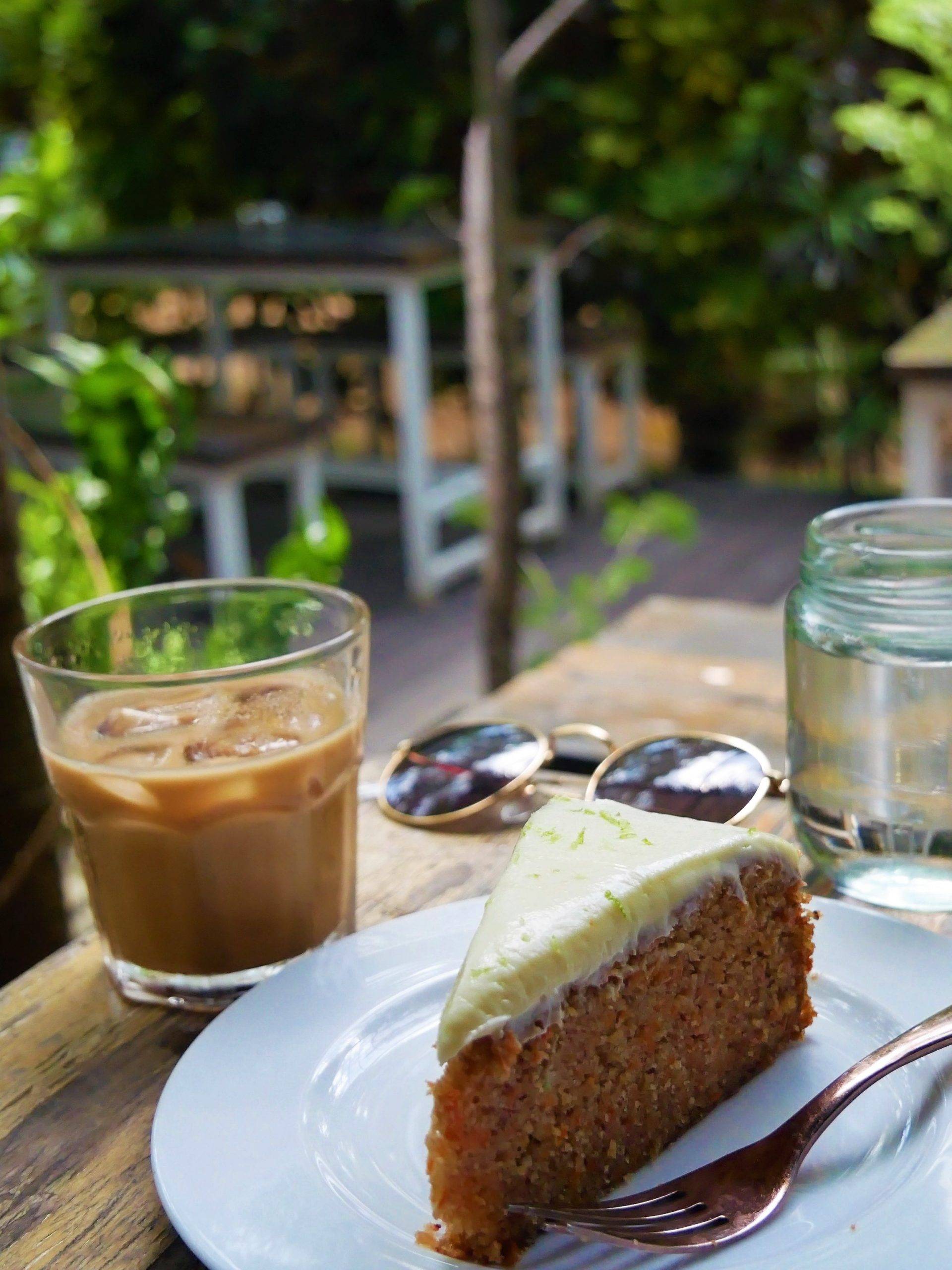 Coffeeshop & cake paradise
Kaffi feels like the place to be in Arugam Bay. No matter what time of the day you come here, you always meet someone you have seen before! There is a small air-conditioned indoor area that has a real coffee shop vibe. Digital nomads sit by the window and work on their laptops. If you just want to relax and enjoy your coffee, you'll find plenty of space in the cozy outdoor area. You should definitely come here with a craving for something sweet - there's no way to get around the cakes! A classic is the brookie - a combination of a brownie and a cookie. Vegan alternatives are also available, such as banana cake, chocolate cake, or homemade granola bars. In addition to cow's milk, you can choose from oat, almond or coconut milk. The prices are unbeatable: A Cappuccino costs 660 lkr / 1,20 € (extra charge for coconut milk), a piece of cake is about 600 lkr / 1,70 € per piece.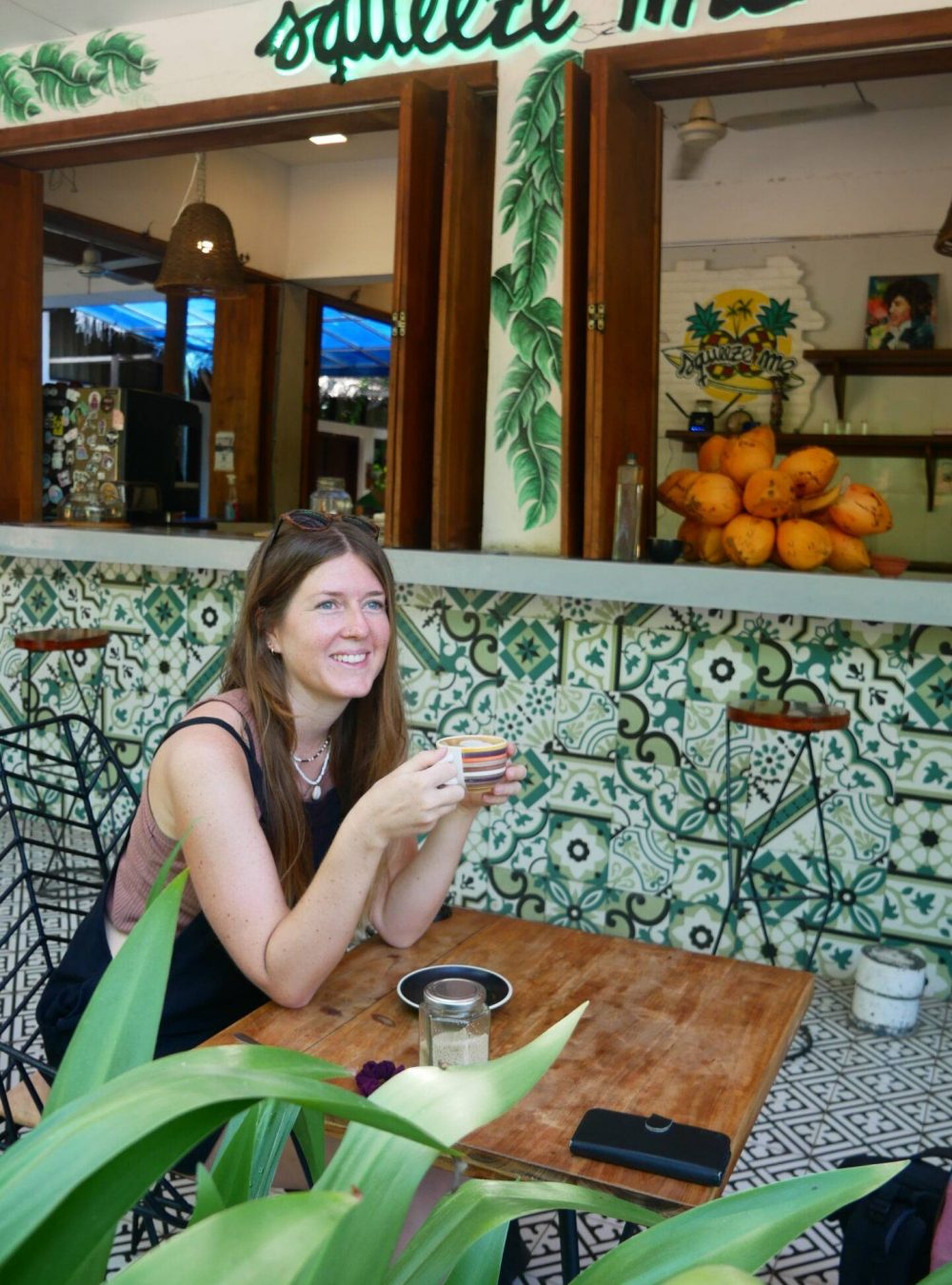 Vegan Café with barista quality
The Squeeze Me is a mixture of restaurant and café that specializes in vegan food. There is really good coffee from Sri Lankan cultivation and plant based milk is available at no extra charge (coconut milk or homemade oat milk). A cappuccino costs 700 lkr (2,20€). The vegan cake changes daily, there is for example Banana Bread for 700 lkr the piece (2.20 €). If you are more hungry, you can order a smoothie bowl and many healthy dishes with tofu. Although you sit on the main street, you have a nice atmosphere here, everything is designed with attention to detail and you feel like on vacation immediately.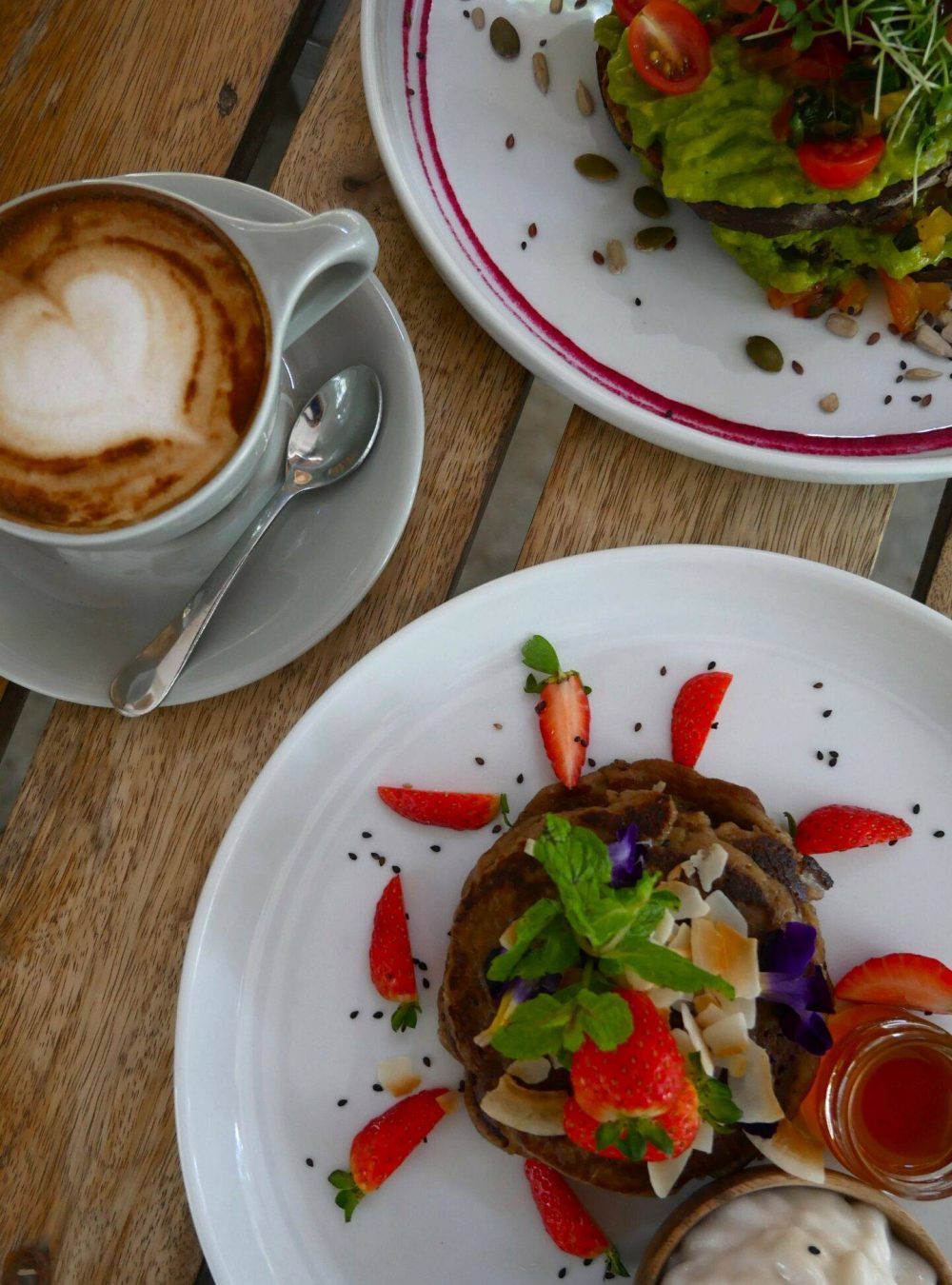 Barista Coffee & Good Vibes
The well-known Shady Lane from Mirissa is now also located in Arugam Bay. Here you will find the world's best vegan pancakes, really good homemade breads with various toppings, smootie bowls and delicious coffee and cakes. Vegans will be happy here, beside vegan breakfast options you can get vegan chocolate muffins, soy milk and coconut milk (for 200 lkr / 0,60 € surcharge). A cappuccino with soy milk costs 900 lkr / 2,90 €. Besides the delicious food and barista coffee, the relaxed atmosphere here is definitely convincing. The café is located off the main street and has a huge green courtyard. You can definitely spend a few hours here to enjoy your day.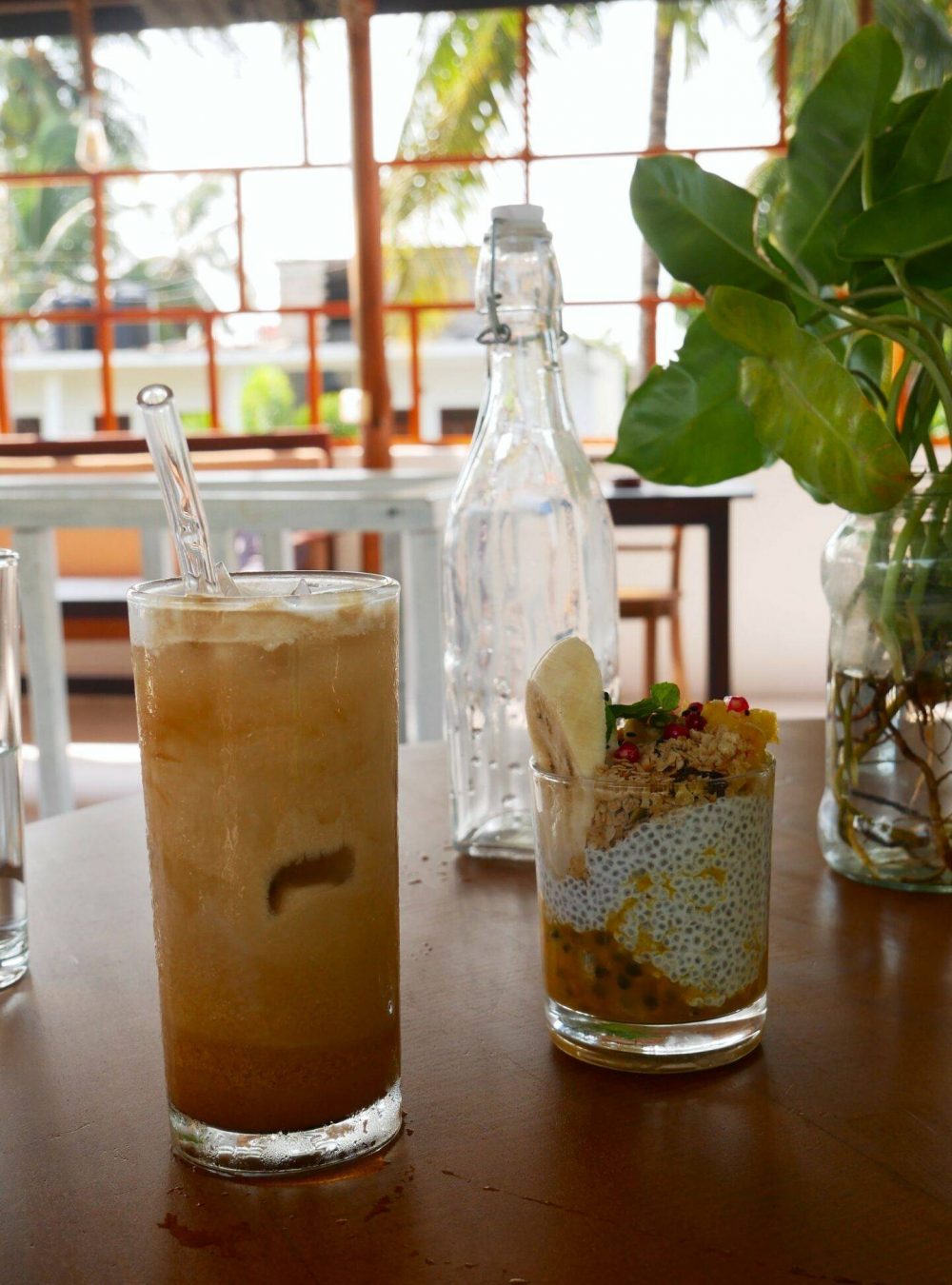 Newly opened in 2023, Nami Café is perfect for all digital nomads out there! Here you'll find lots of workstations, power outlets, fans, fast wifi, and reeeaallyy delicious coffee. Other highlights besides the incredibly good coffee are the homemade almond milk and the daily changing vegan cake. Especially good is the Iced Latte with almond milk. Because the café is located on the main street, be aware that it can get a bit noisy some times. With headphones you are safe if you want to work here. A cappuccino costs 800 Lkr / 2,60 €, for coconut or almond milk you pay between 100 and 200 Lkr / 30-60 cents extra, a piece of cake costs about 600 Lkr / 1,90 €.
Here you'll find all the food spots
Vegan and vegetarian food in Sri Lanka